Everything You Should Know About Android 6.0 Marshmallow
Marshmallow 6.0 is a new Android operating system that has created quite a buzz on the Internet, the mainstream media among other places. This operating system which is considered to be an upgrade of the android Lollipop operating system promises to address core system defects like security and battery life, make it much easier to access and manage mobile apps, simplify accessibility and use of Google services, deliver more customization among other beneficial features.
If you are an Android device user who has just bought a smart phone that is running on the android 6.0 Marshmallow operating system and probably wondering what is so special about this program then this informative article is a must read for you. In this article, you will be provided with beneficial facts that will enable you not only to optimize your android device but even get much more from it.
Tips & Tricks about Android 6.0 Marshmallow
1. Improved Security
Android 6.0 marshmallow devices can easily be considered to be the most secure gadgets in the smart phone market today. This is because of the three main security measures provided as discussed below:
- Network Security Reset
This beneficial feature which is found in the "Backup and Reset" settings provides you with the ability to easily and quickly remove all your passwords, connections and settings especially those that are associated with Wi-Fi, cellular data, and Bluetooth. This alone can protect you against malicious hackers who wish to steal your information and use it for criminal activities.
- Encryption
Thanks to the military grade like encryption feature provided on Android devices with this operating system you can be assured that your music files, videos, documents, images among other files are fully protected. Your device will be able to alert you whenever any unauthorized changes are carried out on your smart phone hence protecting you from any malicious attacks.
- Fingerprint API Protection
Google has just made it possible to throw away those long and complicated passwords that you have been previously using on other devices. All android Marshmallow devices come fully installed with a fingerprint API technology that makes it almost impossible for any other unauthorized individual to utilize your gadget. This is another added advantage as various Touchless payment systems like Android Pay that are also included in the operating system rely on fingerprint scanner technology to authorize transactions.
2. Presence of A Really Smart Shortcut Feature
The "Google Now On Tap" is a sophisticated, smart shortcut feature that has the unlimited ability to provide reliable contextual assistance when you need it the most. With the smart shortcut feature, you can easily access tons of information right from any app you are using simply by long pressing on your android's home button and selecting what you want. Now On Tap which is definitely a favorable time saver feature is guaranteed to completely change the way you use your phone. Try the effortless, useful and instant feature today and experience multitasking like never before.
3. Incorporation of Amazing Battery Saving Features
Android 6.0 Marshmallow is guaranteed to minimize your phone's power usage through two simple yet effective battery saving features.
- Doze
This is an advanced yet effective ultimate power saving feature that automatically puts your phone into sleep mode using hibernation technology when it is not in use. The intelligent battery saving and management feature is able to greatly prolong your smartphone's overall uptime.
- App Standby
This specific feature actively identifies applications that are rarely used and puts them into a deep sleep state similar to when you disable apps directly from the settings. When in the deep sleep state these applications cannot sync, access the network, run background processes or use other system resources. Additionally, there is a whitelist section provided which you can use to protect apps that you prefer to always run.
Here, you can also learn other tips to optimize and extend your Android battery life.
4. Presence of A Smart Voice Feature
The new operating system contains a relatively new "Voice API" technology that allows other third-party applications to access and use Google's default voice command functionality in various ways that were not possible before. With this sophisticated technology, you can easily launch your favorite app simply by using your voice. Basically, the new improved Voice API technology is the perfect voice assistant you would ever want.
5. Ability to Backup Apps Automatically
With the automatic app backup feature, you can now store your favorite apps and their data in that any app restored from the backup will still be in its previous state before it was deleted or uninstalled. What is even more interesting is the fact you will even be signed in to where you were before the activity. People who don't fancy using such features have the option to opt out of the automatic backup process whenever they feel like.
6. Restricting App Permissions As You Wish
With the new operating system, you can easily grant or restrict permission to any app of your choice. By preventing complete access to apps you are able to restrict and define what you wish to share and at what time. Kindly note that some android apps might not work when some of their features have been restricted hence you can use this feature with moderation until developers finally keep up with this amazing trend.
How to Manage Phones with Android 6.0 Marshmallow?
Too much facts have proved that a good manager program for Android can greatly reduce the troubles in the coming days. So if you get a phone with Android 6.0 Marshmallow, you also need to select a good Android 6.0 Marshmallow manager program as your assistant. Thus, MobiKin Assistant for Android is highly recommended here. You can get it and learn how to perform it systematically.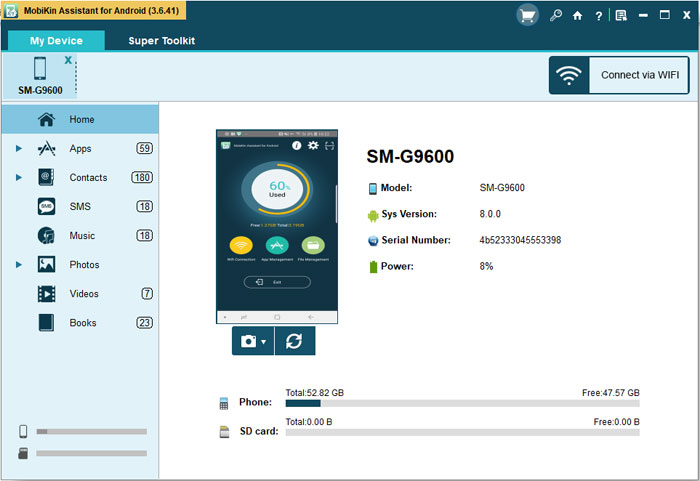 What's more, if you mistakenly delete or lost something important on your Android phone, another powerful tool like MobiKin Doctor for Android is also here to help you find back your lost data on Windows or Mac computer easily.