Transfer Contacts/Messages from Samsung Galaxy S8 to Computer
In order for a Samsung Galaxy S8 user to make sure that they have a good back-up copy of their information, in case of losing important data from the device, they will need to transfer their data from these devices to their computers. While these processes can be very beneficial for a number of different important reasons, there are problems that can be encountered when these transfers are made. One of the problems of transferring Galaxy S8 contacts/SMS to computer is the data is out of sync. Therefore, if someone wants to review one of their text messages to read what was said, they may have problems finding it in a format that is easy to decipher. For instance, all of the dates could be out of sync because the transfer process was not completed correctly.
Then, how to copy full information of contacts and text messages from a Samsung Galaxy S8 to computer for backup? You can try something like MobiKin Assistant for Android or Assistant for Android (Mac Version). It can be a good extractor for you to transfer data, such as contacts, text messages, photos, videos, music and apps from Android device to computer, and vice versa. With this assistant being part of the entire process, the contacts and SMS transfer from Samsung Galaxy S8 to computer can be done within 2-3 steps. You can also use this program to edit and delete contacts and messages, and even send/receive text messages on computer directly. Contacts and SMS will be transferred with zero quality loss, all included information will be saved, including email address, job titles, company names and so forth.
The following guide shows you how to use Assistant for Android to backup Galaxy S8 contacts and messages to computer in 2-3 steps. You can download and install the program on your computer to get the preparation work done.
Other guides related to Galaxy S8:
Recover Lost Data from Samsung Galaxy S8
Transfer Media Files from Galaxy S8 to Computer
How to Copy Contacts/SMS from Galaxy S8 to Computer?
Step 1. Connect your S8 to your computer
Launch the Assistant for Android application and then connect a USB cable to the computer and the Samsung Galaxy S8. Once this connection is complete, the user will see a window that shows the files on the device. If your S8 can't be detected by the program, check to make sure you have enabled USB debugging on your Galaxy S8.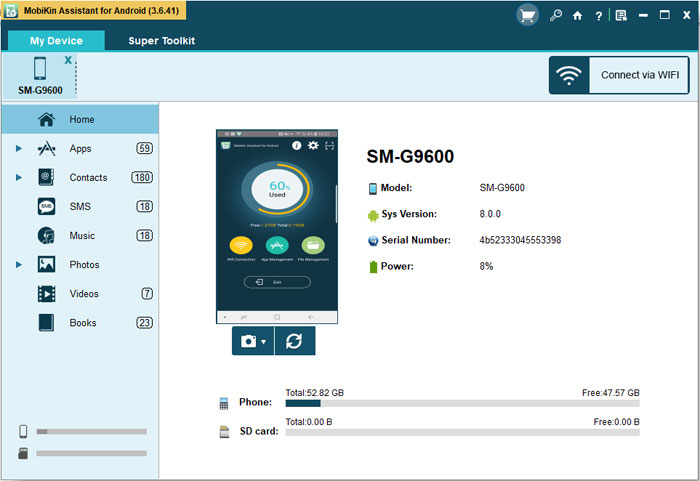 Step 2. Selection of Messages and Contacts to Transfer
User will need to review all of the files on the device to see what needs to be transferred to the desktop computer. In this article, the user may only transfer their contacts and text messages on their phone to be transferred.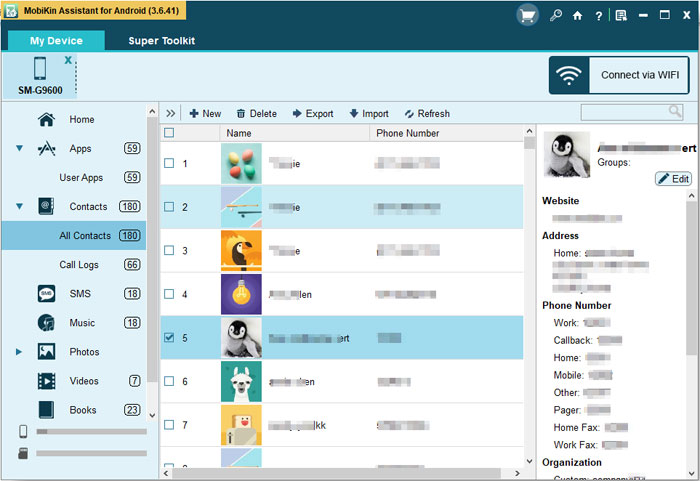 Step 3. Transfer Galaxy S8 contacts/SMS to computer
After the user selects the files that they want to keep, the next step in this process is to click on the "export" button to transfer all of the selected contacts and text messages from your Samsung Galaxy S8 to computer.
Related Articles
Transfer Apps from Android Phone to Computer
How to Export Android Phone Contacts to Excel