Backup Samsung Galaxy Nexus to Computer
A lot of your private and important data or information stored on your Samsung Galaxy Nexus. Since data loss isn't planned or predictable, it is recommended that you create a backup of your phone to your PC or Mac computer. Backing up your Samsung Galaxy Nexus data isn't as simple as it seems. For one, if you are trying to transfer your data to your computer via USB cable, then it will take hours. If your computer stops recognizing your device while transferring these files for a long time, then it may complicate situations further. If you plan to transfer by using Cut and Paste, then in such cases, data may even be lost permanently.
Do not have enough troubles, actually you can complete the Samsung Galaxy Nexus backup process in one click by using an Android data manager called MobiKin Assistant for Android or Assistant for Android (Mac Version). It is an one-shop management tool for Android users to backup, restore and manage all data on computer, including contacts, photos, videos, music, messages, apps and more. There have been very positive reviews by customers on their website. They have described it as fast and working perfectly without any issues and have also mentioned that it is very easy to install and use. All that you need to do is to ensure that you have the device with you along with a computer and a USB cable. The USB cable is needed as it's how you would connect the devices to your computer.
Here is a step-by-step guide on how to use this excellent software for easy back-up of your Samsung Galaxy Nexus phone data. And if you want to learn more guides, you can turn to read how to add new contacts in Samsung and how to backup Samsung SMS on computer.
How to Transfer Data from Samsung Galaxy Nexus to Computer?
Step 1. Connecting your Samsung Galaxy S8 to computer
Here, we just take the Windows version as an example and the Mac users can take the similar steps. Download and install the program on your computer, launch it and connect your Samsung Galaxy Nexus to the computer with USB cable or Wi-Fi.
Note: Download and install Assistant for Android APK file on your phone if you choose to connect via Wi-Fi. And you must enable USB debugging on you phone if you haven't done it before.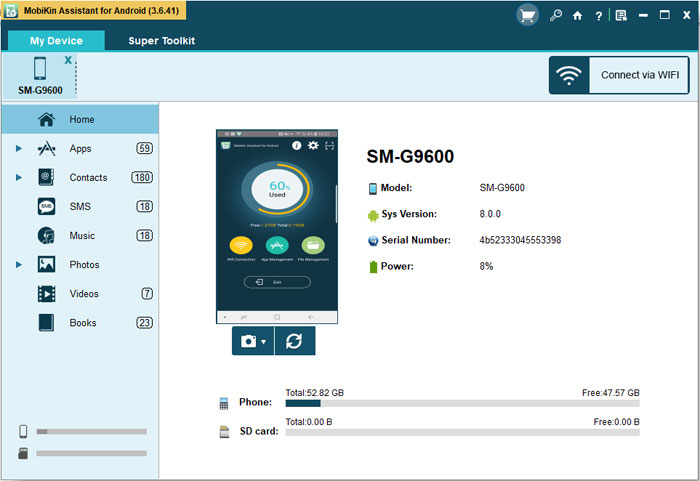 Step 2. Select the files to be transferred
All types of data of your Samsung Galaxy Nexus are displayed in the software console in categories. Just click to open the folder of each file type and the software will scan your Galaxy Nexus phone to find all these files.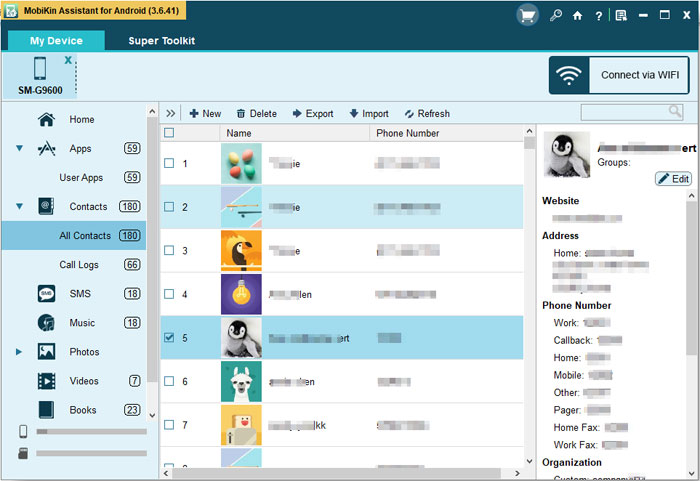 Step 3. Backup Samsung Galaxy Nexus to computer
Select the files you want to backup and click "Export" button from the top menu to kick off the backup process of your Samsung Galaxy Nexus. That is all that you need to do to backup all that you love on your Samsung Galaxy Nexus. Never lose out on your memories from now on. Thus, enjoy a hassle-free back-up process with the MobiKin Assistant for Android.