Top Call Manager Apps for Android
There are various applications in the market that enables you to make full use of your smart phone. There is no doubt that these applications can bring us much convenience and make our life colorful. In order to enable you manage calls on your Android phone freely and efficiently, here we will recommend you several call manager apps with the introduction of the main features. With these apps, you are able to make your daily call management easy. For example, they can help you block unwanted calls as you like. Besides, apps can provide you more features that can enable you to answer the wanted calls only. These apps can make your life more efficient and avoid wasting time in some crank calls. You can just select one apps according to your needs and different features of these apps.
1. Advanced Call Manager
You can download Advanced Call Manager here >>
Main features:
- The size of the app is small and will occupy a little space of your device. Besides, it will operate quietly in the background.
- You can customize the settings for individual numbers or group numbers so that you can block the specific contacts and set a muted ringtones.
- You can set the filter as you like and then the app will take smart actions according to your requirements.
2. Call Master Key
Main features:
- The app allows you create flexible rules in call and text messages. For example, you can set the blocking spam SMS easily.
- You are able to set the password protection for some messages that you don't want to be exposed to others.
- You can select beautiful skins and themes as you like.
- Users can set powerful filters via various expressions.
3. Call Control - Call Blocker
You can download Call Control - Call Blocker from Google Play Store >>
Main features:
- The users are able to create a blacklist and a whitelist according to their needs.
- You can mute the ringer so that you will not be disturbed or bother by the loud ringtones.
- The app can also block unwanted calls and SMS messages freely.
- Another important function of the app is backup. The app allows you to make a backup of the contacts online or on the local data card.
4. Call Log Manager Pro
You can download Call Log Manager and upgrade it to get the Pro verison >>
Main features:
- The app is easy to operate because of the user-friendly interface. And you can perform call activities with no hassle.
- You are able to log the incoming call details by using the calendar.What's more, the users can also check the details of all the incoming, missed, received calls.
- The app also will provide you the logged data on the search and export option.
5. Call Guard
You can download Call Guard from Google Play Store >>
Main features:
- The app will provide you different modes that enable you to block various numbers flexibly. For example, the app can block contacts with a specific caller ID.
- You are allowed to make a blacklist and a whitelist to record the unwanted and wanted contacts.
- The users are also able to set passwords to protect the app settings.
Bonus: How to Manage Android Apps?
Various applications on the smart phone bring people much convenience. But it is also cost you much time to manage so many applications on Android phone. Here we will recommend you a useful software - MobiKin Android File Transfer (Windows & Mac), which can enables you to manage all the Android applications on the computer easily and efficiently. You are able to uninstall, install or delete all these apps as you like. Besides, you can manage other files like contacts, SMS messages, photos, books, music, videos, etc. The software can be compatible with all brands of Android phones like Samsung, HTC, LG, Sony, Nexus and so on.
There are two versions available, one is the Windows version and the other one is a Mac version. You can click on the icons below to download the free trial version to have a try.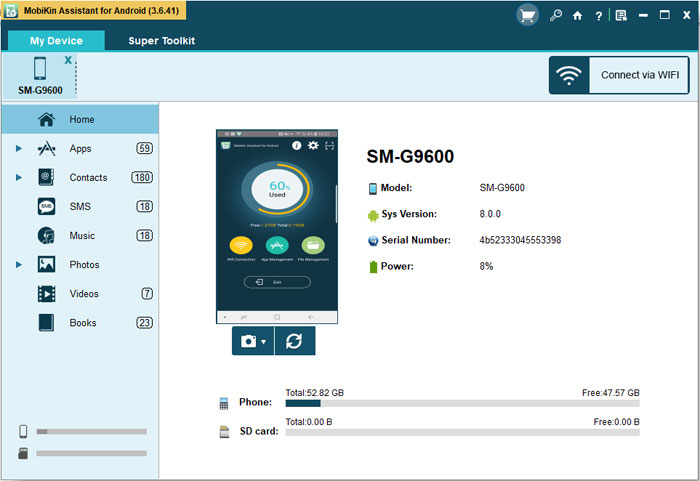 Related Articles:
Top Android Download Managers
Top 5 Best Free Music Player Apps for Android
Back Up and Restore Android Phone or Tablet