Best Free eBook Readers for Android Smart Phone
EBooks are basically text, images, and even audio/video packaged into a single electronic file. In other words, an eBook is a book in electronic format that can be downloaded to a computer, PC, Mac, laptop, PDA, tablet, cell phone or any other kind of reading device, and is read on the screen. In recent years, with the development of technology, people prefer to read on their cell phone than read traditional paper books gradually.
Then, in order to enhance the user experience, a lot of eBook reader applications are developed in the market to serve for Android users. But it's a little bit difficult to choose from those apps without any experience. So in this page, we are glad to introduce some of the best eBook reader apps after many comparisons for your reference. The following chapter will show you some advantages and benefits of an eBook. And it will make your eBook reading more smoothly. Now let's continue.
See also:
Top 5 Free Wallpaper Apps for Android Phone and Tablet

Top 5 Encrpted Messenger Apps for Android
What Are the Benefits of eBooks over Paper Books?
An eBook has a lot of advantages over paper books:
- To read with eBooks, you can download and start reading them within minutes, without leaving your chair.
- You don't need to go to a bookstore to buy them, neither wait for them for days, weeks and more.
- Most of eBooks have a search button allowing you to quickly jump to the page containing the word you're interested in.
- What's more important, using eBooks can protect our environment effectively cause no trees are cut down to manufacture paper for the pages of books by reading an eBook.
That's why eBooks become more and more popular now.
Best Free eBook Readers Applications for Android
Now let's see the best 5 popular free Android eBook reader apps.
1 NOOK – Read Books & Magazines
With Nook, you can get the best reading experience for Android cell phones and tablets. It has access over 3 million books including 1 million free books, top magazines, newspapers, comics, and more. You can make your own selection of books and it will only take like 10 seconds to download it on your cell phone. And you will have all your favorite books at your fingertips whenever you want.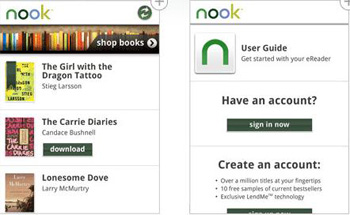 2 Moon+ Reader
The Moon+ Reader app is one of the best eBook readers available for Android. It is considered as an innovative book reader with powerful controls and full functions which allow you to read thousands of eBooks for free. And it supports online eBook libraries. It supports formats like EPUB, fb2, txt, html, zip or OPDS.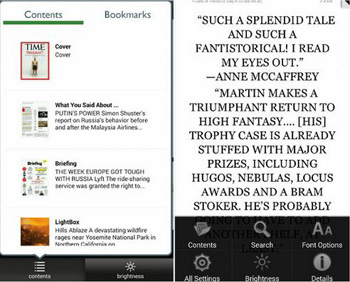 3 Aldiko Book Reader
Aldiko Book Reader is the leading eBook application for the Android platform. Over 20 million users from over 200 countries use it to read books. With Aldiko, you get a vast collection of eBooks to download for free. Many users think of it as a great book reading app to read classic and wonderful novels. It supports EPUB and PDF formats and more.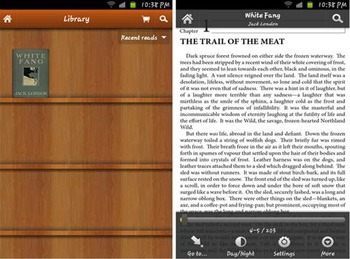 4 Universal Book Reader
Universal Book Reader is a free eBook app which enables you to read EPUB and PDF files. The application comes with stylish and user-friendly interface and provides most comfortable reading experience for both Android smart phones and tablets. An integrated file browser allows users to read any eBook, stored on your device. Universal Book Reader opens Adobe digital rights management protected files in EPUB format and PDF files.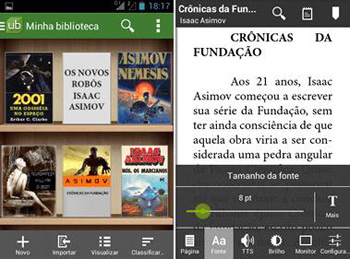 5 FBReader
If you want customizations, then FBReader is your best choice. No eBook reader offers as many options to configure as FBReader and it may very well become cumbersome if you don't exercise caution under the tab "'Settings'". You can customize every inch of space on the screen such as the first line indent, paragraph line spacing, margins and so forth. It supports wider variety of formats EPUB, fb2 and more. You can also download eBooks from 5 sources for free while an additional list is provided at the official page for downloading eBooks in various languages.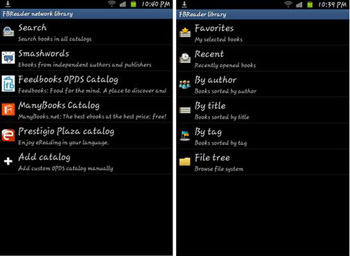 Note: If you've downloaded too many eBooks on your Android cell phone or tablets and the files are messy, you can use a professional eBook managing assistant to help you manage them on the computer effortlessly.