Free Movies for Android - Top 5 Best Free Movie Downloads for Android
Watching films has become one of the most popular entertaining activities among young people all over the world. Thus, various genres of movies get to satisfy different ages of the people, and it can be educational and emotional in both hands.
But nowadays, people prefer to watch movies on their mobile phone instead of going to a cinema or theater due to some reasons like they can watch the movie which has been taken out of theaters. And they can also choose any movie that they really want to see but have missed long time ago over and over again by searching on the Internet. It's more convenient to watch movies on cell phone because they can watch movies whatever time of the day and wherever they are.
So, in order to help Android users enjoy movies on their phone more freely and pleacantly, here are 5 popular movie players on the market. With them, you can watch movies.
Free Movie Downloads for Android Phone or Tablet
We are going to present 5 of the best Android movie downloads for your reference. You can choose one of them to install on your Android device. Enjoy watching movies with it.
1. Crackle - Movies & TV
With Crackle, you can enjoy free full-length Hollywood films, award-winning films of your favorite artists and TV series that you don't want to miss at absolutely no cost at all. The genres of the movies range from action, crime, horror, thriller to science-fiction, anime and comedy. You can indulge in unlimited viewing by streaming HQ videos over WiFi or 3G and 4G networks. Additionally, you are free to create your own queue of movies. Now grab the Crackle app and watch uncut and unedited movies no matter when and where you like it with your Android phone.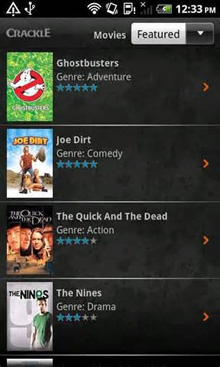 2. Flixster Movie Downloader
Flixster movie downloader is considered to be the best app for downloading movies of your choice on your Android Phone. You can use this app to instantly download the movie that you desire and watch it directly on your phone. It has a wide range of types including action, crime, romance, thriller, literary and art, comedy, anime and more which will meet your different demands. You can also stream your favorite movies and television shows directly from Flixster during a night out with friends or family.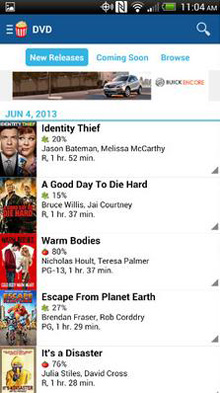 3. RunPee Movie App
This app has an interesting name when you first set eyes on it. The sound of the RunPee app may already have you smiling but it has more to offer than just a hilarious title. Imagine when you are sitting in a movie theater watching a thriller and you want to answer nature's call. Wouldn't it be of tremendous help if someone let you know when would be a good time to leave so that you don't have to miss on anything important? This is where the RunPee app comes into the picture. It tells you exactly the best time to run and pee during an engaging flick. And the app has an in-built timer to keep a tab on your pee-times and also gives a synopsis of the first five minutes of a movie if you are late. It's really considerate, right? Download it and you will have a wonderful experience on watching movies from now on.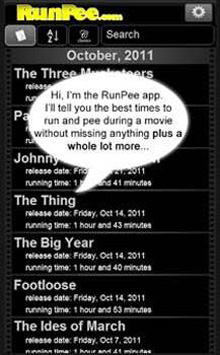 4. IMDb Movies & TV
Are you claiming yourself a movie buff? If so, then there is no getting away from the popular IMDb Movies & TV app when you are chalking out movie apps for Android list. With its interesting features and immense utility, you may be forced to categorize it as a "Must Download" application. You can read reviews of TV shows, view US Box office results, upcoming movies and more. It can also be accessed for checking show timings at a local theater or dabbling in entertainment news from a number of media houses. Other activities include viewing trailers and looking up recaps of television shows from the night before. Plus, you could also browse through and search IMDb, which flaunts a data collection of over 1.5 million movies and TV shows amongst other features. So if you want to seem to be a expert in movies, this app is indispensible on your way to be professional.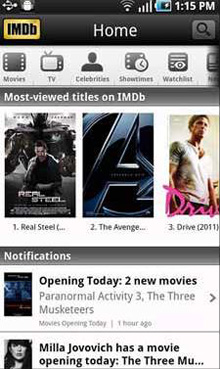 5. Full Length Classic Movies
As the name suggests, you can view classic movies via Full Length Classic Movies and get all nostalgic about how that era contributed to the world of cinema. This Android movie app may also serve to be a tool for media students or budding artists out there. It is complete with a simple and easy-to-use interface and features an interesting mix of titles that you may want to watch over and over again. All in all, Full Length Classic Movies is the best choice for those who have feelings of romance.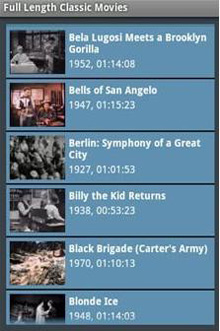 Note: For a movie buff, you may download many films on your Android phone. But it is often the case that there is no more storage for you to save any other movies. So in order to keep them safe and intact, you may want to back them up on the computer. And at this moment, MobiKin Assistant for Android would come in handy. You can click on the icon below and follow the instructions to manage the data on your Android easily.
Related Articles
Best Free Music Player Apps for Android