Top 5 Free Android Texting Applications
Android mobile phone are one of the hottest devices on the market due to its multifunction. And amongst its functions, texting would be the most popular one since it is a convenient way of communications, especially under some circumstances like having a meeting. But with mobile carriers charging anywhere a lot of money a month for unlimited plans, Android smart phone users with a love of texting might feel like coughing up this kind of cash is their only option.
But actually there are several great apps available that allow users to text for free. These apps will save you money and offer you more than just your basic text because many of them also offer additional perks like group chat and video. Most of us know Skpe, Facebook and Twitter have the functions of texting messages between people. But today we will show you some other texting apps to allow you to make good communication and stay in contact with all your family, friends and colleagues. Now you can read on and choose the texting apps for your own.
See also:
Top 5 Free Wallpaper Apps for Android Phone and Tablet
Top 5 Encrypted Messenger Apps for Android
5 Best Free Text Message Apps for Android
Next we will show you 5 of the best free Android text message apps cell phone or tablets.
1. Viber
The Viber app aims to improve users' talk and text experience with some impressive features like group chatting with up to 40 people, no ads, and push notifications even when the app is off. You can save money in the process when you send free calls and text messages to other people who use Viber as long as you are on the Internet. Users also have the ability to transfer their conversations to their computers. It's also pretty good for those who are on a international trip for it saving your money to text messages or make voice calls.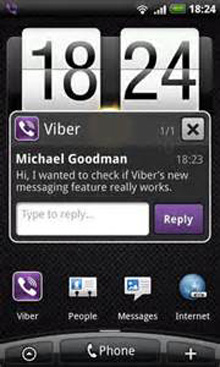 2. WhatsApp
Of all the texting applications available, WhatsApp probably has the largest user base and it is probably the most popular and well known across the world. That's because it has various advantages:
- Working with your mobile number, WhatsApp doesn't require usernames, passwords and pins
- It uses the web rather than the mobile network means that there are no pesky international charges.
- It's highly customizable, and very easy to use to message others on the service as it connects via your mobile number.
- It supports Android, iOS, and Windows operating system cell phones.
- Unlike the standard text-messaging service, more like multimedia messages, inserting emoticons, and changing the conversation's wallpaper are among its abilities.
- Another awesome feature is the group messaging with titles you can edit.
If you want to try something new then your existing instant messaging app, you'll definitely need to try this one out.
Tip: If you have mistakenly delete your WhatsApp messages, you can click here to learn how to recover them smoothly.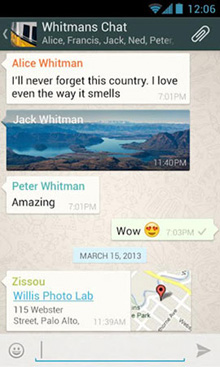 3. TextSecure
Are you paranoid about your texts being seen or accessed by someone other than the recipient? If you are, then TextSecure is the app for you. You can create a password upon startup and proceed to enter your existing SMS and MMS messages into an encrypted database. You can also send secure texts from the built-in messenger app or participate in a group chat. The settings on this app are pretty powerful, giving the user a range of options. It is quite reliable for you if you are looking for a decent secure texting app.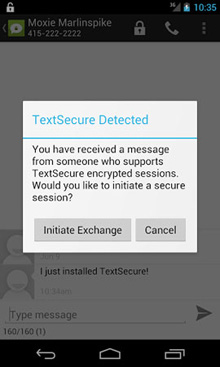 4. Kik
With over 80 million users, Kik is another app that can't be ignored. It has the ability to send photos, have group chats, as well as being able to search for YouTube links, images and self drawn sketches. More interesting features include downloadable emotion icons. You can also create and send different memes from within Kik, or "Photobomb" your friends. Kik also prides itself on being personal and private, not having to share your mobile number or email address, rather a username that you can create. In all, it is the highly recommended for you.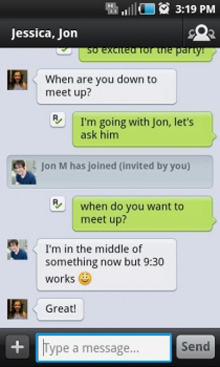 5. Google Voice
Google Voice offers unlimited free text messages for your unique Google Voice number. The app also includes group messaging, offline voicemail, and conference calling. Users have the option to read transcripts of their voicemail and record their incoming calls. One thing to keep in mind is that when placing domestic or international calls, Google Voice for Android will use minutes from your cell phone plan, so watch out.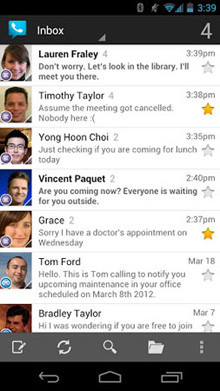 Note: Want to transfer the important text messages to the computer for backup, you can click here to get the complete guide on how to backup Android messages to computer.
Related Articles:
Best Free Music Player Apps for Android