Top 5 Free Wallpaper Apps for Android Phone and Tablet
Most girls would like to change their wallpapers often because they are fond of something new and interesting. Yes, if you use the same wallpaper all the time, you will easily get bored of it. Of course, there are many different types of free wallpaper apps on the Internet, but it's a little bit tricky about which one to choose from. And finding the right wallpaper for your Android device can be challenging because you want a beautiful picture that won't get in the way of seeing your icons. So selecting the right wallpaper is important for you.
In this article, we will show you some apps that make it easy by finding the awesome wallpapers for you so you don't have to search through millions of photos. Check out the following parts of this page, and you will know more about how to make your device look stunning once again. Let's move on.
Free Wallpaper Downloads for Android Device
Get bored of the same wallpaper all the time? These five best Android wallpaper downloads contains a variety of themes and pictures to be your unique wallpaper. Check them out.
1. 500 Firepaper Wallpaper
The 500 Firepaper app gets all of its photos from 500px which makes it one the best wallpaper apps. Similar to many other wallpaper apps, it will cycle through the photos at an interval of your choosing. It is also a professional photo site for sharing images. The 500 Firepaper gives you access to high quality images to use as your backgrounds, and it allows you to choose category. You can select how often the images update and do so based on a time or when you turn off or lock your screen, whether you want the parallax effect and then select the image.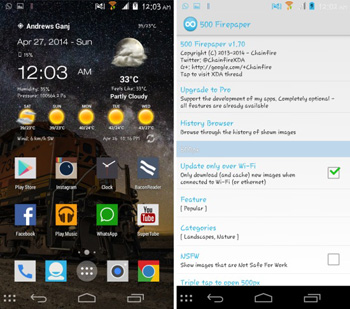 2. Backgrounds HD
The Backgrounds HD app is one of the free and best apps available due to the wide number of images within it. All of the images are of high quality. Unlike some wallpaper apps, Background HD is developed to be laid out very well to make searching simple. There are over 5,000 images for you to choose and the number is constantly growing as we are speaking. As you know, not all wallpaper apps give you the ability to share images that you like and that is one of the ways that Backgrounds HD stands out from the rest.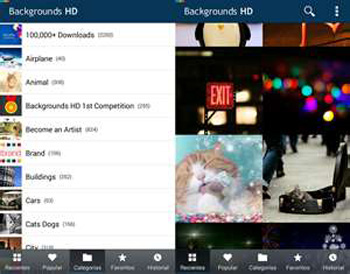 3. Zedge Ringtones and Wallpapers
If you search the apps in the market a lot, you must have known that Zedge Ringtones and Wallpapers is one of the applications trusted by millions of people. When you choose an app you want it to be safe and reliable, and these are not issues with Zedge. The HD wallpapers are optimized for your screen size so you don't have to worry about adjusting the image to make sure it fits because the app takes care of that for you totally. Besides, Zedge also has the function of offering various music ringtones for your Android device.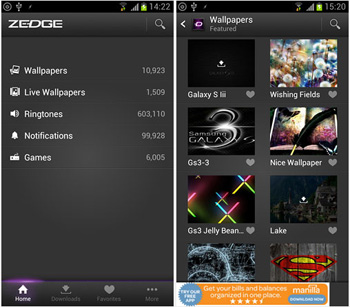 4. Muzei Live Wallpaper
Muzei Live Wallpaper gets its name from the Russian word meaning "Museum". Unless you make changes to the settings, Muzei will rotate through famous pieces of artwork giving you a different one as a background each day. If you decide you don't want to see famous art, you can choose to select images from your personal gallery as well, either specific or random ones. The blur feature is develped for you to see all of the artwork on your screen which is very considerate. Having this feature, the background won't overwhelm the other elements on your phone whether they are apps or widgets. If you want to see the full image not blur at any point, just double tap the screen. It is easy and simple for all Android users.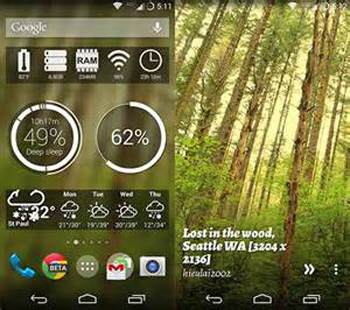 5. Cool Wallpapers HD
Cool Wallpapers HD stands out from the crowd due to its large collection of images and easy navigation. As soon as you download this app you will notice that there are thousands of images for you to choose from. As a matter of fact, there are currently more than 100,000 collections of images and more are being added each day. In a word, Cool Wallpapers HD is incredibly easy to navigate so you can find images quickly and easily.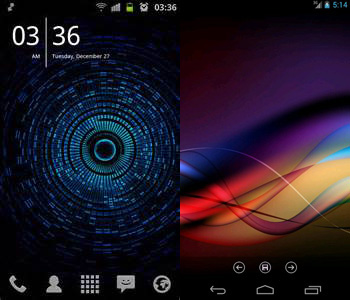 Note: If you are big fan of art and have saved lots of wallpapers on your Android phone, you may need to back them up on the computer in case you delete them by accident some day. Here is a image backup program which can help you transfer the photos on Android phone to PC safely. You can download the free trial version of it or by directly clicking the blue icons below.