How to Sync Music to Android Easily
In recent years, fewer and fewer people use MP3 player to listen to music because it's too small and easy to lose. They are not willing to carry an additional MP3 player when they have a smart phone which can store many more songs. And a great number of Android phones like Samsung Galaxy, HTC One, Sony Optimus and Motorola all have very nice tone quality which exactly meets the users' demands.
As it's known to all, the storage of your Android phone is always limited, especially when there are too many songs in your cell phone. You probably have the habit to delete a few old songs to release the space for new songs. When doing this, you may mistakenly remove some of your favorite songs. A malicious virus attack may also cause the deletion of some data including the music. So how to save this situation and back up the music and sync to your Android phone again? We all know that we can't transfer the music from computer to cell phone directly without any assistance. Speaking of which, music sync manager software will save the day. Now let me illustrate the details for you.
Among all kinds of the music sync software, I highly recommend this one: MobiKin Assistant for Android (Windows & Mac). People who have used this software speak highly of it as it empowers Android users with the ability to copy not only music to their mobile phone from computer, but also can sync videos, contacts and photos and so on. And it only takes you a few seconds because it has very easy operative procedures for you to follow. What is more, the sync manager software has a wide compatibility such as HTC, Samsung, Motorola, Sony, ZTE, LG, Huawei, and many other Android phones. Now you can download a free trial version to try first by clicking the blue icon below.
Steps to Copy/Sync Music from Computer/Mac to Android Phone?
Step 1: Connect the Android Phone to Computer
To begin with, you need to start USB Debugging on your phone and make sure it is enabled. If you have done this before, you can skip this step. If not, please do the next steps to install the USB driver first before you continue.
- For Android OS 2.0-2.3, Go to Setting->Application->Development->USB Debugging;
- For Android OS 3.0-4.1, go to Setting->Developer Options-> USB Debugging;
- For Android OS 4.2 or later, go to Setting-> Developer Options, (If you did not find the Developer Options, go to About Device, and tap "Build number" 7 times in rapid succession then back to the Setting page, and then you will find it.), turn on Developer Options->USB Debugging.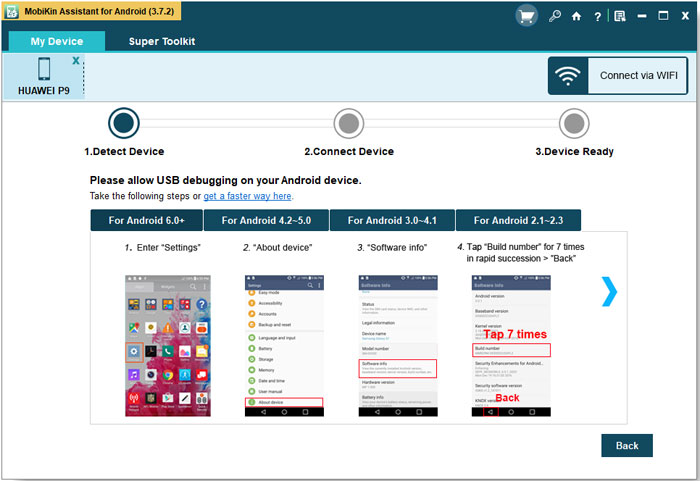 After that, tick "USB Debugging Opened" and click "Next". Then you can see your phone is shown in the primary window once it is examined as follows. And the specific parameter of your phone like mode, system version, power and storage will be displayed in this interface.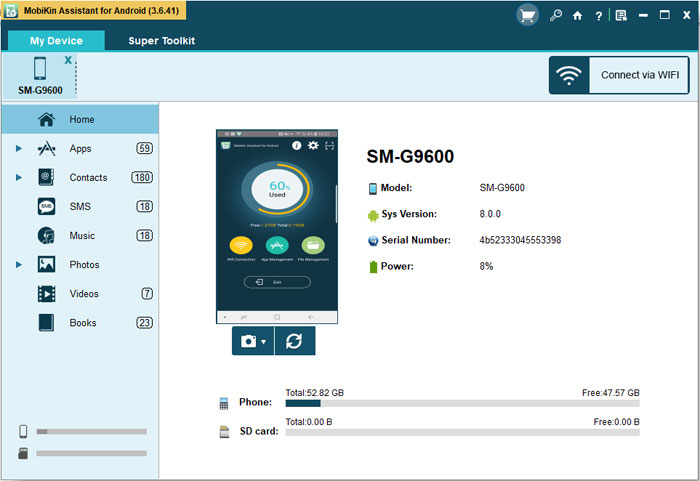 Step 2. Preview and Begin to Sync Music to Your Android Phone
Click "Music" among the icons on top of the window, then hit the "Import" button and you will sync the songs to your Android cell phone from PC succesfully.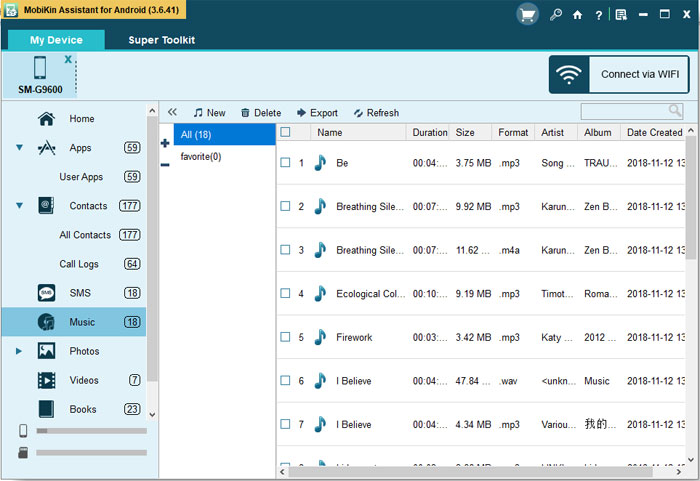 Now you have managed to sync music to your Android cell phone successfully. In addition to songs, videos and photos can also be imported from your computer to your cell phone. If you are interested in this Android sync manager, you may download a free trial version.
Related Articles
Easy Way to Transfer Contacts List from Android to Computer
How to Transfer Text Messages from Samsung Galaxy to Computer
How to Use the HTC Sync Manager Alternative