LG G5 VS Samsung Galaxy S7, Which One Will You Choose?
Both of Samsung and LG released their flagship smart phones in 2016, which is destined to be a war of flagship. Samsung phone has led the Android market for a long time and this time it released the Samsung Galaxy S7, which looks like the predecessors but has completely different innards with powerful components. LG G5 is the flagship of LG and welcomed by many people for its removable battery, camera with high pixel and QHD display and so on. This time the LG G5 drew the attention of many people and was regarded as a strong opponent of Samsung Galaxy S7. Then which one could be your best choice? Just read the article and find your answer. The two devices have different features and you can make a right decision according to your needs.
1. Display and Design
The face of Samsung has been improved in recent years and you may still remember the glass and metal combination of Galaxy S6. And the Samsung Galaxy S7 is expected to stay true to the glass and metal combo and will remove a lot of sharp edges so that it will be more comfortable to hold it in the hand. Besides, the camera still sticks a little.
LG has tested many different designed in the past and LG G5 phone will be a complete overhaul and a brand new product. The new phone has a sleeky metallic unibody, the removable battery and an ultra HD display that can be always-on, which allows you to see the time, notifications, date anytime without waking the phone.
2. Performance
Processors of two devices are Snapdragon 820. Although the Snapdragon 810 was criticized for its overheat and poor performance, the new improved processor will contain the newly custom CPU core and will offer you a better performance. Besides, both of the smart phones have 4 GB RAM and can offer you 32 GB internal memory space with the micro SD that can be up to 200GB. Besides, Samsung Galaxy S7 can also offer you 64 GB internal memory spaces. Finally it is hard to say which one is better.
3. Camera
According to the official announcement, LG G5 will have 16 mega pixels back camera and 8 megapixels front camera with laser focus. However, the Galaxy S7 can only offer you 12.2 MP primary and 5 MP front cameras. But the lineup of the Samsung phone has f/1.7 aperture so that the users can take better photos even in the dark place. By the way, both of two devices' graphic processor is Adreno 530.
4. Battery Life and Prices
LG G5 has the 2800 mAh battery while the Samsung Galaxy S7 has the 3000 mAhLi-Ion battery. Since the Samsung phone is the all-in-one metal body, the battery is unmovable. While the battery of LG is still removable.
Their prices are similar and Samsung Galaxy S7 is more expensive that LG G5. Because the Samsung phone is $699 USD while the LG phone is expected to be $ 650 USD.
5. Specs
Bonus:MobiKin Android Manager
Without a mobile phone assistant, it will be troublesome for the users to manage various files and applications on the device. MobiKin Android Manager (Windows/Mac) is designed to help users to transfer files like contacts, SMS messages, audio files, video files and so on between Android device and PC freely and manage the apps on computer with no hassle. No matter what types of Android phones you are using, the software can be compatible with your device. If you want to have a try, just download free trial version by clicking the icons.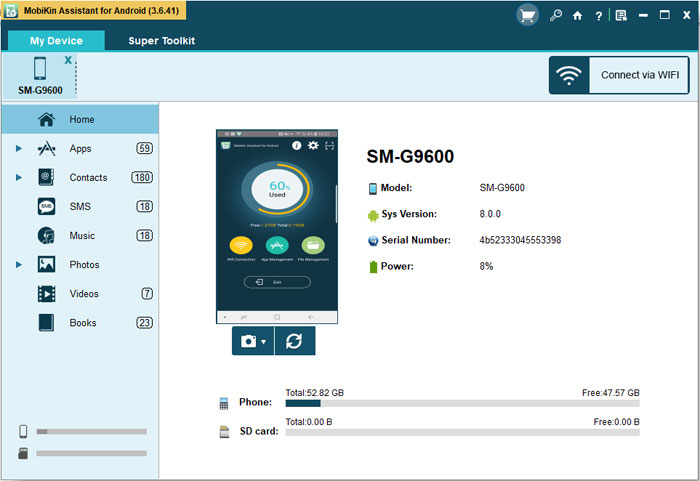 Related Articles:
How to Transfer Data from Mac to Android
How to Transfer Contacts from HTC to Computer
Manage Android Apps on Computer