Nexus File Manager - Best Nexus Backup Software
"My first problem is that it's a pain to even get the Nexus 5 to connect to my PC via the USB cable. I have to use my computer's device manager to reaffirm that the device drivers are working most of the time, only after this will the Nexus 5 be recognized by the computer. Now it comes to the next problem. When I try to move media files (music or video) over to the phone the transfer just hangs at 0% and does nothing, never even moving. How can I fix this? I've searched quite a lot for fixes and have tried to alter the USB debugging, creating a file inside the file I want to transfer to, and I've also used AirDroid but it doesn't work well."
"I just received my Nexus 7 and can't figure out for the life of me how to copy files from my PC to the device. When I plugged in the Nexus 7 to my Win 7 PC the first time an error popped that said it failed to install the drivers. Every time I plug it in since then, the computer doesn't even recognize the device. On the Nexus 7, it will acknowledge that it was plugged in and that's it. How am I supposed to transfer data on this occasion?" -- From Android Device Forum.
Well normally, you have to enable USB debugging and install USB driver on your computer no matter what software you use to transfer data from your Nexus smart phone or tablet to PC. Keeping failing to install USB driver can be rather disappointing. Fortunately, this article will solve that problem for you. It will introduce a third-party Nexus file manager to help you back up data on Nexus devices to computer. It is all-around and you can successfully enable USB debugging and install USB driver with it. Now you can move to the major part of how to use the powerful Nexus backup software.
Bonus here: If you deleted some precious data on your Nexus device, don't worry. This Nexus Data Recovery software will help you retrieve the lost data perfectly.
Steps on Using the Nexus Backup Software
With MobiKin Nexus File Manager (Windows & Mac), you can sync data on Nexus such as contacts, text messages, videos, music, photos, books and apps to the computer with no quality loss.
MobiKin Nexus File Manager is a third-party desktop application. It supports all Android smart phones including Samsung, Motorola, Sony, HTC, LG, Nexus, HUAWEI and other Android operating system devices. The transferrable data are contacts, messages, videos, music, photos, apps and books. Now you can get the Windows version to start. Mac users can switch to the Mac version and follow the same steps as well.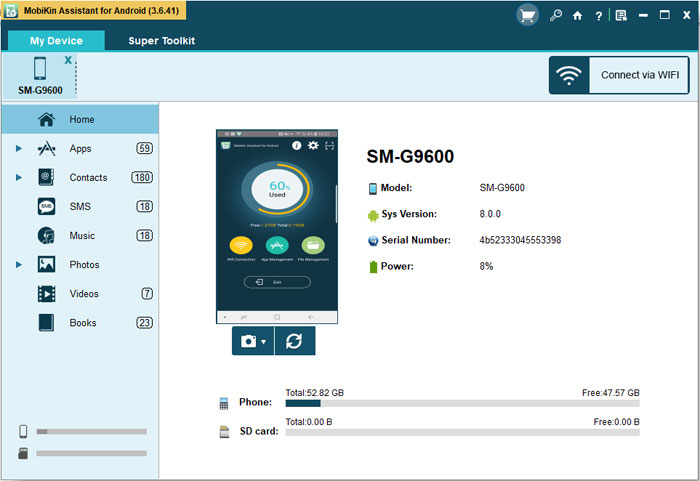 Step 1 Link the Nexus to PC and Enable USB Debugging
Link your Nexus smart phone to the computer and enable USB debugging as follows, but if you have done this before, you can skip this step and continue.
- For Android OS 2.0-2.3, enter Setting->Application->Development->USB Debugging;
- For Android OS 3.0-4.1, enter Setting->Developer Options-> USB Debugging;
- For Android OS 4.2 or later, enter Setting-> Developer Options, (If you did not find the Developer Options, go to About Device, and tap "Build number" 7 times in rapid succession then back to the Setting page), turn on Developer Options->USB Debugging.
Step 2 Install the USB Driver on Computer
Then you can tick the "USB debugging opened" option and click the "Next" icon to download and install the USB driver on your PC. Just follow the steps on the main interface. When it's done, you can refresh the program to detect your Nexus device.
Step 3 Preview the Data
The results of the detection will be shown on the menu. You can see all the data of your Nexus are displayed on top of the window. Now you can move to the last step.
Step 4 Use the Nexus Backup Software to Transfer Data
Now you can start to transfer data by choosing the folders on the menu first. For example, you can select the "SMS" on the left column to preview the whole content. Then click the "Export" button to transfer text messages to the computer. In the same way, you can export other data such as contacts, music, apps, videos, photos and books to the computer.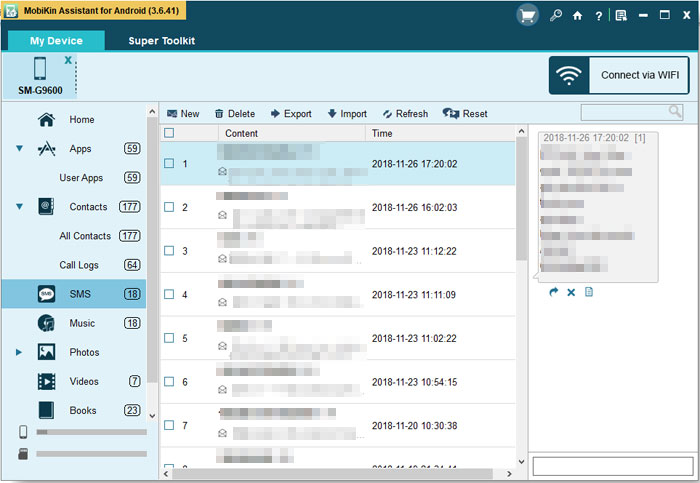 Related Articles
Top Free Game Apps for Android Users
Tips to Sync Facebook and Skype Contacts to Android
Best Astro File Manager Alternative Software