How Can I Watch YouTube FLV Videos on Android
Watching videos online is one of the hobbies people have nowadays. YouTube is a famous video-sharing website which not only can people watch videos on this site, but also it allows users to upload, view, and share videos with others. To be more specific, unregistered users can watch videos clips, TV clips, music videos and other contents, and registered users can also upload videos to their channels. YouTube accepts videos uploaded in most container formats, including .AVI, .MKV, .MOV, .MP4, and .FLV, etc. These include video formats such as MPEG-4, MPEG, VOB, and .WMV. It also supports 3GP, allowing videos to be uploaded from mobile phones. But sometimes you may find that you can't play FLV videos on your Android smart phone or tablet. How can you play YouTube FLV videos on Android phone or tablet? In this page, we offer some tricks to help you convert and transfer FLV videos to Android phone or tablet so that you can watch the FLV videos smoothly.
Tips to Transfer and Watch YouTube FLV Videos on Android Devices
If you are inclined to watch FLV videos on your Android smart phone or tablet without converting, you can use a video player that supports to play back FLV videos. There are a lot of FLV players for Android devices on the market today. Here we recommend two apps for your reference which are RealPlayer and FLV Player. With them, you can play YouTube FLV videos on your Android smart phone or tablet perfectly.
1. FLV Payer
FLV Player is a mobile app that allows you to enjoy Flash video content right on your Android smart phone or tablet. After you download a video from such video websites as YouTube, you can copy the FLV files to the SD card and run the application; navigate to the videos you want to watch and select it. FLV Player works standalone and doesn't require Adobe Systems' Flash Player Plugin to be installed on your mobile device. Please note though that you need an ARMv7 processor with vector FPU and a frequency of minimum 550MHz, OpenGL ES 2.0, H.264 and AAC HW decoders, and at least 256MB of RAM in order to run the app. In a word, this video player can help play the FLV videos smoothly and is convenient for you to manage your files.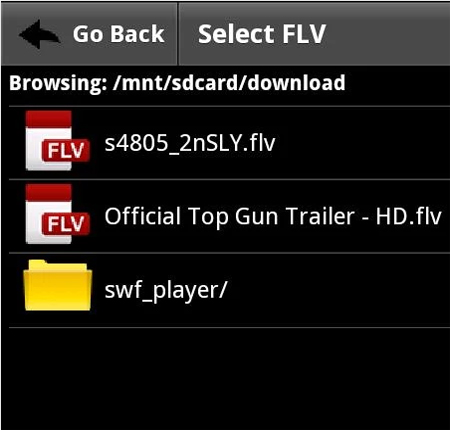 You can also download it on your Android tablet.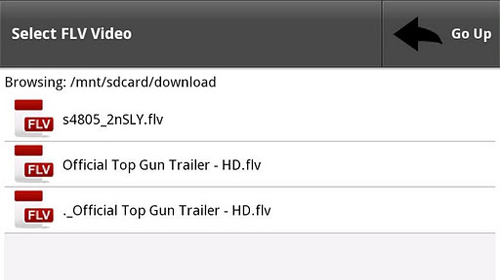 2. Real Player
The RealPlayer application is a popular and ad-free video player for Android devices that easily plays your videos. This powerful all-in-one media player supports YouTube video search and playback on your Android smart phone or tablet. Now you may download the RealPlayer video player app for free and play your playlist, movies and YouTube FLV videos.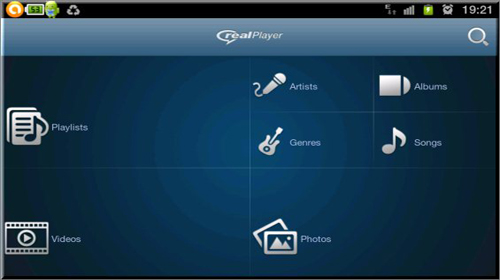 Extra info: After downloading so many videos on your Android devices, you may want to arrange them on your computer. Then you can turn to this desktop software to manage your videos files - MobiKin Android Video Transfer (Windows/Mac).