Print out Text Messages from LG Optimus on PC/Mac
The series of smart phones and tablets of LG Optimus has become one of the most popular Android devices due to its innovative feature and reasonable prices on the market. And it can satisfy your demands perfectly in the aspect of both business and entertainment. However, even though it is just so powerful, LG phones still cannot make everything perfect and sometimes it also brings some troublesome problems. For example, if you're a person who loves to text people in the daily life and used to store all messages on your phone for reviewing, then you must have trouble with storage limitation, right? Then you have tried to delete some useless messages and you also wish to print some additional valuable messages to paper for releasing more free space on your smart phone. Now, the problem is coming: you can't find the messages on your computer while your phone is connected to the computer, then how to export LG text messages to computer and print them out?
Printing text messages from LG Optimus to paper seem to be impossible now, right? As we all know that, if you wish to print off SMS messages from LG, you have to export them to your personal computer firstly. However, text messages are always saved in the phone's internal memory, and it is forbidden to be accessed while you're linking your phone to a desktop PC for security consideration. That is why you need to turn to MobiKin Assistant for Android (Windows & Mac) here. With it, you can easily get access to the phone's internal memory and export text messages on LG Optimus to computer as CSV format with one click. After that, you can print the exported CSV file to paper as you like. What's more, the program can fully compatible with hundreds of phones from other brands, including Samsung, HTC, Motorola, Sony, ZTE, etc.
Now, just follow the below guide to print your LG text messages to paper!
Step-by-step Guide to Print out LG Optimus Text Messages to Paper
First of all, you need to download and install the program on your personal computer by clicking the below icons. Windows and Mac version are all available here, you need to select one of them for installing according to your own computer's operating system.
Plug your LG Optimus into the computer and follow the ways below to open USB debugging on your device:
- For Android OS 2.0-2.3, Go to Setting->Application->Development->USB Debugging;
- For Android OS 3.0-4.1, go to Setting->Developer Options-> USB Debugging;
- For Android OS 4.2 or later, go to Setting-> Developer Options, (If you did not find the Developer Options, go to About Device, and tap "Build number" 7 times in rapid succession then back to the Setting page, and then you will find it.), Turn on Developer Options->USB Debugging.
After that, you can click "USB debugging opened" > "Next" to continue installing USB driver on the computer for making your LG Optimus can be recognized successfully.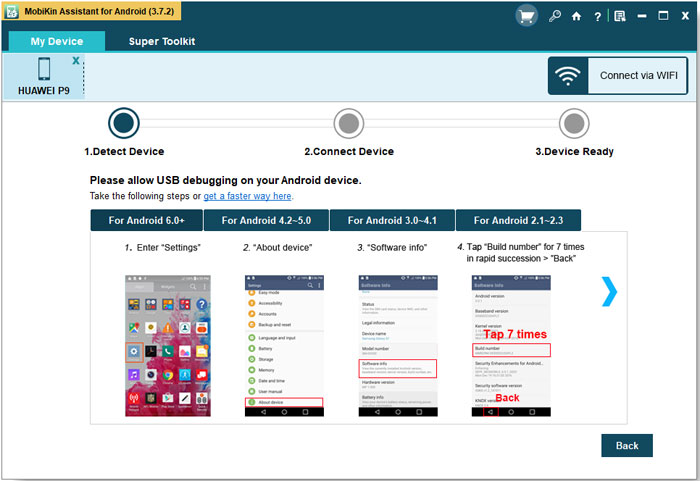 Now, you'll see something about your device on the program, and find that files on the device have been displayed in the top menu as follow: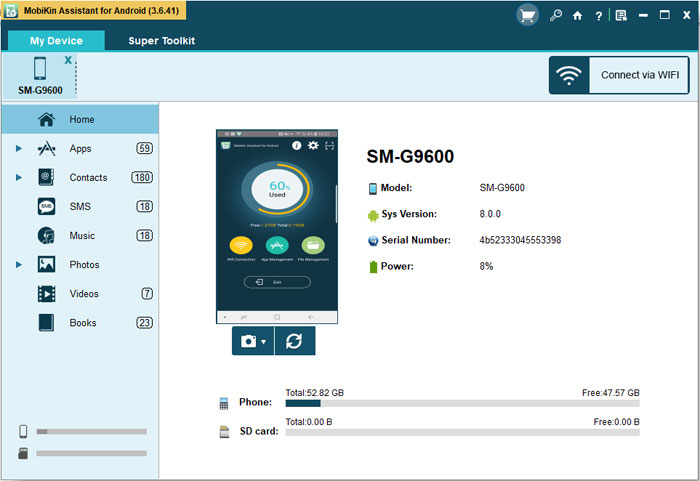 Messages are categorized in the folder of "Contacts", so here don't hesitate to hit this option and continue to select "All SMS" in the left panel to list all messages on your LG Optimus. Click "Backup SMS" button to export and save all messages from LG Optimus to computer as a printable CSV file.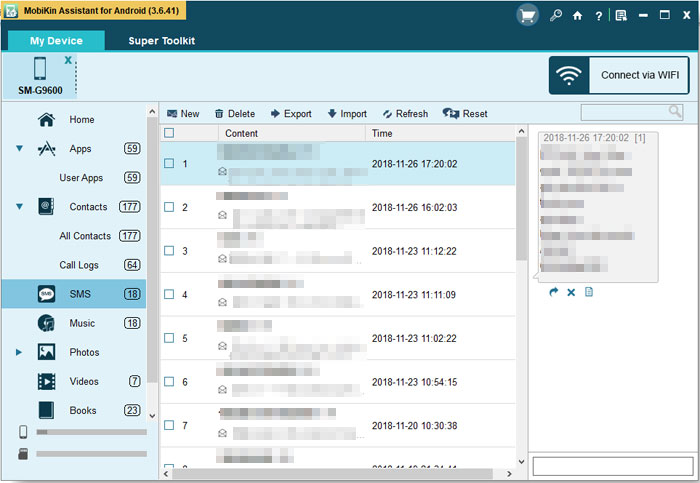 Directly open the CSV file and print it out through a local printer easily. Is this fantastic? Yeah. Now it's wise of you to download this software and try the wonderful process by yourself.
Related Articles
How to Transfer Contacts List from LG to Computer
Ultimate Solution to Print out Text Messages from Android Phone
How to Transfer Text Messages from Samsung Galaxy to Computer