[5 Ways] How to Backup Samsung S10/S9/S8/S7/S6 Photos Easily & Safely?
With the continuous development of smartphones, people can do everything on their mobile phones and a mobile phone is no longer just a contact tool. If you own a Samsung Galaxy smartphone and you are a photography enthusiast, then you must enjoy taking photos and recording your life with your Samsung mobile phone. Now you have a problem with Samsung backup photos, because the storage space of a Samsung phone is limited. On the other hand, if you click on a wrong click or a virus infect, these photos stored on your Samsung phone will be in danger of being lost.
How do I backup my pictures on my Galaxy S6/S7/S8/S9/S0? Here, we introduce you to 5 different ways on how to backup Samsung Galaxy S6/S7/S8/S9/S9 Edge/S10e/S10+ photos to computer, cloud and other places.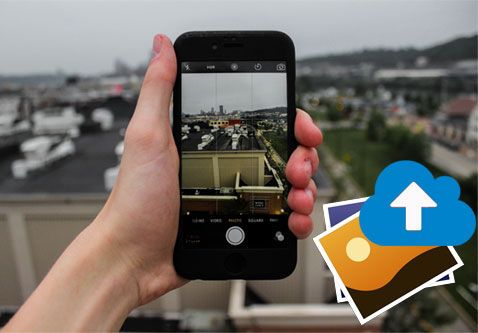 Way 1: How to Backup Samsung S6/S7/S8/S9/S10 Photos with Assistant for Android
(Ultimate!)
Samsung S8 photo backup can be accomplished by Mobikin Assistant for Android, which is contributed to transferring and managing different types of data from Android devices on computer, including photos, videos, contacts, songs, SMS and many more. What's more, it enables you to do Samsung Galaxy S6/S7/S8/S9/S10 photo backup with just one clicking on your mouse.
Why Choose MobiKin Assistant for Android
Smoothly backup Samsung Galaxy photos to computer with one click.
Transfer overall types of data between Android and PC, such as contacts, SMS, call logs, photos, videos, music, apps, etc.
Selectively backup and restore your Android data
Compatible with 6000+ Android devices.
100% retain the quality of the original data without any damage.
It also provides Mac version: Assistant for Android (Mac).
How to Backup Samsung Photos by Using Assistant for Android?
First Step: Connect Samsung Galaxy to computer
Run the Assistant for Android program after you downloaded and installed it on your computer. Use a USB cable to connect your Samsung phone to the computer and the program will automatically identify your smartphone and require you to enable your device's USB debugging mode. Just follow the onscreen pop-up windows to process.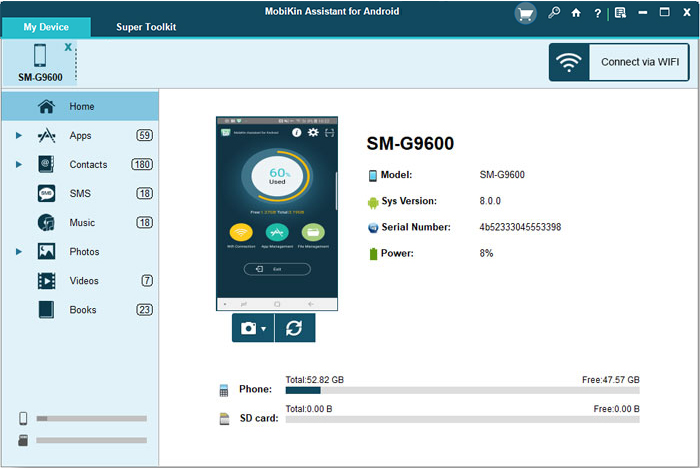 Second Step: Preview and select the photos you want
From the main interface, choose "Photos" folder on the left side menu and all the photos on your Samsung phone will be scanned out. You can preview these photos and choose the ones you want to backup.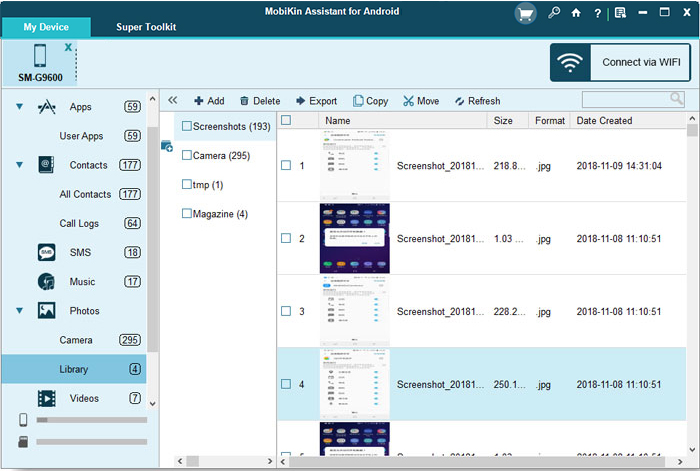 Third Step: How to backup Samsung S6/S7/S8/S9/S10 photos
After you have ticked off all the photos you need, you can give a click on the "Export" button from the top menu. Then, choose a location to save these selected photos and the Samsung photos backup process will begin at once.
Video Guide - How to Backup Samsung Photos to PC:
Check If You Need:
Way 2: Samsung Galaxy S7/S8/S9/S10 Backup Photos via Samsung Kies
I believe that every Samsung user will be familiar with Kies. It is an excellent backup and recovery application from Samsung that is mainly used to back up Samsung phones to PCs. The software is available from the Samsung website. After installing Kies on your system, you can follow the simple steps below to perform Samsung photos backup.
Step 1. Download and install Samsung Kies on your computer. Connect your Samsung phone to the computer with a USB cable. If a pop-up window comes up asking you to upgrade the firmware, tap the "cancel" option to continue.
Step 2. Once the connection is successful, your Samsung phone will be detected by Kies. You can choose "Back up/Restore" option from the top of interface.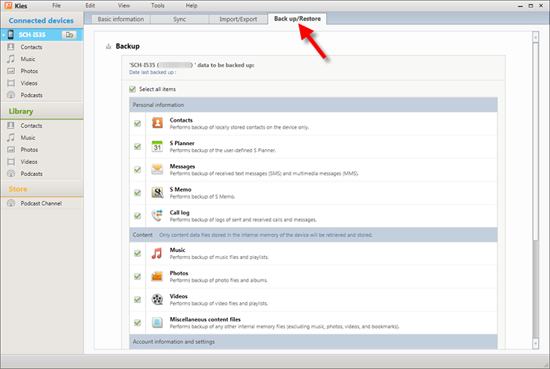 Step 3. Tap on "Data backup" button and choose "Photos" tab you want to backup.
Step 4. Click on the "Backup" option to start the backup process.
Way 3: How to Backup My Photos on Samsung Galaxy to Computer by Copy and Paste
The best thing about an Android phone is that it allows us to connect it to the computer with a USB cable and then transfer the file from the phone to the computer without hindrance. This may be the easiest way to get a Samsung photo backup to your computer. All you have to do is perform the simplest copy-and-paste action.
Step 1: Connect your Samsung Galaxy phone to your computer via a USB cable. Once connected, the phone will be detected by the computer and you can unlock the phone and drag down "Notifications Panel" from the top of your phone's screen, choose the option of "Media device(MTP)".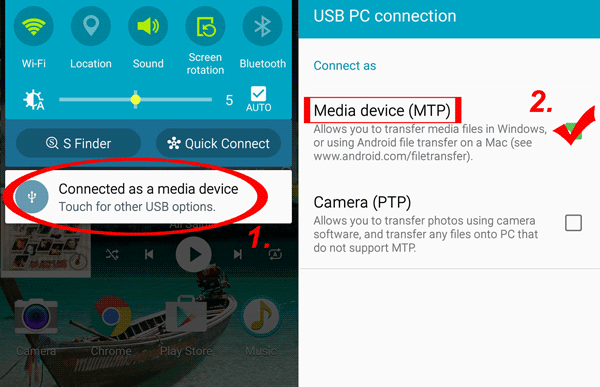 Step 2: Turn to your computer, double-click to enter "Computer" or use the shortcut - "Windows + E" to go to the interface. Find the section of "Portable Devices", open it and enter "Internal storage". Then, you can find the folder named "DCIM" and all the photos are saved in it.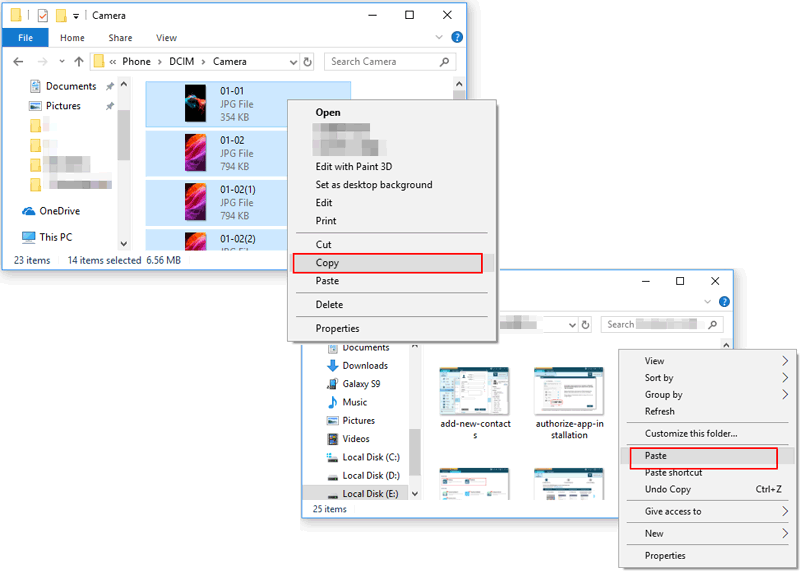 Step 3: Built a folder to save your music on the computer first, and choose the music that you'd like to copy on "Music" folder. Drag and drop them to the new folder to finish the copy.
You May Want to Know:
Way 4: Samsung Backup Photos to Cloud (Samsung Cloud, Dropbox)
In addition to computer hard drives, the cloud is also ideal for backing up Samsung photos. The two cloud services, Samsung Cloud and Dropbox, not only save photos on your Samsung phone, but also keep your personal privacy and data safe. The following steps describe how to back up photos from a Samsung phone to these two cloud services.
How to Backup Samsung Photos to the Samsung Cloud:
Go to "Settings" on your Samsung phone, scroll down the screen and choose "Cloud and accounts" option.
Click on "Samsung cloud" option and then log into your email ID and password. You need to create an account if you don't have one.
Click the "Back up my data" option and choose Photo.
Once ready, go to the button of the screen to click "Back up now" option.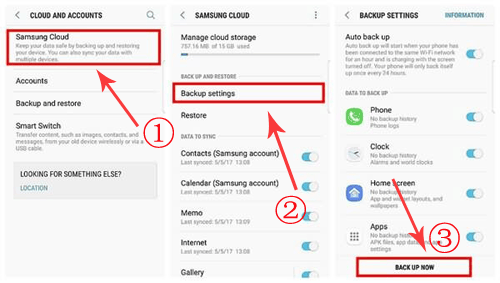 How to Backup Samsung Photos to Dropbox:
Go to Samsung Play Store on your phone to find the Dropbox app. Download and install it on your Samsung phone.
Run Dropbox on your Samsung phone and log in your Dropbox account if you already have. If not, you need to create a new account by tapping on the "SIGN UP" button.
Tap on "Menu" and then choose "Settings".
Turn on Camera Upload and choose Photos only in What to upload.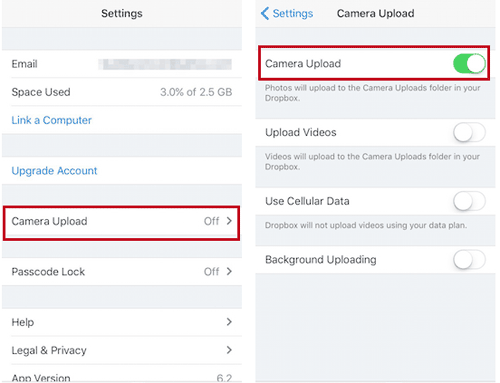 Way 5: How to Backup Photos on Samsung Galaxy with Google Account
Google allows Android users to back up large amounts of data. So if you have a large number of photos on your Samsung phone that need to be backed up, you can try Google Photos. It also provides automatic backup to automatically save all the videos and photos on your phone. Here's a short guide on how to back up and sync your Samsung Galaxy photos with your Google Account.
Step 1: Download the Google Photos app from the Google Play Store and configure it as your Galaxy phone.
Step 2: Launch Google Photos app on your Samsung phone and sign into your Google account.
Step 3: Go to the top of screen to tap the "Menu" option. Choose "Settings" and then "Back up & sync".
Step 4: As long as you have connected to your Wi-Fi, the photos syncing to the Google cloud process will start at once.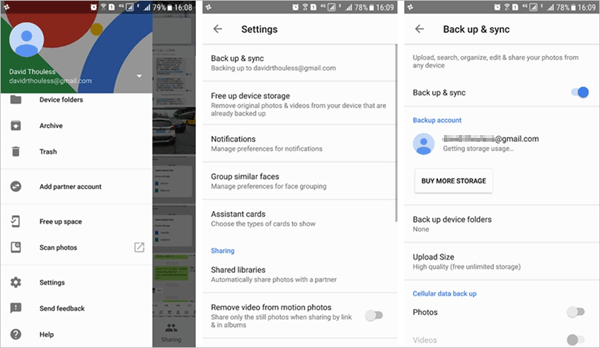 What's the Bottom Line?
The five methods recommended above are good for backing up photos of Samsung phones. From the official Samsung Kies to the most powerful MobiKin Assistant for Android. From the simplest way to copy and paste to the cloud backup service. Each method gives you a wonderful backup experience that is unique to them. I believe you can find the most effective and appropriate method. Of course, if you have more ideas and other better ways to back up your Samsung photos, you can share them in the comments section.
Related Articles:
How to Transfer Text Messages from Samsung Phone to Computer Effectively?
How to Recover Samsung Data from Normal & Crack Samsung Galaxy [4 Methods]
[Solved] How to Backup Call Logs on Android Phone?
Xiaomi File Transfer Tutorial - 5 Easy Ways to Transfer Xiaomi Files
How to Send Large Videos on Android: The Complete Guide
Can't Miss: 6 High-rated Phone Cloning Apps/Software of 2019