How to Transfer Data from Huawei to Computer?
There are a number of different reasons for transferring a users data from a Huawei mobile phone to a computer today. The reasons can vary based on the individual and their specific needs. Some of the more common reasons, however, are provided here: First of all, user has a need to access the data that they have captured on their Huawei phone on their computer instead. Especially, if they want to manipulate and print a report of information that they have received. Next, users may just want to backup their Huawei phone data on computer in case of data loss problem. Then, how to complete the data transfer from Huawei Ascend P7/P6/Mate 8/7 to computer easily and smoothly?
Though there are different methods available that can help with facilitating data transfers to the computer, they are not all equal. Meaning there are some applications online that can assist with transferring all of the data that seamlessly without unnecessary hassles and error. One of the more effective for taking care of this kind of process is the use of MobiKin Assistant for Android or Assistant for Android (Mac Version), which gives the user the capability to back up their data by transferring all of the files, such as SMS, contacts, photos, videos, music, apps and etc. on the Huawei Ascend P7/P6 or Mate 8/7 to computer with ease. What's more, it allows you to backup and restore Android data and even copy Android data to an SD card directly.
Fortunately, when any user decides to use MobiKin Assistant for Android to do the transfer, they will find that it can be done with only a few simple steps. Meaning any user with a Huawei mobile device and computer can complete the process with only a few steps. The steps are listed below.
Guide to Back up Huawei Ascend/Mate Files to Computer
Step 1. Set up your Huawei mobile phone
Install and launch Assistant for Android on the computer. Once this software product has been installed and launched correctly, the user can begin to connect the process of connecting the USB cable from the computer to the Huawei phone.
Note: Ensure you have opened USB debugging mode on you Huawei mobile phone.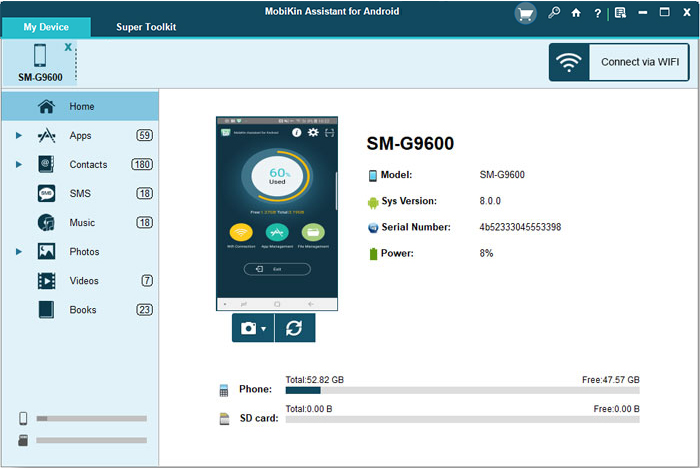 Step 2. Select the file types you want to transfer
After the USB cable been connected properly, the program detects the connected Huawei phone automatically. Then, all the transferable file types will be displayed on left and you will be able to preview the files that will need to be transferred.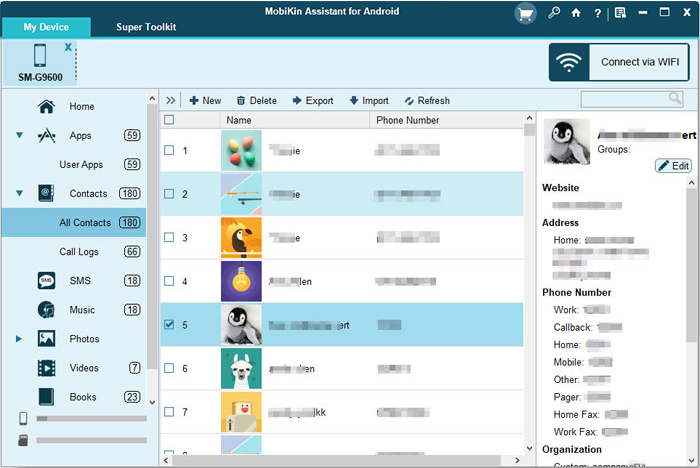 Step 3. Transfer data from Huawei to computer
The data that the user transfers can be selectively chosen by type (i.e. text messages, music files etc), or all of the data can be selected and then transferred to the connected computer by clicking on the "Export" button.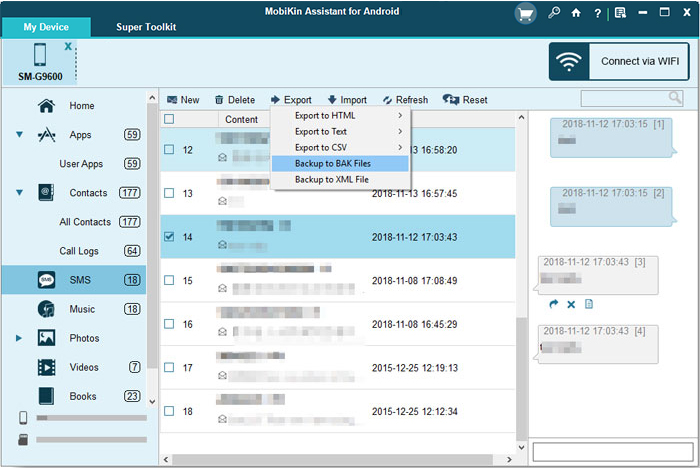 Related Articles
How to Edit Samsung Contacts on PC or Mac
How to Export Android Phone Contacts to Excel