Top 8 Weather Apps for Android Phones
When you prepare to go outside- go to school, work, shopping mall or travel, it is very essential for you to know the temperature outside so you can decide how to dress, right? Then, to better understand the weather of your city or other place you plan to go, choosing a good weather application for Android phone seems greatly important.
Nonetheless, there are so many weather Apps on the market and which one would be the right one for you? This must be a nerve-racking question for you. Thus, to save your time and help you choose a valuable weather App, we find out 8 best Android weather Apps for you to select.
8 High-rated Android Weather Apps
In this part, 8 weather Apps for Android phone will be introduced. You can compare their features one by one and then elect the one you like to be your assistant. Now let's begin!
Top 1. Precise Weather YoWindow
Precise Weather YoWindow has a great looking which can make users watch weather with pleasure. You not only can get the temperature but also able to get fun from it.
Features:
- Use cartoon landscape to reflect the real-time weather of your current location.
- The light level and conditions are accurately represented and you are able to see the changes over time.
- The application is easy to use.
- Background of the App is changeable so you can switch to other background when you get bored of one constant picture.
- You can enjoy it without paying a penny. But if you want to get rid of the advertisements in it, you need to pay $2.99.
Cons:
- No any widget option is available on this application.
Top 2. The Weather Channel
This is also a simple tool to use. It can tell you the weather accurately according to your location. In addition, the information that it can forecast are various and full-scale.
Features:
- It provides 3 forecast options: hourly, 36-hour and 10-day forecast.
- The information that it would forecast includes wind speed, humidity, UV index, visibility, dew point and pressure.
- It offers several simple desktop widgets to users.
- It is free to download and use the application.
Cons:
- You need to view different necessary info on different pages.
- Advantages will disturb you when you use the software.
Top 3. BBC Weather
You might be familiar with BBC News but do you know that BBC Weather is also a useful tool for people? With this App, you can get a summary of the day's weather which can let you know the weather clearly and easily.
Features:
- The interface is concise and the operation is user-friendly.
- It comes with hourly and 10-day forecast as well.
- It is able to add specific locations to your favourites to get the information like pressure, visibility easily.
- No any advertisements is placed in this App.
Cons:
- No fancy radar or maps view.
Top 4. Accuweather
This application is used frequently on Android phones. As its name says, it is accurate- this is the highlight of the App as well as the main reason for its popularity.
Features:
- It provides great information for users.
- Instead of telling you the temperature range, it would suggest what the outdoor temperature feels like.
- Show you the graphs, maps, radar and even video weather forecasts for your region.
- Offer minute-by-minute precipitation predictions to users.
Cons:
- Also, you will see different kinds of ads on the application.
Top 5. Yahoo Weather
Yahoo Weather is another well-received weather App for Android. With it, you will be surprised every day.
Features:
- Tons of information are provided orderly.
- The background is ever-changing so it would always keep fresh.
- There are many sizes and types of widget for your home screen.
- You can get wind speed and pressure measurements as well.
Cons:
- It will send notifications to you very often.
Top 6. Weather Timeline
According to its name, we can guess that this application is a card-based timeline of weather. But certainly, it must have some other functions- its easy-to-understand interface and accurate data make it be popular.
Features:
- 5 different weather services available for you to select.
- It will remind you of the impending weather changes.
- The radar maps on it allows you to see visualizations of cloud and rain.
- There are several interactive graphs showing data on temperature, precipitation and pressure.
Cons:
- It is not free- you need to pay $1.49 to buy it.
Top 7. Dark Sky
Compared with other applications that we have mentioned in this article, Dark Sky would be the most unregarded one. That's because the free functions of it are very simple and its useful features are payable.
Features:
- Offer a minute-by-minute prediction for users.
- Give users information in a simple but accurate way. For example, it would tell you it'll rain in 13 minutes rather than giving a vague indication of the chance of rain.
- Users can get a two-week free trial version of the App to have a try at first.
Cons:
- The free version does not have any screen widget.
Top 8. Weather Bomb
Unlike the normal weather applications, Weather Bomb displays a metrological map of the live weather rather than gives users an easy-to-read icon. This feature makes the App be differ from other software and makes the weather report funny and dynamic.
Features:
- Users can zoom in their town or any other precise location to get a more accurate prediction of the locality.
- It allows users to get a quick look at the forecast and scroll through the weather for the day or week.
- There is a single desktop widget which shows a graph of rain, wind, temperature, pressure and wave height on your home screen.
- All the features are free to use.
Cons:
- You cannot remove the ads unless you purchase the service.
How to Manage Weather Apps on Android?
After getting a proper weather application, the next thing you need to know is how to manage the App- you need to install, uninstall or export the selected application. It seems troublesome but all these operations can be completed in one program actually. This comprehensive software is MobiKin Android Apps Manager (Win & Mac).
With this tool, users are able to manage their applications like weather App, Games, chatting applications etc. on the computer. The whole managing process will be easy to operate and time-saving:
- Use a USB cable to connect your Android phone to computer and then launch the program. You need to enable USB debugging on the device or the computer won't be able to detect the phone.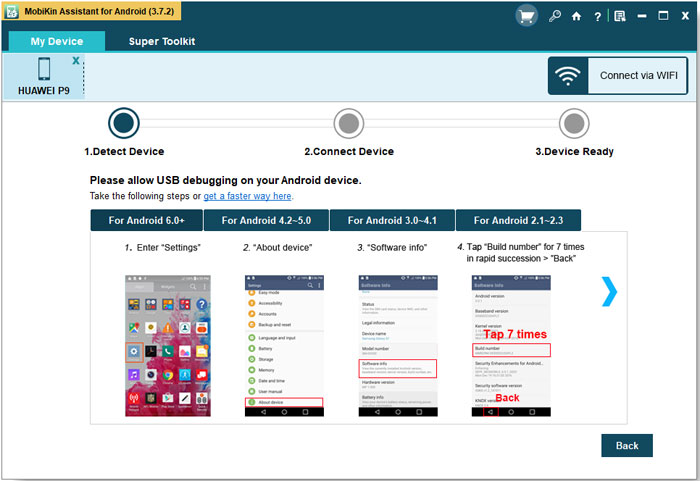 - Once the program detects your phone, it will scan the files in it and you will get an interface of the software.
- Different file types will be listed in the left panel and you can select one of them and tap on it to locate them. Here you can click on Apps.
- Now you can begin managing the weather Apps on your phone: click on Install to add new applications to your phone; tap on Uninstall to remove the App that you don't like or need from the device; hit Export to transfer the software to computer to make a backup.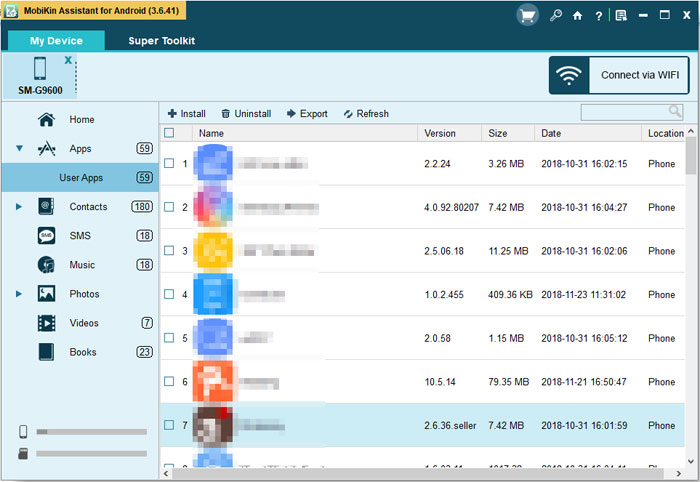 Related Articles:
Top 3 Android ROM Manager Apps You Can't Miss