[10 Tips] What to Do with New Android Phone?
Although Android phones come with few shortcomings, they have a number of advantages that make the experience very productive and enjoyable. Hence, lots of people tend to select an Android phone as their communication tool. And when you purchase a new Android phone, you need to exactly know what to do with new Android phone to make the device adaptable and consequently powerful in their performance.
Now, let's look at the first key things to do with new Android phone once you take it out of the manufacturer's box:
Top 10 Things to Do with New Android Phone
1. Check Your Device
First of all, please don't be overwhelmed of joy anyway. Just take a moment to appreciate what you have at hand - feel the texture of the screen, touch through in the right places, check whether your device came with the right parts, read the warranty information, take note of any other extras in the device. Meanwhile, you should be aware not to throw away some parts since some phones come with a disassembly tool. Another important thing is to test if the charger and earphones work.
2. Charge the Phone
Plug in the charger to your new smartphone to get the battery charging. This is because you're going to be interacting with the device for several hours, and you certainly would not want it going off in mid-way of the customization process. By so doing, you will proceed through the next steps of initializing your phone at ease.
See also:
How to Optimize Battery for Android Phones?
3. Skip the Setup Junk
The first thing you see after you power on your Android phone is a guide that will take you through the setup procedure. You will see a prompt for SKIP and continue. Just skip the settings that you don't need and proceed with the further prompts.
4. Connect to Wi-Fi
The device will ask you to connect to the Wi-Fi. If there is any wireless connection available consider connecting your new device. This is because you will need to download some Apps in the process of initializing your phone. Besides, some setups like Google accounts will need data connections also. And while using the new phone, you have a need to download your own stuff as well.
5. Log into Your Google Account
Almost all the Android devices would prompt you to log into your Google account during the setup process. You can skip this in case you don't have a Google account and log in later after creating one. Its much recommended to sign in the account because Google will sync your device a number of online services. It is the first step in privatizing your Android phone. Enabling this account will automatically set your calendar, email, and your contacts hence preparing your smartphone to synchronize your identity in all devices. And, in case you had an Android phone prior to that one, your new phone will connect automatically with Google Play Store and try to download all the Apps you had in the old Android phone. That is really amazing!
Also click to know:
3 Ways to Backup Android Contacts to Google/Gmail Easily
How to Backup Android Data to Google Drive? [Solved]
6. Secure Your New Android Phone
Another significant thing you need to do with your new device is to ensure its security. To achieve this goal, you can set up a password, a PIN, Touch ID, or a pattern depending on your opinion. This will prevent unauthorized people from accessing and viewing your important and confidential data. To complete that, you can go to "Settings > Security > Screen Lock" and choose an option from the list.
7. Remove Bloatware
Your new phone will probably come with a number of pre-installed Apps. However, these applications might be unnecessary for you. So to avoid these useless Apps eat up the space and slow down the device, you need to disable or remove the stuff that you don't need.
While setting up the device, you will come across prompts like registering to extra malware security and other additional services. What you need to do is just to "SKIP" all that and don't sign up to any other account but Google account. Then go to the Apps menu once your phone starts to run and uninstall any pre-installed App that is unneeded or disable them in case you are unable to remove them. This will minimize the space they occupy while maximizing your free space to add important stuff.
8. Get Android Apps from Google Play Store
To make full use of or get more fun from your Android phone, you have to download and install many other applications on the device. Here, you can simply them from the Google Play Store. Please don't casually download Apps from unknown sources - they might be harmful to your mobile phone and cause some phone issues.
9. Keep It Cool
Keeping the device cool will help to extend the battery life as well as ensure the phone safety. So remember keep your device away from heat; don't use the phone for a long time; use earphones while making a long call; keep your Android phone in open areas rather than confined spaces, such as pockets, bags, etc.
10. Get an Android File Manager Software
Get powerful software like MobiKin Assistant for Android which enables you to transfer files like photos, music, documents, videos, contacts and more from your from/to your new Android phone. You can also install and uninstall Apps from your PC, send/receive messages from your computer, edit contacts info and so on with the Android data manager tool. With such a helpful tool, you will be able to manage your Android phone much easier.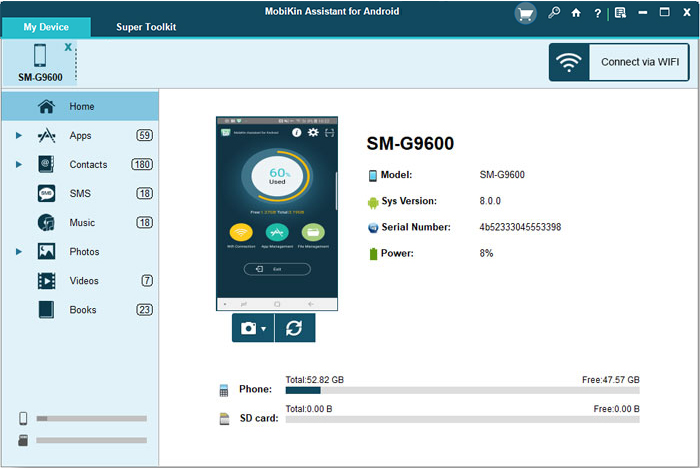 Remember to Backup Your Phone Data in the Using Process
After getting your new Android phone ready, you can start using the device as you like. But here, we have one more recommendation to you - remember to backup your Android data regularly in the using process. That's because data loss is an unpredictable issue and you may lose your Android files in unexpected cases. Under this circumstance, having a backup is extremely important.
To effectively backup your Android phone, you are strongly recommended to use the software called MobiKin Assistant for Android - it enables you to complete the backup process with one simple click.
Words in the End
This is what you need to do with a new Android phone. A full preparation will enable you to better enjoy the device so please be patient to follow the tips. And if you have any problem or opinion about this tutorial, please feel free to contact us.
Related Articles:
Android File Transfer - How to Transfer Contacts from Android to PC/Computer?
[User Guide] Back Up/Transfer Text Messages from Android Phones to Computer/PC
How to Print out Text Messages from Android Mobile Phones? [Solved]
3 Ways to Recover Deleted Contacts from Android (#1 is Awesome)