How to Transfer Files between HTC and Computer Wirelessly?
Nowadays, more and more people prefer to transfer files from an HTC phone to computer, or transferring from computer to HTC wirelessly without using a USB cable since there are numerous advantages to using a wireless file transfer process to a wired process. For instance, you can save time with a wireless file transfer process. You can send all of their files from the HTC device to the computer within minutes. You will not need to connect a USB cable to their computer to initiate the process. So, some steps are immediately eliminated. Also, wireless transfer can be done remotely from virtually Anywhere.
Then, how to transfer HTC files wirelessly from/to computer? When any user has need to transfer any of their files form their HTC device to a desktop or laptop computer, it is important that they use a reliable HTC wireless transfer tool that makes it easy for the user to make the transfer. MobiKin Assistant for Android or Assistant for Android (Mac Version).is what I want to introduce here, which can connect your HTC phone to computer with or without USB cable so that you can transfer files between HTC and computer wired or wirelessly. If you want to, you can bypass the wired transfer process to use the next alternative, which is a wireless transfer process. Coolmuster Android Assistant has also been designed to assist the user with transferring the files remotely without the use of a USB cable to connect to any computer.
If you are interested in the process of transferring all of your files from your HTC phone from or to your computer without the use of any cables, you can do it wireless using Coolmuster Android Assistant. To do this process with ease, you can follow the simple steps provided to you below.
Read More:
How to Backup and Restore HTC One?
Transfer Samsung Files Wirelessly
How to Transfer Data between HTC and Computer without USB?
Step 1. Connect your Android phone to computer
You will need to download the Android Assistant Apk on your HTC devices and computers. Once both have been downloaded, these applications need to be installed first so that they can be used for the wireless process.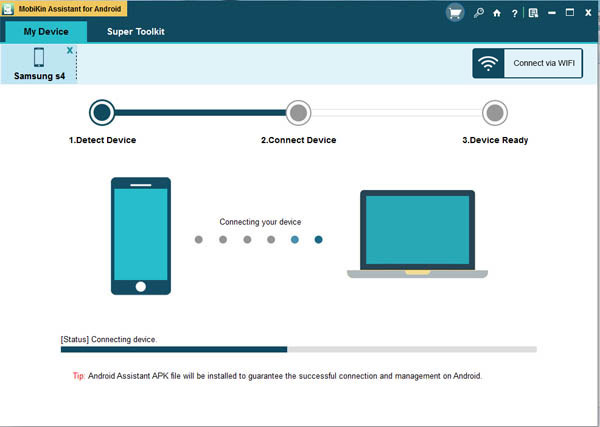 Step 2. When step 1 is complete, the next step is to connect the devices by choosing the "Connect with WiFi" option. This program will then lead the user to the USB debugging mode. Follow here to learn how to enable USB debugging on your HTC phone.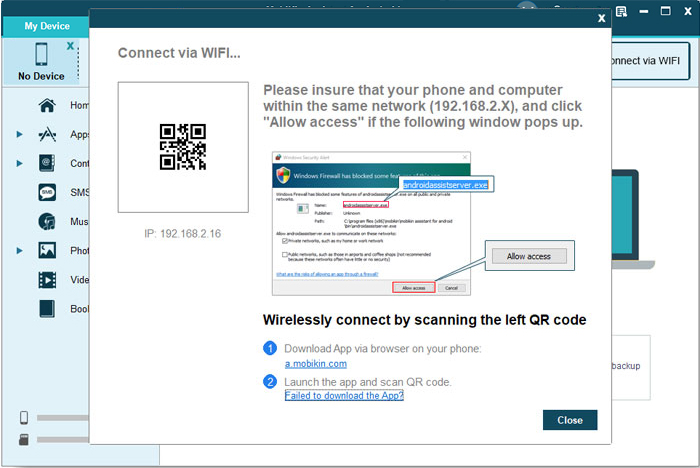 Note: Ensure both the computer and the HTC phone is using the same WiFi network. They will have same IP addresses which can be checked to find out.
Step 3. APK programs with need to be opened at the same time on both devices (computer and HTC). The user will then be given a prompt to "Allow access" by giving the user certain permissions.
Step 4. When permission has been given, the program will automatically detect your HTC files via its menu.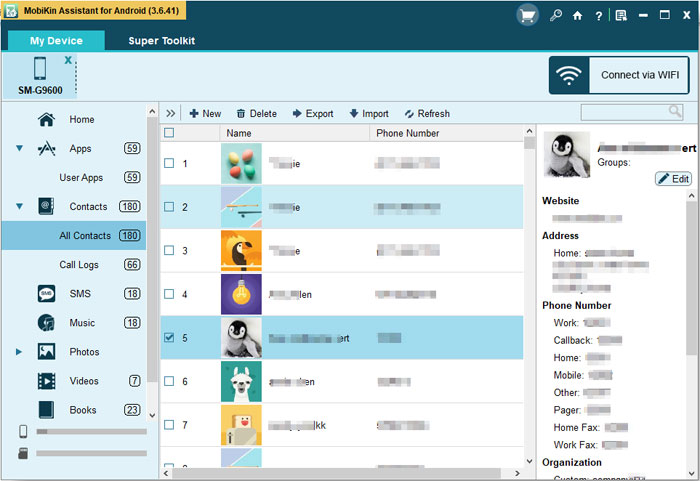 Step 5. User should view the menu in order to select the files that they want to transfer. The file transfer process is then initiated by the user clicking on the option "export". To import files, clicking the "Add" or "Import" button.
Related Articles:
HTC Transfer Tool - Simple Steps to Transfer Your Data to a New HTC
6 Astounding Methods to Transfer Data from HTC to Samsung
How to Recover Deleted Contacts from HTC Mobile Phone
4 Trustworthy Methods of How to Transfer Contacts from HTC to iPhone
How to Transfer Music from iTunes to HTC
4 Effective Ways to Transfer Music from Mac to Android in 2023