How to Access & View Lost Android Text Messages?
It is undeniable that messaging plays an important role in the daily life, which makes the communication become more easier. You know that people like to send text messages when they don't want to make a call or in some specific circumstances. So it is inevitable that sometimes they may encounter the problem of losing message due to different reasons like deletion, reset, or broken. This could be a big disaster for someone, especially when the deleted messages contains something important for them.
Thus, if you met a situation or problem like above, what will you do? How to get access to these lost Android text messages again? Have no idea about it? Don't worry, you can get an ideal solution here. Actually, losing or deleting a message from your Android phone doesn't mean you have lost them forever. In some special situation, you still can get access & view these Android messages as you like. Below are the pre-conditions if you wish to view Android text messages after losing them:
1. Be sure the lost text messages will never be overwritten by new data. Generally speaking, when a message is deleted from your Android phone, that only means the space that used to store these messages are available again. So if no more data be saved here, you still have a big chance to get them back. So try and use your phone as little as possible or stop using it from now on.
2. Obviously, you can't get access and view lost Android text messages without any help. So search on the Internet and find a safe yet reliable 3rd-party program like MobiKin Doctor for Android (Windows/Mac) as your personal assistant.
3. Prepare a workable desktop or laptop PC, and USB cable.
Now, let's suppose that you've gotten the MobiKin Doctor for Android on your computer, then you can follow the below steps to get access to your Android's internal memory, and have a scanning on the device to find the lost messages, so that you can view Android SMS on PC as you like. If you haven't installed the recommended tool on your PC, you can click the below links to download and install them on your Windows or Mac computer as you like.
How to View Android Text Messages on PC Directly?
NOTE: Since the text messages are always saved in the Android phone's internal memory, so you have to give permission to MobiKin Android Data Recovery software by rooting your device.
Now, you can launch the program that you've installed, then connect your Android phone to the computer with USB cable. Here, you need to enable USB debugging by following the below instructions:
1) For Android 4.2 or newer: Enter "Settings" > Click "About Phone" > Tap "Build number" for 7 times until getting a note "You are under developer mode" > Back to "Settings" > Click "Developer options" > Check "USB debugging"
2) For Android 3.0 to 4.1: Enter "Settings" > Click "Developer options" > Check "USB debugging"
3) For Android 2.3 or earlier: Enter "Settings" > Click "Applications" > Click "Development" > Check "USB debugging"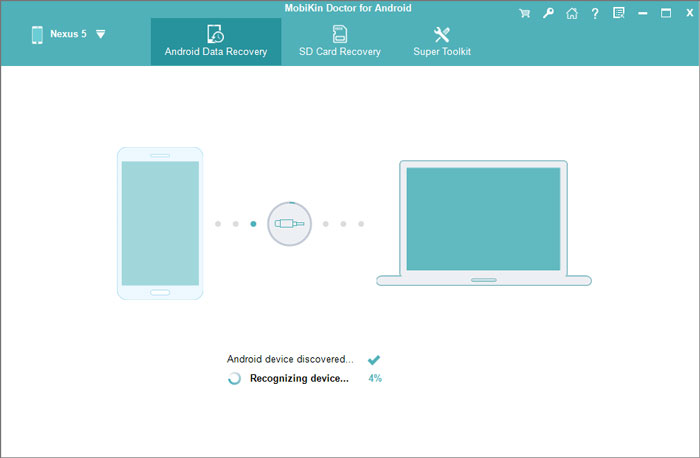 After that, you'll see that all your Android data have been divided into different categories, and you can view them by entering different folders. (Both deleted and existing data will all be found and displayed in the program)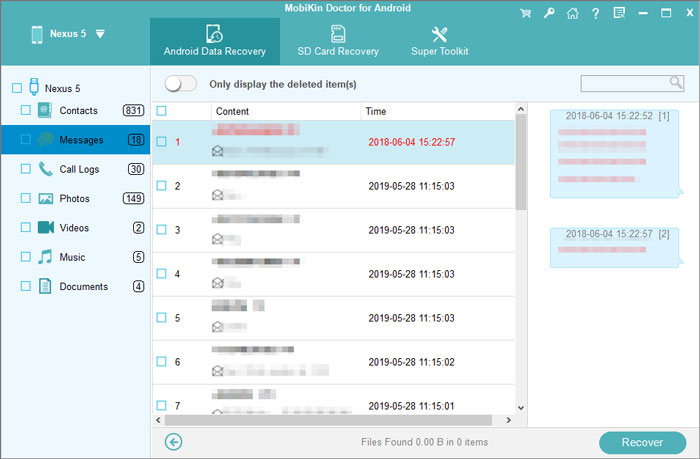 To view lost Android text messages on PC, you can directly click "Messages" in the left panel and get the whole message list in the right panel. The lost messages will be marked in red color, you can directly find the message you wish to view here as you like. If you wish to restore the lost messages to your computer, you can tick the SMS and hit "Recover" button.
Related Articles:
How to Recover Deleted Data from Samsung Internal Memory