Data Recovery for Google Nexus 7 Tablet
It is not uncommon for Google Nexus 7 tablet users to experience a diversity of problems when they are in the process of using their devices. Therefore, it is essential for each user to become very familiar with all of the big and small problems that can occur from one time to another before recovering data from Nexus 7. Some of which may be potentially more difficult to recover from than others. Specifically, when it involves dealing with the causes of data loss. For instance, sometimes people may delete contact information, photos, and other info in error when they originally want to delete other useless files. Another common reason a user may encounter data loss problems is when they are switching out an old battery with a new battery.
Though there may be a wide range of different ways to recover loss data from your Google Nexus 7 tablet, there are always some processes that are better than others. One process in specific involves the use of a software application that is MobiKin Doctor for Android or its Mac version - Doctor for Android Mac. The program is highly recommended by those who have used this software for more than one reason since it gives a user a simple to use application that can perform a variety of different essential functions. For instance, Doctor for Android will give the user the capability to do the data recovery task with an easy 1 to 3 step process. You can use it to recover all Android phone data like photos, videos, music, contacts, SMS, call history, etc. without any hassle.
If you are using a Google Nexus mobile phone like Nexus 6/6P/5/5X/4, Doctor for Android also enables you to recover call logs from Nexus and retrieve deleted videos and music from Nexus. It also supports other more phones and tablets that are running Android OS, such as Samsung, HTC, LG, Sony, Motorola, Huawei, ZTE, Lenovo and so forth.
How to Recover Lost Data from Nexus 7 Tablet?
Step1: Run the Doctor for Android program
Download, install and launch the Doctor for Android on your computer. Ensure you have opened USB debugging mode on your Google Nexus 7 tablet and connected it to the computer via a USB cable. The program will detect the tablet as soon as the connection is enabled.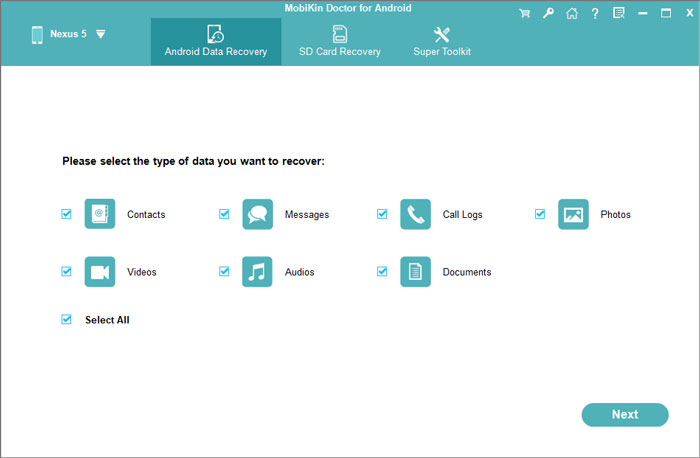 Step 2: Scan Nexus 7 tablet for lost data
All the recoverable file types are shown on the left sidebar, including Photos, Videos, Music, etc.. Choose the file types you want to recover and the program will start to scan your tablet to find all corresponding files in your tablet.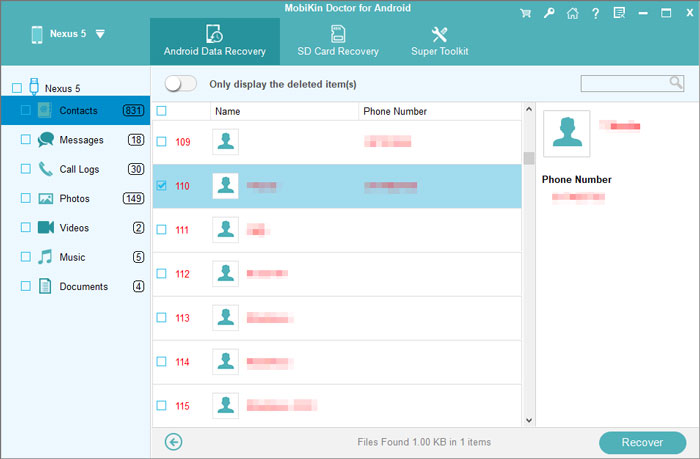 Step 3: Begin the Nexus 7 data recovery
Preview and select the files you want to recover. After that, you can click on the "Recover" button from the top menu to save these selected Google Nexus 7 data on your computer. You can specify an output location as you need.
Related Articles
How to Recover Lost Videos from HTC Phones?
How to Recover Photos/Videos from Lenovo Phones?