Easy-to-Use Photos Recovery for OnePlus One/2/3
OnePlus phone is welcomed by many users because of its high cost performance, large screen and good-looking design. The storage space of OnePlus phone is 16GB and 64GB. Compare with other 128GB devices, the memory space of OnePlus is really not quite enough. Therefore, a log of people have to delete some large files from the OnePlus phone in order to free up space. But when you delete your photos, you may find that you have accidentally deleted some important ones. Now you are stuck in how to recover deleted photos from OnePlus device.
Are you one of them? Then, you need to draw support from third-party photos recovery program for OnePlus phone. MobiKin Doctor for Android or its Mac version - Doctor for Android Mac can help you a lot. This kind of software can recover photos perfectly saved on your OnePlus device:
What Can OnePlus Photos Recovery Can Do for You?
- Recover lost or deleted data from OnePlus One, OnePlus 2, OnePlus 3, etc.
- Restore everything including contacts, SMS, photos, videos, music, call logs, documents and so forth.
- Recover all types of photos, no matter the photos you took or the ones you got from Internet.
- The program supports other Android devices, such as Samsung Galaxy, HTC One, Huawei, Xiaomi/Redmi, etc.
Don't Miss:
How to Recover Data from Huawei Phone?
How to Recover Data from Micromax?
The following tutorial will show how to use the OnePlus Photos Recovery program to recover lost or deleted pictures from OnePlus One/2/3 in 2-3 steps. Please make sure your Android device can be detected by a computer, and the battery > 20%.
How to Retrieve Deleted Pictures from OnePlus Phones?
Step 1: Run the OnePlus photos recovery program
First of all, please download the photos recovery program for your OnePlus phone. You will get 30 days for free trial before purchase. But it would be better to get a register version so that you can use all the functions. Then run the program on your computer.
Steps 2. Connect your OnePlus phone to computer
Connect your OnePlus phone to the computer. Make sure that the USB debugging feature should be turned on. Don't know how to do that? Just read the instructions here: how to opened USB debugging mode on your phone.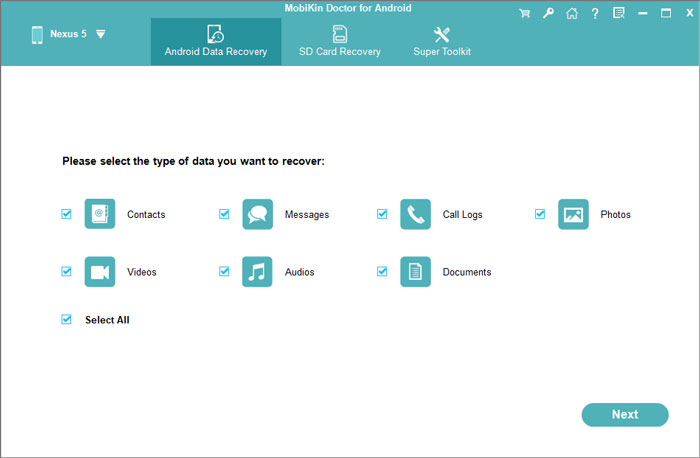 Step 3: Choose the Photos tab and scan
To recover lost photos and pictures, you should choose "Photos" tab and then click "Next" button to let the program scan the connected OnePlus device. After a few while, it will present you all the scanned out image files.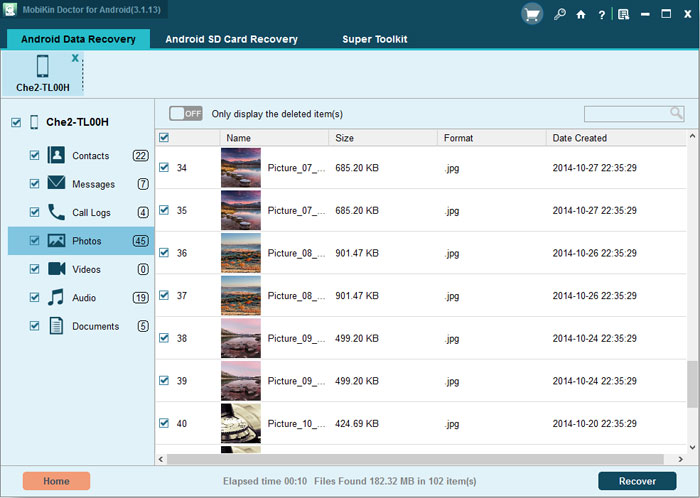 Step 4: Start photos recovery for OnePlus
When the scan is finished, you can preview and scanned out photos and choose the ones you want to get back. The final step is to click the "Recover" button to kick off the photos recovery process for your OnePlus phone.
Related Articles
How to Recover Lost Videos from HTC Phones?
How to Recover Photos/Videos from Lenovo Phones?