Recover Photos from Samsung SD Card
Unfortunately, there can be many reasons for the data loss on your Samsung SD card. For one, it could be that your phone is hacked and you cannot access your data. More, it may be that your phone has malfunctioned - and it can happen just about anytime. If you need to reset your phone, you would have to delete all its memory as well - which includes your pictures. Even if you have a SD card, it could get corrupted easily. Most SD cards get corrupted in a few years. While a lot depends on the quality of the SD card you buy - and factors like whether you have dropped the SD card from a height - even the best SD cards can get corrupted easily.
If you have a Samsung phone with your precious photos lost on its SD card, you need MobiKin Doctor for Android or its Mac version - Doctor for Android Mac, which can help you with anything, right from recovering all your Samsung data, including contacts, text messages, call history, photos, videos, music, documents, etc. to helping you choose just exactly what you need to save. This way, you can not only recover lost data, but also copy the recovered data on computer so as to save on your phone's space as well - and admit it, not all of us have a good 128 GB or more on our Android phone. Not just your SD card data but even your internal memory data on your Samsung Galaxy S8 can be recovered using this Android data recovery program.
Refer to the guides:
Recover Deleted SMS from Samsung Galaxy
Recover Deleted Photos from Samsung Galaxy
Doctor for Android is 100% safe and compatible with just about any Android phone, including Samsung Galaxy S8/S7/S6/S5, Note 7/6/5/4, A9/A8/A7/A6, etc., as well as HTC, LG, Sony, Motorola, Huawei, ZTE and so forth. Below is all that you need to do recover your photos from the Samsung SD Card, with the help of MobiKin Doctor for Android.
How to Retrieve Deleted Pictures from Samsung SD Card?
Step 1: Run the Doctor for Android program
First off, you need to connect the Samsung smart phone to your computer and launch the Doctor for Android. Alternatively, you can just insert the SD card to a card reader and attach it to your computer.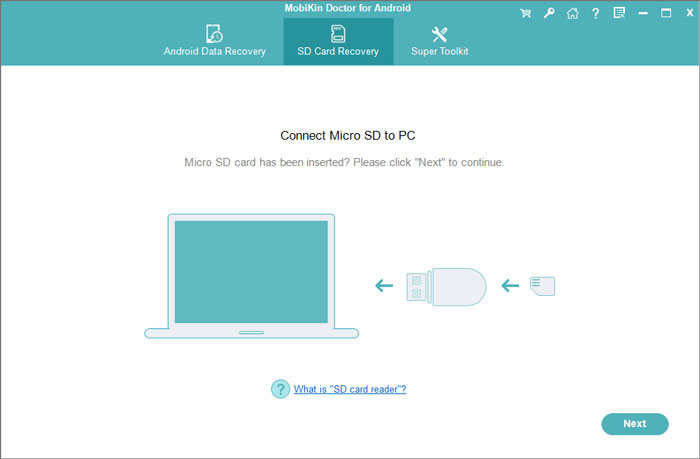 Step 2: Scan Samsung SD card for wanted data
Now, you can scan the SD card. Once the scan is over, which can take a few minutes, you can then choose the files you need to recover. All the files will be displayed to you in a simple interface. You can choose "Photos" only for this topic.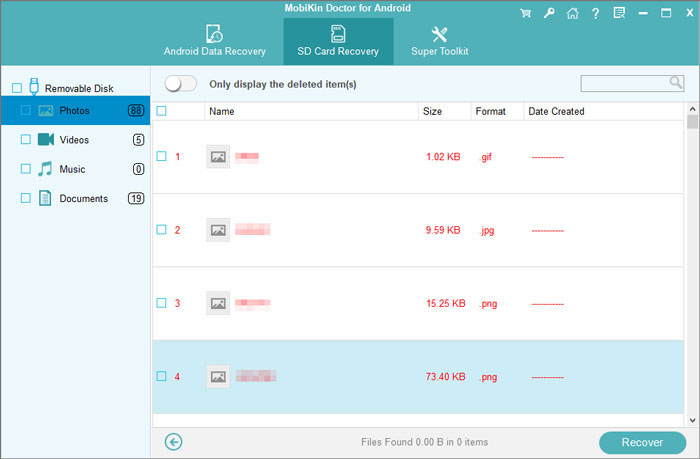 Step 3: Recover photos from Samsung SD card
Just hit on the Recover button now. That is it - you're done! It's a very simple way to recover all your photos from your Samsung SD card, and it doesn't matter even if you have lost out on your favorite memories - you can always recover them.
Related Articles
How to Recover Lost Videos from HTC Phones?
How to Recover Photos/Videos from Lenovo Phones?