Restore Samsung Data without USB Debugging
What is USB debugging?
USB debugging is a bridge between Android devices and computer. Once you need to transfer or recover Android data on computer, the device will be asked to open USB debugging. Only when it is enabled on your phone can the recovering or transferring process goes on. So it plays an important role in the connection between mobile phone and computer.
See also:
How to Enable USB Debugging on Broken Android?
What will happen when USB debugging failed?
Nonetheless, sometimes users might fail to turn on the USB debugging on their phone while being required. At that moment, the computer will be unable to detect the connected phone as well as the files saved in it like contacts, messages, images, photos and other data. That means the process of managing Android phone on PC cannot proceed.
Through this, we can see that it is an arduous task to restore Samsung data without USB debugging. But it does not mean that you have no any method to solve this problem. A powerful Android data recovery tool- Broken Samsung Data Extraction can help you to get back the data easily.
Recover Data on Samsung without USB Debugging
The program we mentioned above is good at retrieving data from broken or damaged Samsung phone. The file types that it can restore are various, including contacts, messages, videos, songs, WhatsApp data and so on. And during the recovering process, users do not need to enable USB debugging. Thus, when you fail to enable USB debugging on your Samsung, it would be the best choice for you to restore the wanted data from it.
Here is the specific process of extracting Samsung data without USB debugging:
Step 1. Launch the software on your computer and use a USB cord to link your Samsung to PC. When the main interface of the program appears, you can select Broken Android Phone Data Extraction mode.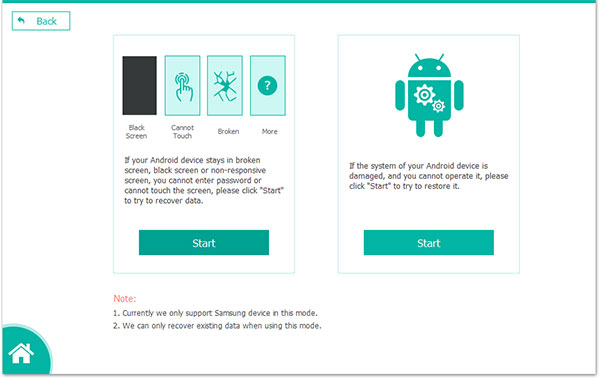 Step 2. After entering the mode, you will face two options- Start and Fix Device. Here, if your Samsung phone is broken due to black, broken or unresponsive screen, you can choose Start option and then confirm the name and model of your phone.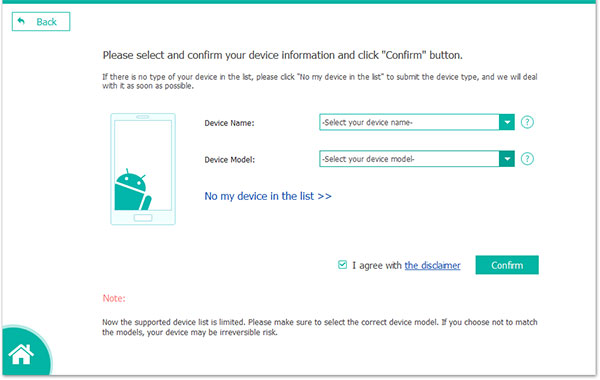 But if the device is crashed or there is something wrong in the Android OS, you need to fix the issue at first. Just elect Fix Device.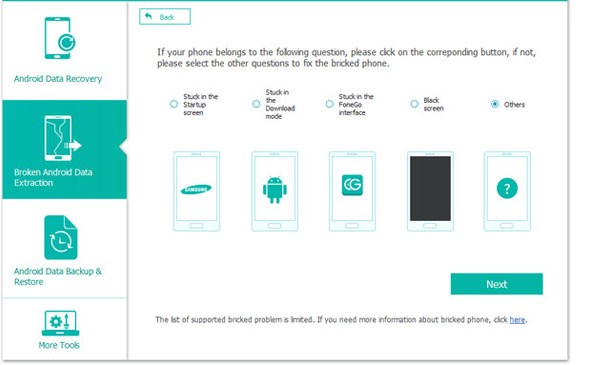 Step 3. Now you need to go with the prompts on the screen to enter the Download mode and then click on Start button to begin scanning the phone data.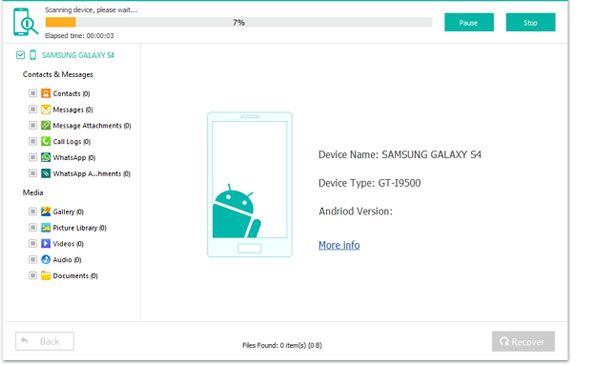 Step 4. When the scanning is completed, all the contents on your phone will be displayed. Just check the files that you want to restore and tap on Recover to get them back.
Here, if you select Fix Device in Step 2, you need to go to Android Data Recovery to retrieve the data when the fixing process ends.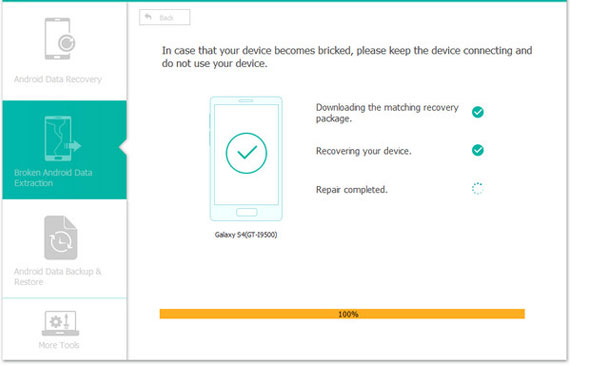 Related Articles:
Data Recovery from Samsung Failed to Connect with Computer