SMS Recovery for Samsung Galaxy S7
SMS and other data loss on your Samsung Galaxy S7 phone is not an uncommon problem since it can occur in a number of different ways. The most commonly known and encountered are those that have been listed below:
- Upgrade of the software from one operating system to another. The data that it contains can be lost if it has not already been backed up.
- Human error is another common way to lose data since all the user has to do is delete some of the data that they have on their phone on purpose or by accident. Either way, sometimes people may delete contact information, photos, and other info in error.
- Jailbreak the phone. When a user would like to use another operating system on their phone other than the original manufacturers, they may choose to complete a process that is called jailbreak. When this is process done without the appropriate procedures, all of the data can be lost.
Here we recommend you with the Samsung Galaxy S7 SMS recovery tool - MobiKin Doctor for Android or its Mac version - Doctor for Android Mac, which is a well-known data recovery tool allows you to restore deleted and lost text messages from Samsung Galaxy S7, as well as other types of Samsung phones like S6, S6 Edge, S5, S4, Note 7 and so on, and save them on computer as HTML file format. In addition to that, you can also retrieve contacts, photos, videos, music, documents, call logs and more from overall Android mobile phones, even if your mobile devices are broken with broken screen or black screen. It will preserve all the information related to SMS, including contact names, text contents, send and received time, etc.
If you are using other types of Samsung phones, you can learn how to use the Doctor for Android to recover call logs from Samsung and retrieve deleted music from Samsung. It also supports other more phones and tablets that are running Android OS, such as Google, HTC, LG, Sony, Motorola, Huawei, ZTE, Lenovo and so forth.
How to Recover Deleted Text Messages from Galaxy S7?
Step1: Run the Doctor for Android program
To restore text messages that have been lost from the S7 phone, all the user has to do is connecting the S7 to their desktop or personal laptop computers via a USB cable ( i.e. after you have installed and launched the MobiKin Doctor for Android application).
Note: Ensure you have opened USB debugging mode on your Galaxy S7 phone beforehand.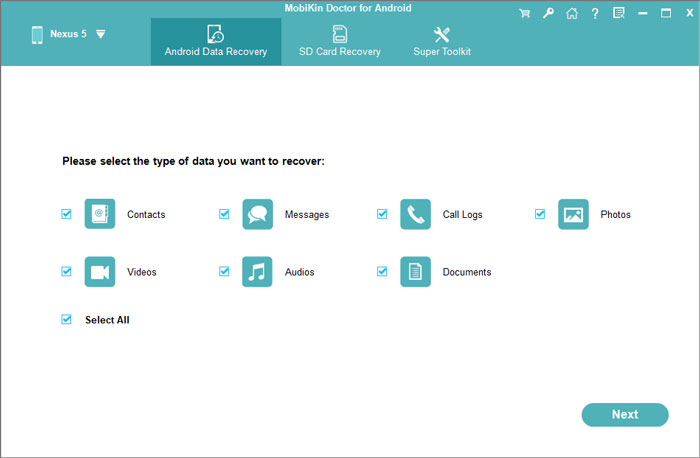 Step 2: Scan Galaxy S7 for lost messages
After the debugging feature has been enabled, the S7 will be detected by the Doctor for Android automatically. User will need to select the "Messages" option from left and the program starts to analyze and scan your phone immediately.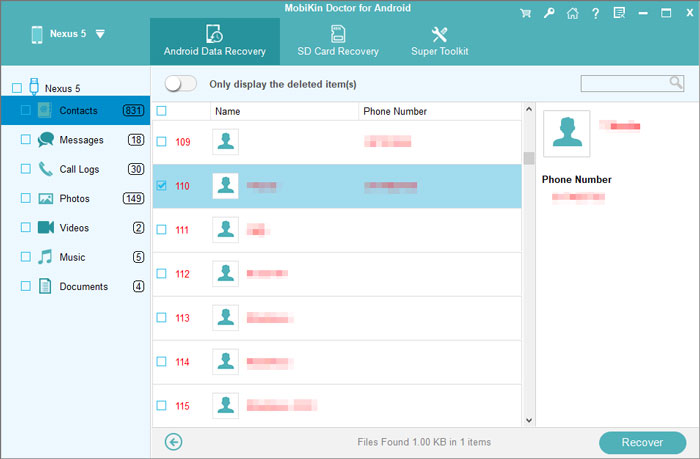 Step 3: Begin the Galaxy S7 SMS recovery
You are provided with two recovery options: Recover all messages that were lost, or select individual messages to recover. After the selection, you can click on the "Recover" button from the top menu to save these selected text messages on your computer.
Related Articles
How to Recover Lost Videos from HTC Phones?
How to Recover Photos/Videos from Lenovo Phones?