Reviews about Apple Watch
According to the new Apple's WWDC 2015 event at yesterday, Apple Watch has been demonstrated to be on sale April 10, and began to ship at April 24. It is no doubt that Apple Watch has become the most talked products in the new conference, so at the beginning, Apple has reviewed the announced features of Apple Watch, and shown lots features in a real machine, such as how to reply your iPhone call with Apple Watch, how to pay with Apple Pay, booking of hotel romms, Uber cab and so on. What's more, in this conference, Apple has finally released the prices of different versions of Apple Watch.
Prices about different versions of Apple Watch
- Apple Watch Sport is composed of customized aluminum alloy. $349 for 38mm, $399 for 42mm sizes. In Australia the pricing runs AU$499 and AU$579 and that's £299 and £339 in the UK.
- Apple Watch (steel case) starts at $549 (38mm) and goes up to $1,049, depending on band. And in Australia the pricing starts at AU$799 and goes to AU$1,629 depending on the band. The UK starts at £479 and runs up to £949.
- Apple Watch Edition (18-karat gold case) starts at $10,000, with options ranging all the way to $17,000. That's AU$14,000 to AU$24,000 and from £8,000 up to £13,500 over in the UK.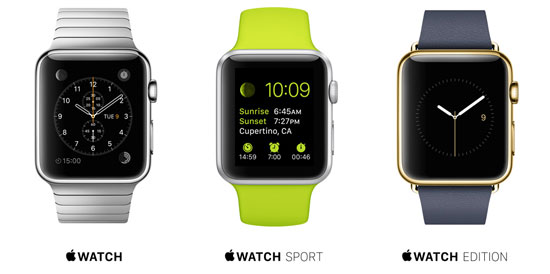 Let's Have A Brief Look on the Features of the New-released Apple Watch
Overview
Unlike other Apple's products, Apple Watch has its own special location, that have created a new product category. And in addition to the features of the products, an important selling point have been joined into the product propaganda - Fashion. Generally speaking, from the performance and application scenarios in the WWDC event, Apple Watch doesn't have a disruptive innovation just like the first generation of iPod, iPhone, iPad or even Macbook Air, and it even exsited some short-comings like batteries. So some news media calls the first generation of Apple Watch is a not mature initial product. However, even though Apple Watch don't have sufficient practical and subversive features on the market, but compare to other smart watch, it still have an obvious advantages. So it is no doubt that Apple Watch will become popular soon after it is on sale April 10, 2015.
Applications on Apple Watch
As a smart watch on the market, applications undoubtedly become the most important feature which have attracted lots of attentions. Actually, Apple have added lots of apps into the first generation of iWatch, including BMW, Starwood, etc. People can use the watch to open your drive library, connect or communicate with friends in the social connecting network with a simple watch, and do other activities in this small size in theory. So no matter whether you love to or used to use these applications in the watch's screen, at least Apple have provided users with enough space and create a cool fashion feeling for every users.
We know that lots of people have supposed that whether Apple Watch is suitable for playing games. But from the size of the device, you may find that it seems to be impossible to play games on it directly. But if it is used as a second screen operator interface which can be connected to iPhone or iPad, then the room of game will be very large and unpredictable.
How long the battery can exist?
Last year, when Apple mentioned Apple Watch at the first time, the battery life problem have gained lots of attention. (Wish to know more foucs in the last WWDC event? Please don't hesitate to click here) So in this WWDC 2015 event, Apple have claimed that Apple Watch can last for 18 hours in common situations. That means you may need to charge the Watch one time a day.
Conclusion
Generally speaking, the features of Apple Watch just like they claimed in the Apple's WWDC 2014 event, and in this event, Apple have offered answers about some controversial points, such as the prices of Apple Watch, the battery life and so on. And we know that Apple also released iOS 8.2 in this conference, that means Apple Watch will connect to your iPhone and works well as the iPhone assistant in the future. By the way, if you need to manage files on iPhone devices, here is an excellent program can help you lots - MobiKin Assistant for iOS.
Related Articles:
Transfer or Copy Music from Apple Watch to Computer/Mac
Top 6 Things You Should Know about Apple Watch