MobiKin Assistant for Android (Mac Version) could be the 1st Mac Android assistant program on the market. It allows users to manage all contents on your Android devices like Android phones or Android tablets through Mac computer, so that you can free up the storage space or avoid data losing on your phone. Now, let's us to see the detailed steps of using the powerful program.
Preparation Works
To begin with, you have to download and install the program on your Mac computer. Here, we also provide the Windows version for your reference:
Free Trial
After that, you'd better to enable USB debugging on your device. Otherwise, you'll see an interface just like below to require you open it after launching the program.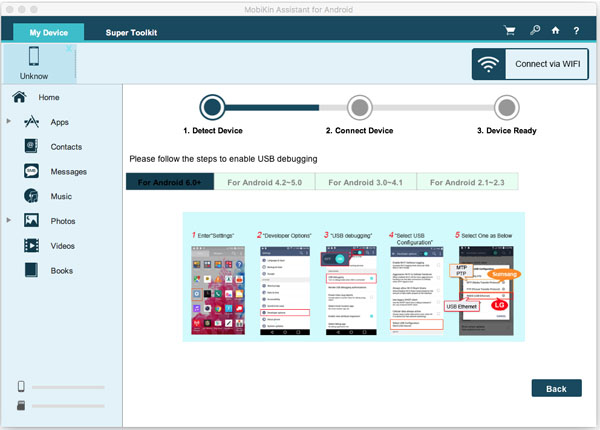 Here is several ways of opening USB debugging on your Android devices, you can choose one of them to operate on your devices:
1) For Android 2.3 or earlier: Enter "Settings" < Click "Applications" < Click "Development" < Check "USB debugging".
2) For Android 3.0 to 4.1: Enter "Settings" < Click "Developer options" < Check "USB debugging".
3) For Android 4.2 or newer: Enter "Settings" < Click "About Phone" < Tap "Build number" for several times until getting a note "You are under developer mode" < Back to "Settings" < Click "Developer options" < Check "USB debugging".
Now, you can link your Android mobile phones or tablets to the Mac and then run the program. Here, if your device is running on Android 4.2 or above, then you need to authorize on device by clicking the "OK" button on your Android phone or tablet. After that, click "Refresh" button to recognize your device.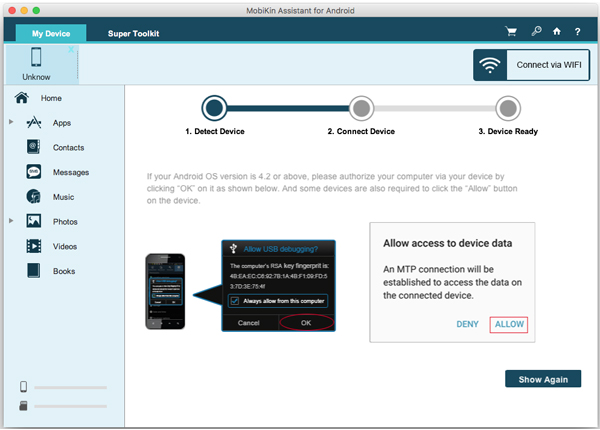 When these preparations have been done, you can see an interface like below: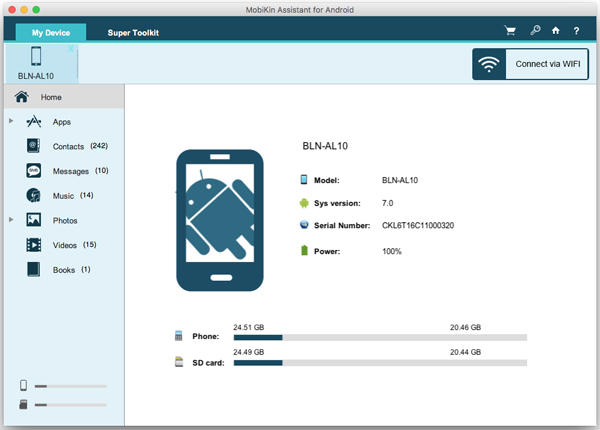 Now, you can manage your Android data with this program easily.
Backup Android Data to Mac Computer with One Click
From the above interface of the Android Assistant for Mac, you may have found that data on your Android device will be categorized and displayed in the top of the panel. And if you have entered these categories, you can find that there is a "Export" button existing in these categories, and you can use it to backup any contents you want to your Mac computer.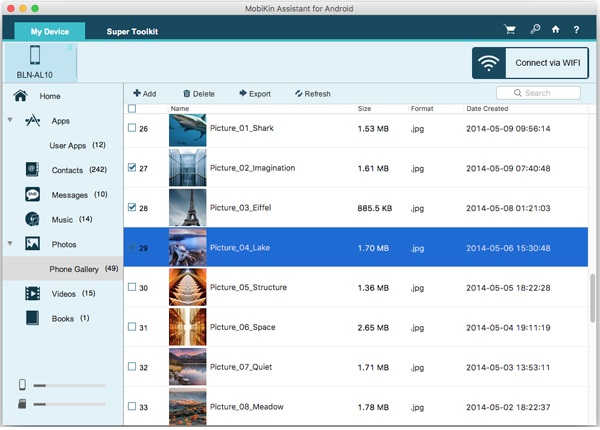 How to Add, Delete or Modify Android Contacts?
After selecting "Contacts" on the top menu, then all numbers on your Android mobile phone can be viewed in the list mode just like the below picture. Here is some explanation about the buttons under this option:
- New: Add a new contact to your phone;
- Delete: Directly remove any unnecessary numbers from your phone;
- Delete All: Empty the contacts list;
- Export: Move the contacts list from Android to Mac and saved as VCF format.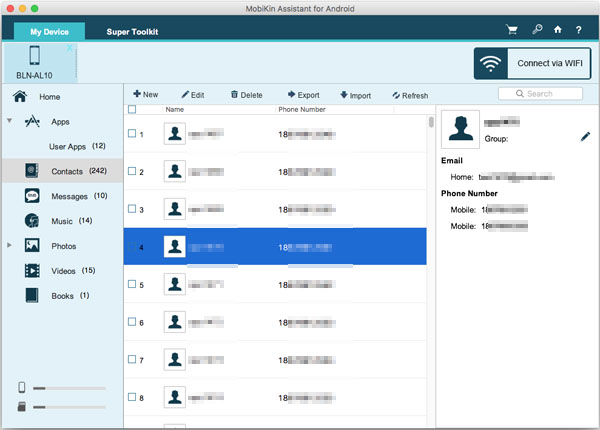 Manage Android SMS Messages Freely
Under the option of "SMS", you can preview the whole text conversation in the program as you like. And it also have some functional buttons in the top menu to help you manage the text messages easily:
- You can preview the detailed contents of the message by click on it;
- Send: Send a new message to one or more people at one time as you like;
- Delete/Delete All: Clear useless SMS or empty the message box;
- Export: Transfer all messages from Android phones to Mac with one click.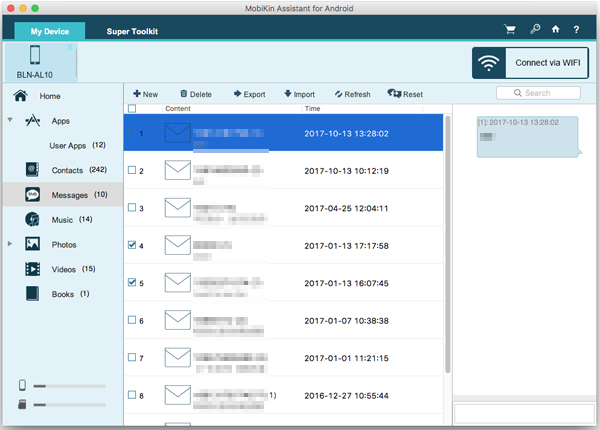 Install or Uninstall Apps on Your Android Device
Click "Apps" on the top menu, then you'll see the whole list of your installed Apps on your Android devices. And here you can delete or add new apps to your device by clicking "Install" or "Uninstall" button on the program.