No matter you like or not, Android devices have become one of the most popular portable device on the market. And also, more and more Android users want to find an helper tool to help them manage data on the device. That's why MobiKin Assistant for Android comes to the market. And here, we will show you how to use the program to control your Android phone or tablets steps by step.
To begin with, please be sure that the Android Assistant program have been downloaded and installed, and the device is also connected to your desktop computer. If you haven't installed it, you can click below icons to get the free trial version.
Free Trial
Make the Program Recognize Your Device
Obviously, this step is very important, you can follow the below steps to make your Android phones & tablets be recognized by the powerful program.
Step 1. Enable USB Debugging before Launching It
Below is several ways for you to open USB debugging on your device, just choose one of them to handle with your own device:
1) For Android 2.3 or earlier: Enter "Settings" < Click "Applications" < Click "Development" < Check "USB debugging".
2) For Android 3.0 to 4.1: Enter "Settings" < Click "Developer options" < Check "USB debugging".
3) For Android 4.2 or newer: Enter "Settings" < Click "About Phone" < Tap "Build number" for several times until getting a note "You are under developer mode" < Back to "Settings" < Click "Developer options" < Check "USB debugging".
Notes: If you did not find the Developer Options, please do it as follow:
Step 1, go to About Device;
Step 2, tap "Build number" 7-10 times in rapid succession, you'll see a playful dialog that says you are now 4 steps away from being a developer;
Step 3, back to the Setting page, you'll find the Developer Options.
Step 2. Run the Program and Install USB Driver to Your PC
Launch the program on your computer and then you'll see an interface just like below: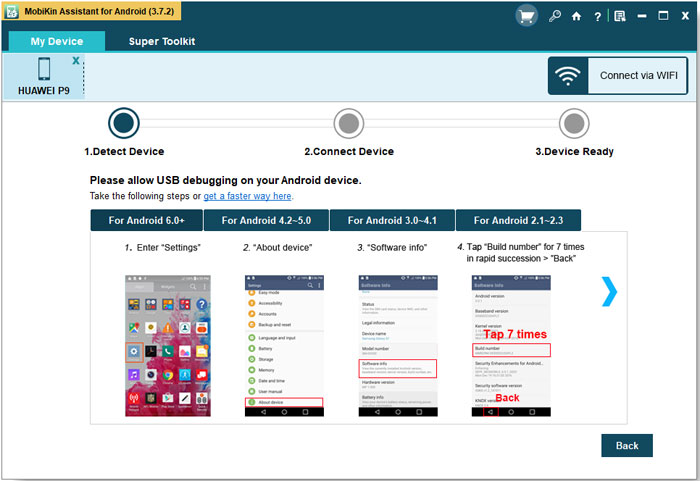 Check the options of "USB debugging opened" on the above interface, and click "Next" to make the program detect your device and then it will inform you that the USB driver is downloading and installing on your computer.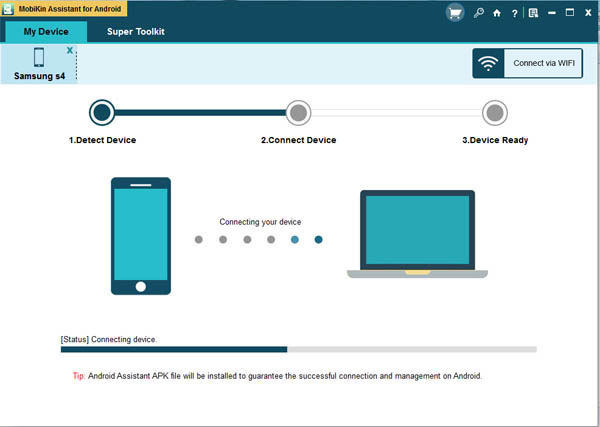 After downloading the driver successfully, one window will pop up to install the driver, below is an example of for installing the driver of Samsung Galaxy S4, click Next button. If you're using other android phones, please just do it as requires to install the driver.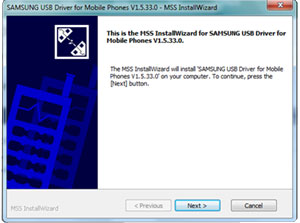 When you've found above window on your computer, just click "Next" to select Language and Country, then click "Next" button to select the installation location, and directly press "Install" button to begin the installing process. Wait for a little while, the installation will be finished, and you can check the process in the pop-up window as you like. When the program inform you that the installation of the USB driver is completed, you can click "Finish" button and you'll get the following prompts.

Meanwhile, you can also find the pop window in the task bar which located at the bottom right of your desktop. Just click it for the installing status, please wait for several minutes until all of the items are ready to use. After that, you can restart the Android Assistant software, and then you'll get the information as below "Authorization on device is required in order to continue. Please check your phone screen and authorize the PC by clicking 'OK' button on the phone.". Just follow the instructions, and then the program will recognize your phone and you can see the detailed information of your phone in the main interface.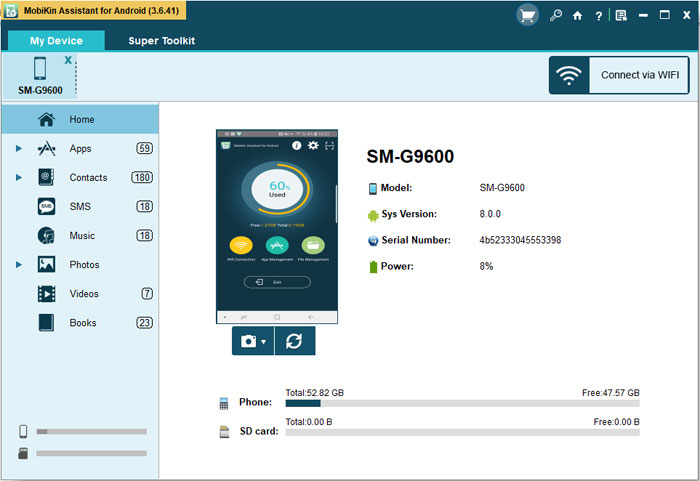 Backup & Edit Contacts Info on Your Personal Computer
First, please connect your devices via USB cables, then following the instructions on the primary window.
Tap on "Contacts" option on the top panel, you can see the whole contacts list in the program. You can check the box beside the "Name" to select all contacts, and hit "Backup Contacts" to export your Android contacts to computer and save as CSV format.
Any duplicate contacts that have the same name, phone number will appear on your screen for your review. You can click "Del duplicate contacts" to remove these info from your phone directly.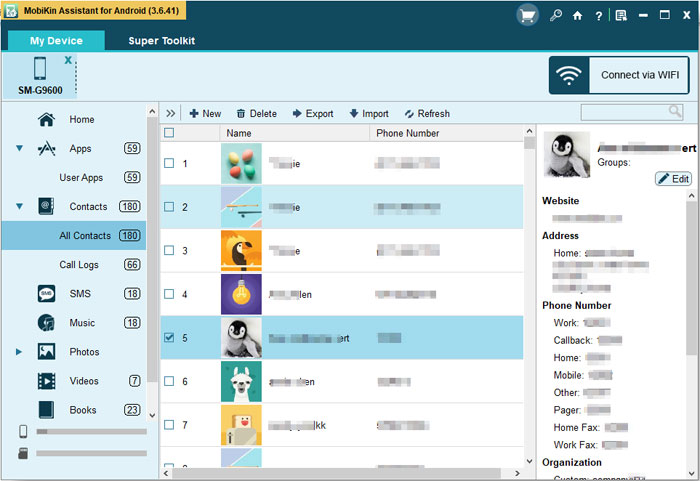 Add New Contacts to Your Phone (Coming Soon)
Click "New" to open the "Add new contact" window. As you can see, you can edit name, and phone number quickly.
How to Backup & Send Messages via Desktop Computer
With the program, you can export text messages from any kinds of Android mobile phone to computer in one click. Click "SMS" to check the text conversation on your device, and then hit "Backup SMS" to copy messages from phone to computer directly.
To send messages to your family or friends, you can click "Send" button on the top menu, and then a pop-up window will appear, just type the messages on the blank box and click "Send SMS".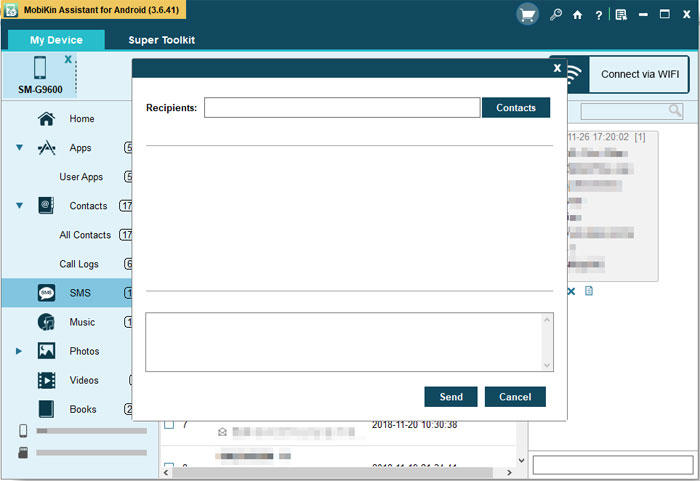 How to Manage Your Apps
Click Apps on the top panel. Then, on the App page, click the "Add App" button, located on the left of the menu bar. This will bring up your Windows file browser, from which you can select files to import from your computer or storage device. Click an install package to begin installing, as simple as that.
If you need to uninstall any app from your phone, you can find the app in the "Installed App" page, and select the app, hit "Uninstall" button on the top panel to delete any unnecessary app as you like.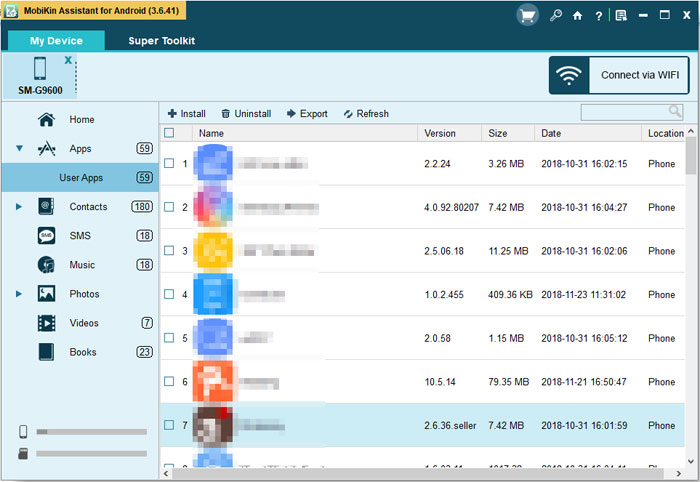 Import & Export Media Files
To import photos, videos or music, simply click on either "Photos", "Videos" or "Music" on the top panel, then click the "Import" button. This will bring up your file browser window, from which you can select files to import from your computer. Photos and videos can be viewed in the thumbnail mode just like the below: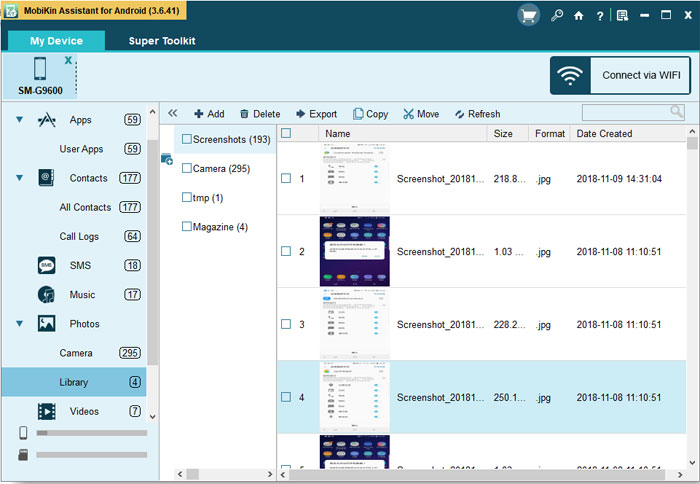 To export photos, music or videos to your computer for backup or other purposes, you can click the "Export" button on the top menu to achieve your goal. Deleting function are also available in this program, you can use it to remove any unnecessary pictures, songs or movies from your Android devices quickly.