Free Music Downloads for iPhone, iPad or iPod touch
It is really soothing to have music on one's iPhone, and nobody can resist the charming of music. So if you're also a music fan and love to listen to music on iPhone while you're on a bus, reading a book, or on a journey, there are several ways to help you download free music on iPhone 6 Plus, iPhone 6, iPhone 5S/5, iPhone 4S/4, etc.. You can use one of them to enjoy your music journey with iPhone as you like. Any way, if you wish to have some sites to download ringtones to your iPhone, you can read another page like free iPhone ringtones.
Method 1 – Download Free iPhone Music with iTunes
For iPhone users, you may not strange with iTunes, right? You may know that iTunes is an ideal tool to manage media files between desktop computer and iDevices, but you may not know that iTunes is also a good source for iPhone users to find what they want. So if you wish to download some popular music on your iPhone for entertainment, you can take iTunes as your considerations. Below is a detailed instructions to show you how to perform it easily.
Step 1. Launch the iTunes application on your device. Tap the button "iTunes store" that is shown at the top of the home screen to open the online store.
Step 2. At the bottom of the interface, you can check where the music button that is displayed alongside others like movies, search button. Click it to select your favorite music.
Step 3. Select the songs you wish to download, and if it is free, you can see a "Free" button clearly, then you can click it and download the song into your iPhone. What's more, if the song is not free, you can see a button like "$0.99", "$1.99", etc.
Method 2 – Download Music from Free Online Sources
It is no doubt that you can find lots of free music downloads sources on the Internet by using a searching engine service. And it is not hard to find these sources, but after downloading, how to transfer the downloaded music to your iPhone, or if the imported songs cannot played on your iPhone, what's will you do? How can you solve the problem?
Here, we just have some tips for you to download free music on the Internet:
First of all, you should ensure the downloaded songs in the formats that iPhone supported.  According to Apple's iPhone specification, we know that iPhone can support music in the format of MP3, AAC, AAC+, AMR, WMA,  or WAV. If the song you downloaded on the computer are not in the one of the above formats, then you should convert them into a iPhone compatible format before. To reach it, you can ask for help from some online services like Zamzar.
Secondly, if you have gotten all music you need, you can save them in a new blank folder on your Windows or Mac computer. After that, you can open iTunes and authorize it with the computer by using the Apple ID & password. Then, you can sync the music from PC/Mac to iTunes library directly.
Thirdly, connect the iPhone to computer, and make it be recognized by the iTunes. Here, you can find your device and tap "Music" in the top menu bar, and choose "Sync Music" option to finish the whole process.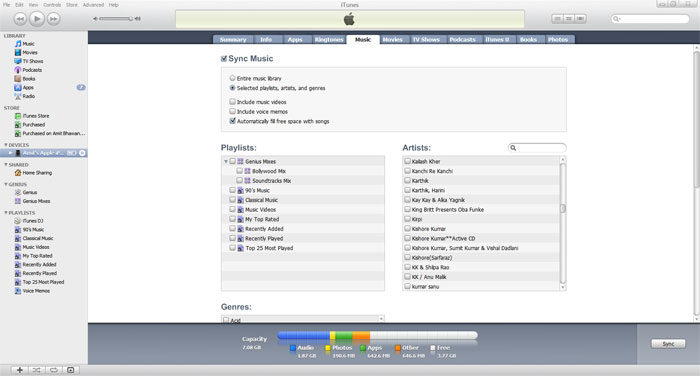 If you wish to get more tips about iPhone music or movies, you can click here.