How to Send Large Size Videos & Photos from iPhone Effectively?
Notice: We have updated a more comprehensive article on this subject. If you want to know more about sending long videos and photos from iPhone, please go to: Send Long/Large Videos on iPhone: The Definite Guide (7 Ways Included)>>
When you try to send a video by using iMessage or SMS from your iPhone, you may be informed that "Video is Too Long" and you're always be recommended to select a smaller clip from this video to send. I know, most of you will feel frustrating at this moment, especially when your video is only 2 minutes. Then what's the reason and how to send large size videos and photos from iPhone? Let's read on to get the answers!
You can also click to learn:
Reasons for the Failure of Sending Videos on iPhone
Actually, this is not an unique phenomenon for iPhone users. On the contrary, lots of iPhone users have encountered such situations while they're going to send a large size videos or photos from iPhone. And normally, this problem mainly occurs for two reasons:
– iSight camera only records HD videos, so even though a video is less than 2 minutes, the video size still probably be a few hundred MB.
– Apple sets a data usage limit to prevent a server overload, so you can't directly send a large size videos or photos from iPhone with iMessages or SMS.
Then, how to fix it? How to send a large video from iPhone directly? There are solutions for your reference. Generally speaking, you can find different ways to achieve the goal.
Also read:
Solutions to Send Large Videos or Photos from iPhone
#1 – Using MobiKin Assistant for iOS to Send Long Videos from iPhone
The most recommended way to send large size videos or photos from iPhone is to turn to the powerful software – MobiKin Assistant for iOS. This program can help you transfer the videos as well as photos from iPhone to computer with simple clicks. If you are interested in it, you can click to learn the detailed steps of sending long videos from iPhone to computer.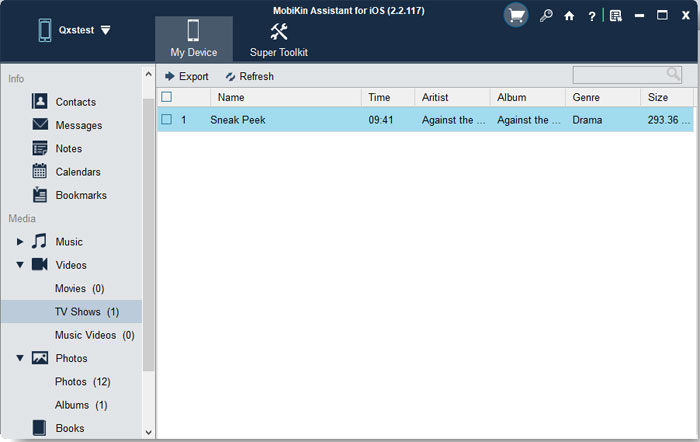 #2 – Using Apps to Send Large Videos from iPhone Directly
It is no doubt that you can find many apps from App store to transfer or send large size videos or photos from iPhone directly. If you don't know how to select a proper app for yourself, here's a list for your reference:
Transfer Big Files – This app works as its name indicated, which is a free app on the App Store, and allows users to send videos or photos from iPhone to its cloud storage space easily. You have to get an account of Transfer Big Files, then you can get about 5GB of storage and upload up to 100MB per file.
Sunshine – This app is known as ShareON, which allows users to send large video or photo files to the person who has the same app on their iPhone. And the test has proved that a 10GB file can be sent with this app at seconds.
WeTransfer – Unlike the above two apps, this app doesn't need to be installed on iPhone or other devices. It can uses email address to share files and the maximum file size you can send with it is 10GB.
#3 – Using AirDrop to Send Large Videos from iPhone
AirDrop is developed by Apple, which is used to send photos, videos, websites, locations and more between iOS devices and Mac. It is no limitation on the file size you want to send, so you can use it to send large size videos or photos between iDevices and Mac without restrictions. However, if you're using a Windows computer or you want to send the video to an Android or other system devices, AirDrop is useless here.
Learn more about how to send videos from iPhone with AirDrop>>
#4 – Compress or Reduce Large Videos to Smaller One
You can reduce the file size by exporting them to a lower resolution like 360p, 540p or 720p with iMovie or something like that. After trimming the video size, you can directly using iMessage or SMS to send it as you like.
Also click to learn:
Bottom Line
There are 3 different solutions for you to send large size videos or photos from iPhone to other devices, which one is the best in your opinion? Actually, no matter what is your final option, I just hope this post is useful for you and can really help you out of the trouble of sending large videos or photos.