Big Battle: Samsung Galaxy S10 VS iPhone XS, Which is Better?
With the launch of the latest Samsung Galaxy S10, the biggest battle of 2019 – Samsung Galaxy S10 VS iPhone XS has officially kicked off. Now many users want to switch their old phones to one of these two new devices but it is hard for them to make a choice. That's because they both have some amazing features and functionality. Hence, before you make a decision, you have to look at the features and specifications which contribute to how the phones function.
Round 1: Dynamic AMOLED VS OLED
The first difference between these 2 devices XS is screen display – Samsung Galaxy S10 uses AMOLED screen display technology while iPhone XS uses OLED. Compared with OLED display, the AMOLED display has improved features, such as the ability to highlight your finger in a 3D model, the ability to reduce the phones blue light and better contrast of the screen. These can help to improve the security of the phone, prevent unauthorized access, reduce strain on the eyes and optimize colors and other details when using the phone.
The OLED display, on the other hand, has pixels emitting their own lights, better contrast, better viewing angles, and vibrant colors. The brightness of this screen technology is however limited compared to the AMOLED type.
Round 2: 128GB VS 64GB
One of the most important aspects of a phone is the storage space. It determines how fast the phone works. This is why it's always advisable to create backups on different platforms to allow the phone to save space and therefore function at an optimum level. As such, Samsung's 128GB is much better than iPhone's 64GB. It allows users to enjoy higher functioning capacity and keep more items on their phones. While 64GB is still a lot of storage space on a phone, it's still half the size of 128GB.
If needed, you can also click to learn:
Round 3: Triple Camera VS Dual-lens Camera
Most people nowadays rely on phones for taking pictures which is why they look at camera specifications before buying a mobile phone. Hence, to meet the requirements of users, Samsung and iPhone respectively design triple camera and dual-lens camera for their new devices. Both triple camera and dual-lens camera enable users to take some amazing photos. However, the former has more benefits than the latter – better zoom and wider angles are some of those benefits. They also provide better lighting especially where there is low light, and also capture more details especially highlights and background details.
Round 4: 3400mAh VS 2658mAh
Battery is another aspect that users most care about. And obviously, Samsung Galaxy S10's 3400mAh is much larger than iPhone XS's 2658mAh. That means Galaxy S10 is more likely to last longer when being used. But this is not absolute since battery capacity is not the only reason for the battery life.
Round 5: 8GB VS 4GB
Since RAM contributes to a phone's storage space, it determines the operational speed of a device. It is responsible for keeping virtual files, storing the phone's drivers and controlling the input and output in the kernel among other things. This means that the bigger the RAM the better. As such, the 8GB RAM in Samsung S10 provides more operational benefits than the 4GB in iPhone XS.
Round 6: 3D Sonic Sensor VS 3D Face ID
While the 3D Sonic Sensor is one of Samsung's distinctive features, most people also pay close attention to iPhone XS's Face ID. Actually, both the Sonic Sensor and Face ID are great at improving the security of the phone. The difference is that one improves the security through fingerprint recognition and one through face recognition. In this regard, you can make a choice according to your own preferences.
Round 7: Supported Network
Both Galaxy S10 and iPhone XS use dual SIM technology and the similarity is that they both allow Nano SIM technology. The difference is that Samsung also uses the Nanohybrid SIM while the iPhone uses eSIM. Both of them also support 2G, 3G and 4G networks and they support various brands of network providers, such as GSM, LTE, and UMTS. In addition, GPRS and EDGE are available on these 2 devices as well. But when it comes to connectivity features, Samsung allows both Wi-Fi direct and hotspot connection whereas iPhone only allows hotspot connectivity.
Round 8: Processor
Samsung S10 is equipped with Snapdragon 855 which is one of the most powerful processors in the market. It comes with octa-core chipset which allows it to bring amazing processing speed and power. On the other hand, iPhone XS uses A12 bionic processor which is a Hexacore chipset. This also has great processor power as shown by most Apple devices.
Round 9: Water & Dust Proof
Apart from protecting your phone from unauthorized access, it's also important to protect it from natural factors like water and dust. This is why current phones make such features mandatory. Both Samsung S10 and iPhone XS has waterproof features that protect them for up to 30 minutes while in water. However, iPhone XS has the ability to withstand up to 2 meters depth. Samsung S10, on the other hand, can only withstand 1.5 meters in depth. This means that the iPhone offers a more protective feature especially considering that they both have dust-proof features.
Round 10: Price
Given all the features of these phones, their price range is a bit on the higher side. The price of Samsung Galaxy S10 starts from $899 while iPhone XS starts from $999. Both phones can be bought at online stores as well as designated onsite stores. These prices may differ depending on every person's location as well as the currency being used.
Tips: How to Switch to a New Samsung?
If you are the one who determines to buy a new Samsung S10, it is essential for you to know how to transfer data from one phone to another. This is not a difficult task and you even have many methods to complete it.
1. How to Transfer Data from Android to Samsung S10?
Supposed that you need to switch from Android to Samsung S10, you can turn to MobiKin Transfer for Mobile which enables you to copy contacts, text messages, call logs, photos, videos, music and more from Android to Android with one simple click.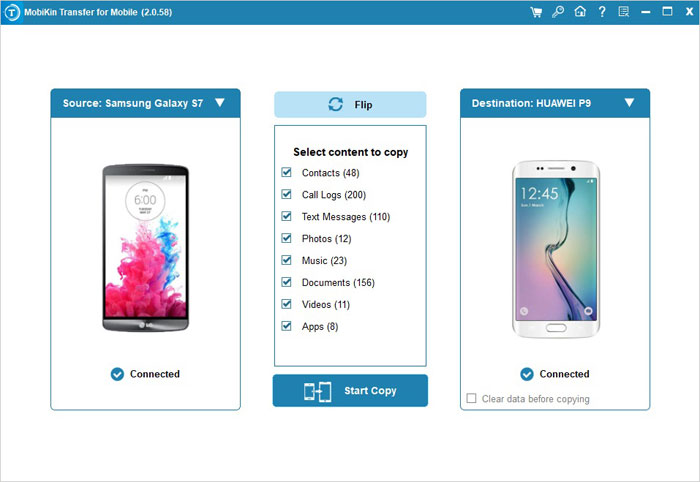 Or you can ask MobiKin Assistant for Android for help. This is an all-in-one Android file manager tool that allows you to transfer and manage your Android files without hassles. Here, you can use it to transfer files from your old Android phone to computer and then import the transferred data from computer to Samsung S10. Compared with the method above, this would be less direct but it empowers you to make a backup of your files and prevent them from losing.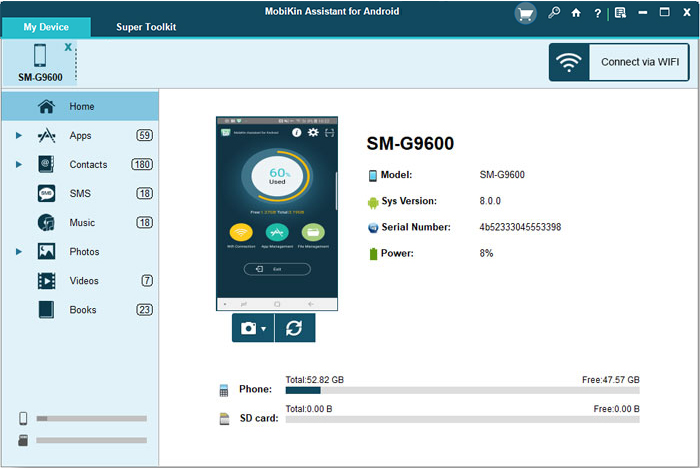 2. How Do I Transfer Files from iOS Device to Samsung S10?
As for the users who wish to transfer files from iDevice to Samsung Galaxy S10, you can choose MobiKin Transfer for Mobile as well. With the help of this software, you are able to copy contacts, messages, music, videos, photos and books from iDevice to Android with one simple click.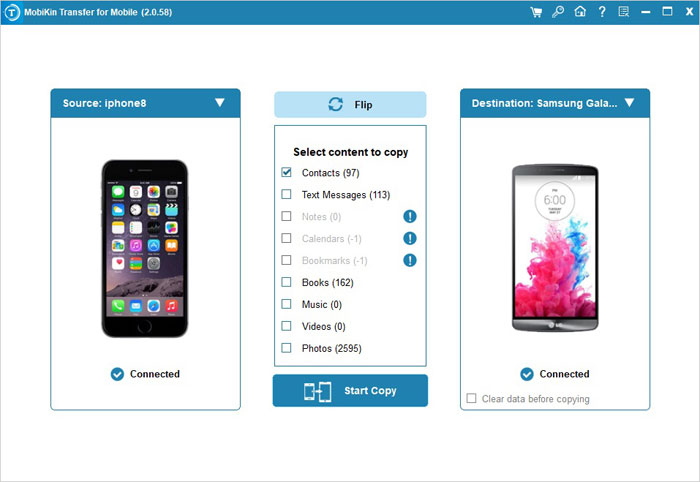 Above are the best ways to transfer data from an old phone to Samsung S10, but if you want to get more methods, you can jump to "Phone Data Migration: Transfer Data from Old Phone to Samsung S10" as well.
Conclusion
See, both Samsung Galaxy S10 and iPhone XS are great phones that will allow you to perform many functions ranging from taking pictures to creating documents. They have many similarities but also have their own characteristics. What do you think of these 2 smart phones? Which is better in your opinion? Just share your opinions with us.