5 Best Places to Sell Your Old/Used iPhone
Ditching current iPhone for the latest model can be quite tempting, especially when there are several online platforms where decent amount of money can be garnered by selling used devices. Not every platform is made equal; therefore, payout varies in great measure. The following are the top 5 best places to sell used iPhones effortlessly and for the maximum payout. The exact amount that can be made depends on a variety of different factors, including model, condition, among others. Nonetheless, you can rest assured that you will be playing it safe and making the most of time when you select any of these places.
Part 1: Five Best Places to Sell Your Used iPhone 5S/6/7
1. Amazon's Trade-In Program
Ever since this program launched, it has been obtaining raving reviews. This is not surprising at all, as Amazon is a company that has positioned itself among the best of the best. It has obtained high regard for being a first-class platform since day one. You can count on getting some cash back, no matter how old your iPhone is. First, you will have to undergo a question and answer process because Amazon wants to know general information about device. You will then be informed the amount Amazon is willing to give in form of a gift card. If you agree, you will be able to print a free shipping label to send it at your convenience. It is an efficient straightforward program, hence why it keeps growing in popularity.
2. Craigslist
If you have never used Craigslist to sell an iPhone, then you are definitely missing out on making a lot of money. Even if you have a very old model, it does not matter. There will be a lot of collectors that will want to get their hands on it. You will be amazed as to the response that you will garner as soon as listing goes up. In order to not waste yours and nobody else's time, ensure listing mentions every important detail and that it includes photos.
See Also:
Things You Have to Do before Selling Your Phone
4 Solutions to Erase All Content and Settings from iPhone, iPad & iPod
3. Apple Trade-In Program
Through their recycling program, trade-ins are accepted by Apple. If you have one of the newer iPhone models, then this option will be a great one to consider. This company will pay you with a gift card, which can be utilized to purchase another Apple device. This trade-in program is very convenient. Apple went the extra mile to ensure that it would be an extremely easy platform to benefit from. They definitely did not fail in achieving this. There is a prepaid trade-in kit or easy to print out shipping label to take advantage of. You can also opt to bring device to the nearest Apple store.
4. eBay
It is quite incredible the amount of money some iPhone sellers have been able to make on eBay in both auction and buy-it now formats. Before listing device, it is important to analyze the competition, as at the end of the day you want to beat it. If you have never sold on eBay or it has been a long time since you last sold on it, it important to make potential buyers feel comfortable with your listing. Trustworthy sellers always focus on providing the best shipping options, detailed information on device, and constant communication. As you more than likely are already aware, you would get paid via PayPal. You never know...it might go so well for you on eBay that you might turn iPhone selling into an everyday thing.
5. Gazelle
This platform provides cash via PayPal for your iPhone. It accepts a variety of different models, even if there are scratches present. The great thing about this platform is that a shipping kit is sent to you, one that contains a prepaid USPS label to ship device at your convenience. With Gazelle, you no longer have to fear of not getting anything for scratched device. This company believes in overlooking this type of mishap.
Part 2: Things You Should Do Before You Sell Old iPhone
There are several actions that should be performed before selling your old iPhone.
Tips 1: Back up crucial data on your old iPhone. You can sync your old iPhone to iCloud or iTunes for backup, or using a third-party tool to back up your iPhone data to computer.
Tips 2: It is vital to turn off "Find My iPhone" security feature.
Tips 3: Log out of all your account on your old iPhone, including all applications, services, icloud and so on.
Tips 4: Wipe out all data on your old iPhone. You can go to Settings > General > Reset > Erase All Content and Settings to erase everything on your iPhone. But for safety consideration, we suggest you use first-class software, such as iPhone Data Eraser to delete data from your iPhone permanently. This particular program is simple yet very potent. It can delete any type of data permanently and it is very easy to utilize iPhone Data Eraser; you first download it, launch it, and then connect device to computer. Instructions are very easy to follow. Depending on the amount of data present, deletion time varies from device to device; nevertheless, it will be performed faster than any other software out there on the market.
Below is the main interface of the iPhone Data Eraser. It provides three different erasing levels for your choice.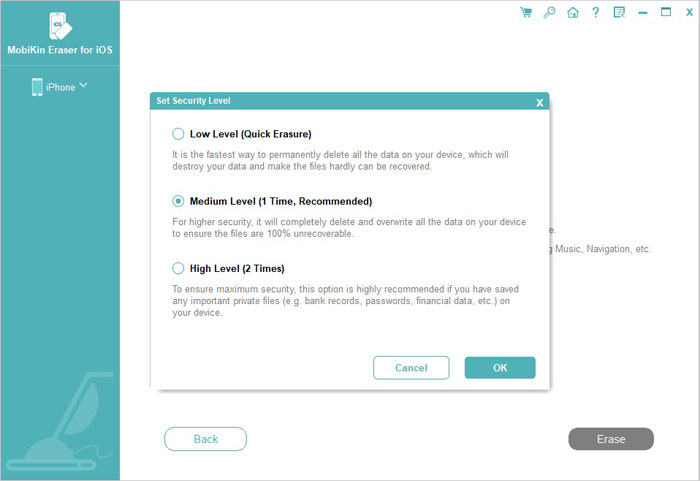 Tips 5: Remove the SIM card. Last but not least, do not forget about the importance of your SIM card; thus, make sure to remove it from iPhone to place on new device. By taking this recommendation into account, you will keep existing phone number and service intact.
Ditch iPhone without Thinking Twice
By selecting any of the previously mentioned platforms, you could certainly ditch your iPhone, without thinking twice, because you will be getting paid decent amount money in return. These platforms are 100% safe and trustworthy. Go ahead and verify this for yourself!
Related Articles:
How to Clean iTunes Radio History on PC/Mac
How to Clear Junk Files on iPhone Easily