Want to Speed up Your iPod? Let's Clean iPod Crash Logs!
Many iPod users may met a problem that the operating system of iPod will become slow gradually after the device has been used for a period of time. Do you want to speed up your iPod and enjoy a better performance? The useful tips are to free the memory space and clean the unnecessary files. You have no need to delete those files that you download or the data that you are not willing to delete in a hurry. Here will offer the method to clean the junk files that are totally useless to you.
What are those junk files? Actually you may know that no matter what you did with your iPod, there may be some traces left on the devices. For example, there will be temp files and caches generated if you browse the internet or download some files. What's more, even you delete downloaded files the download temp files will still be saved on your device. If the apps crashed, there will be crash logs on your iPod even after you fix the applications. Since we know what files should be deleted most, then how to clean them? Clean the junk files manually? I do not think it is a good idea. Because you have to find the files one by one and you may have no idea about what folder these junk files are stored. The best choice for you is to use iPod Data Cleaner (Windows/Mac).
The program is a powerful and professional cleaning tool that can detect the connected device and scan all the junk files like crash logs, user storage files, app temp files, cookies and so on. It can support iPhone, iPad as well as iPod well. Besides, all the junk files will be displayed on the windows as different categories so that you can find the wanted files easily. The software is free and there is not any malware like adware or spyware in the program.
There are two versions and one is Mac version and the other is Windows version. Select one to download.
How to Clear iPod Crash Logs on Mac Easily?
Step 1. Connect the iPod to your Mac computer and run the program. Then the software will detect the iPod and you will see an interface like this. Select the first icon by clicking the first icon.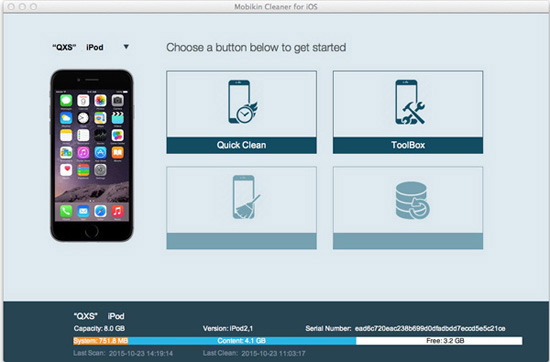 Step 2. Then you can select the types of files you want to scan. For example, you can click the App Crash Logs and other files and then hit the Start Scan button.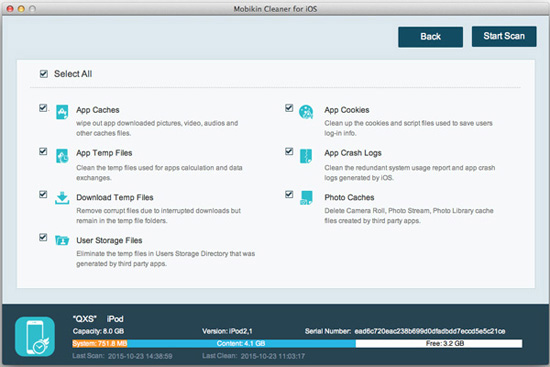 Step 3. Then the software will begin to scan and you will see the result after a while. Mark the files you want to clean or you can directly click the Select All option and finally tap on the Clean button on the top right corner.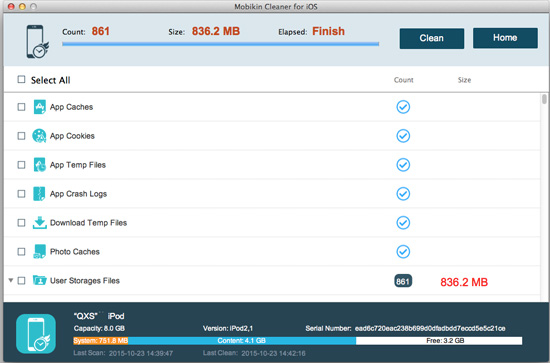 Why not download the software and have a try?
Related Articles:
How to Erase iPhone Data without Restoring Permanently
How to Clear/Clean iPhone Photo Caches on PC/Mac
How to Clear Crash Files from Android Phone