How to Clear User Storage from iPhone
Have you wonder that your memory space of the iPhone became smaller and smaller even though you delete all the files? That because there are many junk files like user storage, temp files, crash files, photo caches hidden in your phone and you may can not find them normally. When you try to speed up the iPhone, you will delete the files like photos, videos, music of large size but it is easy ignore the junk files which has small size but they will be accumulated as time goes by and took a lot of space in the end.
Then how to clean the junk files. Yes, you can clean them manually. All you need to do is to find them from the app folder or other space. But they are not stored in one folder, actually they are distributed in various different apps or various folders, so the users must be patient and idle to do that. As saying goes, time is important. If you do not want to waste time on the trifles, you can use the iOS cleaner for Mac, which enable you to clear all the junk files in no time.
Here is the brief introduction of main features of the software.
- The software can detect the connected device automatically and scan the junk files thoroughly and deeply.
- The users are able to select the types of files that they want the software to scan. What's more, the users can also decide to clean the files completely or partly.
- The junk files the software can scan and clean include app temp files, download temp files, photo caches, logs, cookies as well as the user storage.
- With a high compatibility, the software can support all the iOS devices like iPhone, iPad and iPod of different generations.
Steps to Clean User Storage from iPhone on Mac
First, download the software on your Mac computer and install and start the program by clicking on the icon on your computer desktop.
Then, select the first mode: Quick Clean by clicking on the first icon. This mode will enable you to clean the junk files in no time with several clicks, which will save you much time and efforts.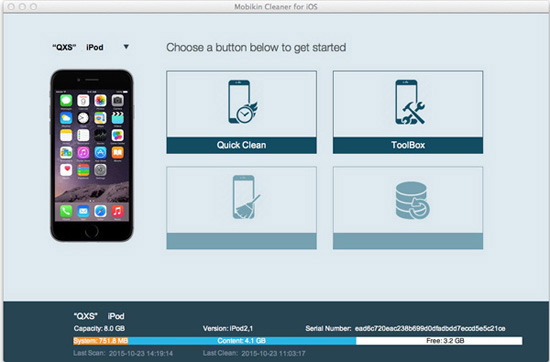 Next, you will see an interface like this with many types of junk files list on it. You can find that the use storage option on the botton of the left panel. Mark the User Storage Files option and other types that you want the software to scan. Then click the Start Scan button on the top right corner.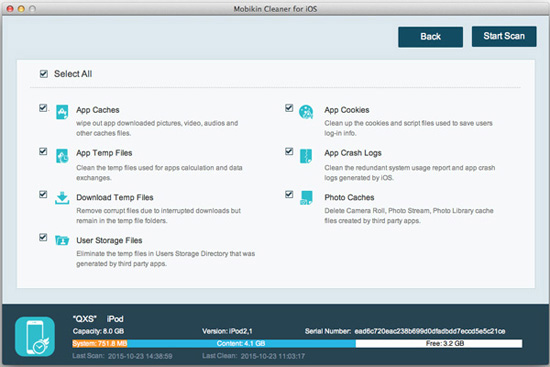 After that, the sotfware will scan the files in your device and you will see the scanning result in the new interface like this. Mark the files you want to clean and hit the Clean button on the top right corner.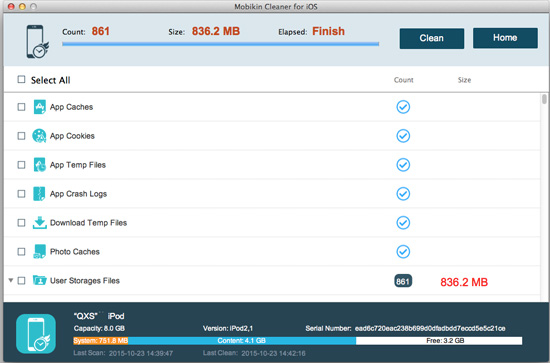 This is the whole process of cleaning software, download the free version and speed up your iPhone now1
Related Articles:
How to Erase Call History on iPhone Permanently
How to Clear Caches on iPhone 5/4S/4
Erase All Data on Samsung Galaxy