How to Securely and Permanently Erase Everything from Android
Android devices are increasingly being used by thousands, if not millions of people to store their private information, including contact information, financial details, business emails, purchase history, and usernames or passwords. This increasing trend has also proved to be very problematic, especially when one wants to sell, exchange or donate their android device for one reason or another. This is because it is possible to restore data that had been simply erased using the phone's inbuilt "Factory Data Reset" using specialized third party data restore application.
By reading this article on how to securely and permanently erase everything from Android, you will get to learn various effective and beneficial tips and techniques. And you can easily use to fully erase your device such that no other person or third party application can be able to retrieve any of your private data.
1. Three Effective Tips on Erasing Data on Android Devices
2. Best Choice to Permanently Erase Everything on Android via A 3rd-party Tool
1. Three Effective Tips on Erasing Data on Android Devices
There are four major recommendations that you can use to permanently erase your personal information from your Android smartphone or tablet before exchanging, selling or donating it as explained below.
NOTE: Before erasing Android data permanently, you'd better to backup Android data to computer for further using. If you don't know how to do it, just go to here to learn how to backup data from Android to computer.
Tip 1. Encrypting your device
It is recommended that you should encrypt the data on your Android smartphone even before you think about erasing or resetting your device. By doing so it becomes almost impossible for anyone to access the data on your device without having the relevant decryption information. This security measure also adds an extra layer of security in that the encrypted information even if recovered cannot be opened or viewed.
You may not know that all Android devices that run on the new Android 6.0 Marshmallow operating system are encrypted by default, hence, you do not need to doing the same thing on the device. However, if your device does not use the operating system, simply go to your tablet or smartphone's settings, select the "Security" feature provided and tap on "Encrypt" phone to do it.
Tip 2. Perform a factory reset
After ensuring that all the data in your Android device are fully encrypted and secure you can now proceed to erase the gadget using its inbuilt "Factory Reset" feature. Kindly ensure that you have backed up any sensitive data that you may sometimes need in the future as this process is likely to delete all the available data. Now that everything is in order to proceed to your smartphone's settings, so just click on the "Backup & Reset" button and tap on "Factory data Reset." Once there, simply click on the "Reset Device or Reset phone" option which will delete all the data on your device.
Tip 3. Reset device again after loading dummy data
In this step, you are required to fill your smartphone or tablet with unnecessary information, including large videos and music files before factory resetting it again. This additional security measure will simply overwrite any other confidential data that may still be on your device with insignificant unnecessary information that cannot affect you even when restored. After loading your already erased device with dummy data kindly feels free to repeat step number two.
2. Best Choice to Permanently Erase Everything on Android via A 3rd-party Tool
There are various third-party computer apps that can be used to permanently erase Android data. However, this comprehensive article will only focus on a specific program providing you with some basic information about it as well as going a step further to provide you with a step-by-step guide on how to use the best Android Data Eraser program.
About Android Data Eraser:

This amazing computer program which currently runs on both the Windows and Mac operating systems performs a thorough deep scan on your Android phone or tablet hence deleting any available data on it. It is impossible to recover the deleted data even if somebody decides to use any sophisticated data recovery program. By using this powerful tool, you can easily delete everything on your device including your favorite videos, usernames and passwords, music files, and text messages in just one simple click and leave zero opportunity to restore.
Note: Before erasing everything on your Android device, you'd better make a backup of your important data of your device in case of further needs.
A Step-by-Step Guide on How to Permanently Erase Everything from Android:
Step 1. After downloading and successfully installing the beneficial program on the computer, just go to your Android tablet or smartphone's settings and turn on USB debugging. After that, launch the Android Data Eraser program by double-clicking on the software's icon and connect your Android device to your computer or laptop via USB cable, and then install the MobileGo connector on your device as requested.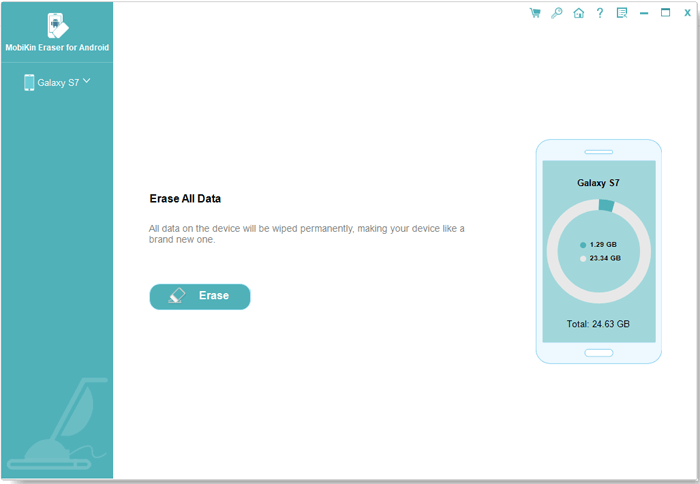 Step 2. When you are redirected to the program's main screen, click on the "Erase All Data " option which will introduce a new data erasing window.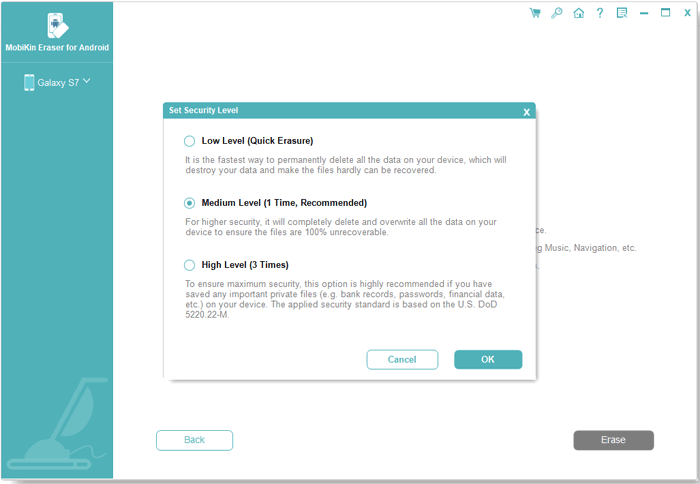 Step 3. Finally, type "delete" on the box to confirm your action and then simply select the "Erase Now" button and wait for the program to permanently erase everything from android.
Related Articles:
What Happens If You Delete a Backup? Get Some Helpful Tips Here
4 Means to Recover Deleted Videos from Mi Phone with/without Backup