How to Clear Cookies on iPod touch Easily
Simply explained, cookies refer to pieces of data put on your computer browser or ipod in this case by websites to help you accomplish some tasks. Cookies primarily help you retain your log in information on your ipod. In addition, cookies for example from Facebook may help you track other sites you had visited after leaving the social website. Cookies are stored on ipod on a per-browser basis on your browser.
Why Users need to Clear Cookies on iPod touch?
The most important thing to understand apart from how to clear cookies on ipod touch is the reason behind the act and why do you as a user need to clear cookies on your ipod touch.
- Firstly, clearing cookies on iPod touch reclaims some speed and improves the performance of your iPod. Greater amounts of data are normally collected by your iPod. And it is capable of reducing the performance of your iPod since the browser has to check through all these data whenever you begin to browse.
- Protects your privacy by eliminating your browsing history and cookies which might track your browsing habits. The information about your past surfing activities is eliminated when you clear cookies on your ipod touch.
- When your iPod is running out of space, clearing cookies on it will help you create more space that is required for a task that you are performing on the Internet.
- ...
However, It is important to note that cookies are at times also important to be retained on your iPod touch. This is because the cached data or cookies can help you access faster to your regular websites and in fact, you do not have to provide log in information for every time as it is contained in the cookies. So the best solution here is to only clear cookies from your ipod touch when you have used it for several months or you suspect that malicious data are contained in the cookies. And you can find a professional iPod Cookies Cleaner as your assistant - MobiKin iOS Data Cleaner(Windows/Mac). With it, you can delete the cookies on iPod touch selectively.
How to Delete Cookies from iPod touch on Windows/Mac?
Step 1. Download and install the powerful program on your computer, then launch it. As you can see, there are two different versions for your reference, just get the right one according to your computer's operating system.
Step 2. In the main interface, you should choose the cleaning mode. To clean iPod cookies, you're strongly recommended to select the mode of "Quick Clean", and then be sure all cookies option have been opened, you can click "Start Scan" button to begin to the scanning.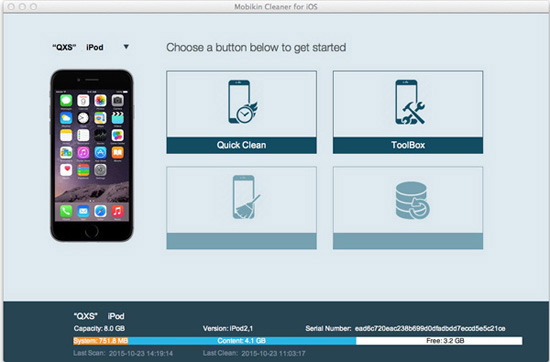 Step 3. When the scan is finished, you can find files on your iPod have been divided into different folders. Just open the folders of cookies, then you can preview the detailed files in the program as below. Tick the files you wish to remove, and then hit "Clean" button to delete them immediately.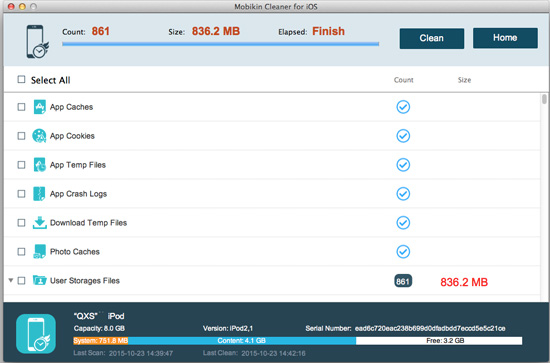 Related Articles
How to Erase iPhone Data without Restoring Permanently
How to Erase Call History on iPhone Permanently
How to Wipe iPhone Data before Selling