How to Completely Clear Data or Contents on iPhone 6/5S/5/4S
Why Need to Clear iPhone Contents Thoroughly?
People around you may complained that they have received some strange calls or messages, and you may also have received some calls from strange sales people, then have you ever considered of the reason why so many unknown person can get your personal information so clearly and how? Actually, we know that with the popularity of iPhone on the market, people like to save personal privacy info on the device directly, including phone numbers, email address, password, etc. And with the frequently upgrade of iPhone devices, you may also update your own iPhone to its latest one, then resell the old iPhone on the online store like eBay, right? Actually, your personal info may be leaked out in this way. Unbelievable?
For every iPhone users, they'll perform a "Erase iPhone" order on their device to delete all media, data and settings before selling it. But all of you may not have thought of the erased data in this method can be restored with a simple iPhone Data Recovery software. To be honest, if you only manually clear something on your iPhone, that doesn't mean the data is disappeared permanently. It only means the space which is used to store the data have been marked reusable again. So in order to protect your personal info from restoring and leaking out, more and more users are looking for a way to completely clear data on iPhone 6/5S/5/4S in the daily life. And if you're also one of them, then you've been the right place.
Steps to Delete, Wipe or Clear Contents & Settings on iPhone Permanently
As you can see above, if you wish to reach the goal, you need to ask for help from a professional erasing software on the market. Thus, iPhone Data Eraser is kindly recommended here. With it, you can conduct a deeply scanning on your iPhone and choose security level before erasing. After that, the selected data will be wiped and they'll never be restored with any professional data recovery software on the market. Cool, right?
Now, just click the below icon to download and install the powerful iPhone Data Eraser software on your computer, then follow the below instructions to start erasing iPhone data systematically.
IMPORTANT: Since the data erased by this program will never be restored, so please backup all your important data before performing the erasing order.
1st - Connect Your Device to PC and Run the Program
Using an USB cable to connect your iPhone 6 Plus, iPhone 6, iPhone 5S/5, iPhone 4S/4, etc. to your personal computer, then launch the program on it. After that, the eraser software will detect your connected device and show it in the program like below: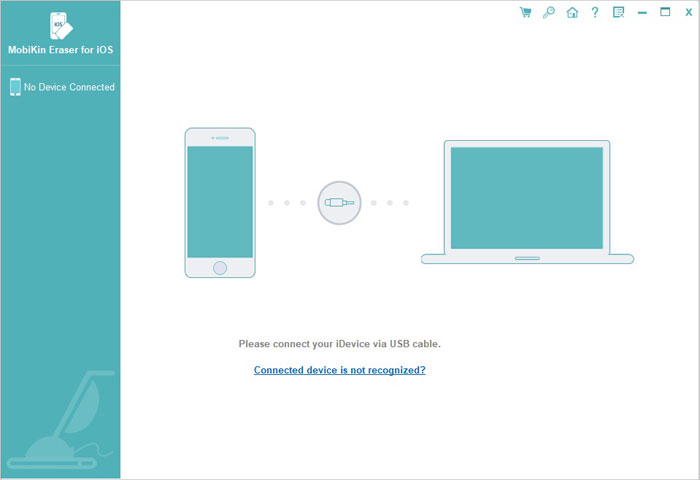 2nd - Choose "Erase All Data" Mode and Select Security Level
In the left panel of the program, please don't hesitate to choose "Erase All Data" option here. Then continue to hit "Erase Now" button and you'll be required to decide the security level according to your needs. Just select one of them and type "delete" to confirm your action and begin the erasing process at once.