How to Delete Apps on iPhone, iPad or iPod touch
Introduction: After instantly downloading apps on your iPhone, iPad or iPod touch for a long time, you may find that your iPhone is now beginning to act wonky. And the downloaded apps be listed in your device's screen from one to another and also occupied a majority of storage space of your iPhone, iPad or iPod touch. So in order to free up more space or speed up your iDevice, you have to delete some unused apps from iPhone frequently. That's why we write this article for you here.
Apps in the Appstore for iDevice always be regarded as an attractive feature for people who pick up iPhone as their personal option among unlimited smart phones, and it is no doubt that these iOS apps have enriched iPhone user's digital life, and also make their life more conveniently. But after a period of using, you will face the problem of how to delete or remove apps on iPhone, iPad or iPod touch due to storage space is limited or any other reasons, then what will you do? Do you know how to delete apps on your iDevice with or without iTunes clearly? As an iPhone novice, you may feel confused about the question, but now you can rest assured. In this article, we'll show you two different ways to delete iPhone apps on Windows or Mac computer. You can compare them and decide which one is better according to your own needs.
How to Delete An App or Game from iPhone, iPad or iPod Directly?
As the best smart phone in the market, iPhone have paid more attention on user's experience. So referring to delete unused iPhone apps, you can do it on the device within few clicks: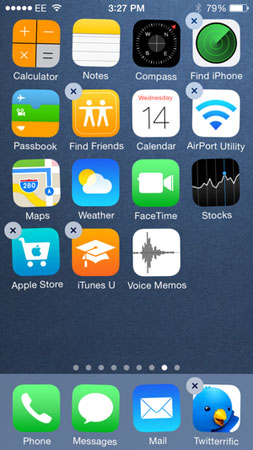 1) Start your iPhone, iPad or iPod touch, then go to the Home screen. Here you need to find the app you wish to delete and press and hold it for a few seconds. Then you'll see the apps like the picture we show here.
Here, you can notice that lots of apps have a little "X" image icon at the top left corner, and some have not. That is mainly because the apps which have no "X" image icon are the default apps that are part of iOS system, so you can't delete them.
2) Hit the little "X" image icon on the app and then a pop-up window will appear and remind you that "Deleting XX will also delete all of its data". Here you can click "OK" button to remove the app from your device permanently, or you can hit "Cancel" to stop the deletion as you like.
This method are suitable no matter what kinds of operating system you're using now. What's more, if you have some crucial data in the app, then you're strongly recommended to backup these data before the deletion. If you don't know how to backup iOS data, MobiKin Assistant for iOS could be a nice option here.
How to Remove Unused Apps on iPhone/iPad/iPod with iTunes?
Even though we have deleted apps from your device, but if you have a habit of syncing your iDevice to iTunes on a regular basis, then you still need to delete them from the iTunes on your Windows or Mac computer. Otherwise, you'll find the deleted apps will be reappeared on your device as soon as you plug your iDevice into the computer.
Step 1. Run iTunes and click on the "Library" in the top left corner of your iTunes home page. Then you can select "Apps", here if you can't find an "Apps" option, you can go to "Edit - > Preferences" and choose the "Apps" to show it under the "Source".
Step 2. Now, you can see a whole list of apps in your iTunes library. Find the app you want to delete, then select it and press the "Delete" button on your keyboard. A pop up window will ask you if you want to remove the app from the library, just click on "Delete App" here without hassle. For Mac users, you can right click the app you wish to remove in the library, and then select "Delete" button to remove the app as you like.
Windows 8/7/Vista/XP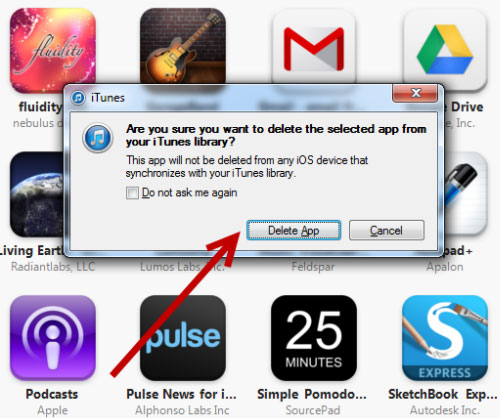 Mac OS X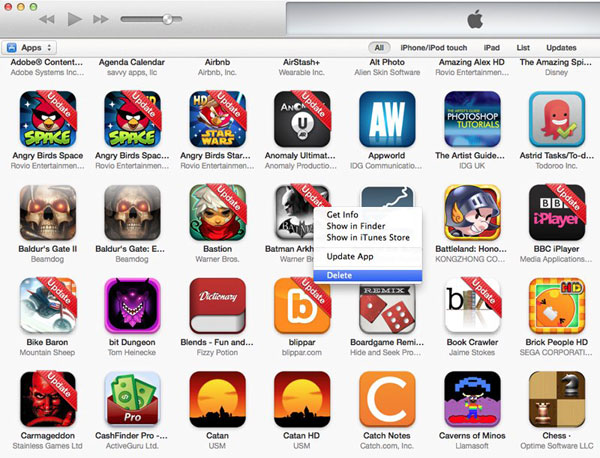 Conclusion
After reading the contents above, you must have know how to delete apps on your iDevice, right? And if you also wish to erase some data like contacts, messages, photos, safari history, junk files etc. on your device permanently, you can take a free trial on this powerful MobiKin iOS Data Eraser.
Related Articles
How to Clear Junk Files on iPhone 6/5S/5/4S
How to Erase Call History on iPhone Permanently
How to Wipe iPhone Data before Selling