How to Delete iPad Data (Music, Photos, History, etc.) Permanently
Well, when you need to delete iPad contents & settings permanently, what will you do here? Reset the device to the factory settings? Or manually delete all history of using the device? Actually, we believe that every iPad users have the awareness of deletion before getting rid of their old iPad, but a majority of iPad users doesn't know that these deleted data are not permanently removed on the device, so sometimes they may feel confused why they always receive some strange calls from unknown persons or why their personal photos are spreading on the Internet without permission.
Tool You'll Need:
Thus, many people will feel confused that why the deleted data will be leaked out after deletion in the daily life, right? To be honest, you should pay more attention on the word of "Permanently". In most situations, when you delete a file from your iPad, that only means the data is wiped from the device outwardly. And it can be found or retrieved with a simple data recovery software like iPad Data Recovery. So if you wish to make sure the deleted data will never be restored by others, you'd better to ask for help from a professional iPad data erasing software - iPad Data Eraser.
About iPad Data Eraser:
This program could be the best third-party program, which is special designed for iOS users to erase all contents & settings on iPad devices without hassle, including photos, contacts, messages, call history, caches, safari history, email & passwords, etc. And it will provide users with 3 different modes to erase the data and leave no opportunity to restore the deleted data. What's more, the best iPad Data Eraser also offers you various erasing modes, so that you can accurately delete different types of data on your iPad completely and permanently.
Now, just click the below icon to get the powerful program and follow the instructions to start your own iPad data erasing journey.
iPad Data Eraser - How to Wipe Data/Files off iPad Permanently?
To be honest, the operation of the powerful program is quite easy, you only need to connect your device to computer and launch the program on your PC or Mac, then you can reach your goal with 2 simple clicks as follows:
1st click - Choose the erasing modes according to your own needs. Here, you're recommended to choose "Erase All Data" to wipe the whole contents & settings on your iPad.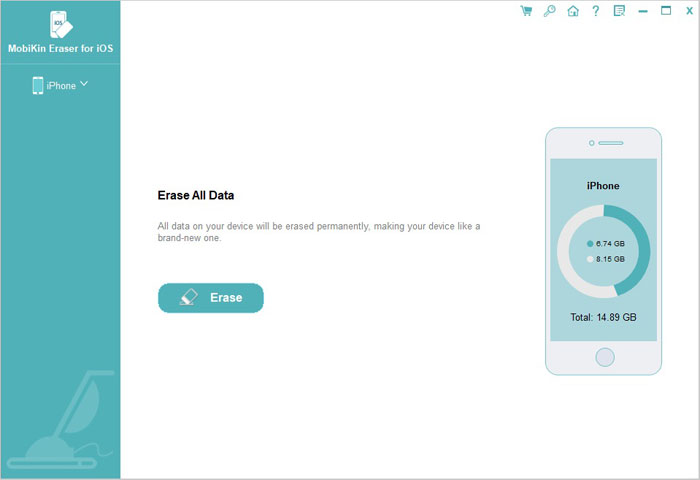 2nd Click - Hit "Erase Now" button to enter a new window, and here you're required to specify the erasing level from Low, Medium and High. And then type "delete" on the pop-up window to confirm your action and begin the process.
Related Articles:
How to Erase iPhone Data without Restoring Permanently