Tips to Free Up Mobile Phone Space
You will find that the space on your mobile phone is always insufficient no matter how large the storage space is. This phenomenon is caused by the development of technology. Why do I say that? That is because, with the development of mobile phone, no matter Android phone or iPhone, we can take a good deal of HD photos and download interesting applications which really entertain our leisure lives. At the same time, however, the space they take up is larger and larger so that the space shortage appears.
Part 1. What Are the Consequences of Inadequate Space on Mobile Phone?
Part 2. How to Free Space in iPhone?
Part 3. The Way to Clean Up Android Space
Part 4. Free up Mobile Phone Space Commonly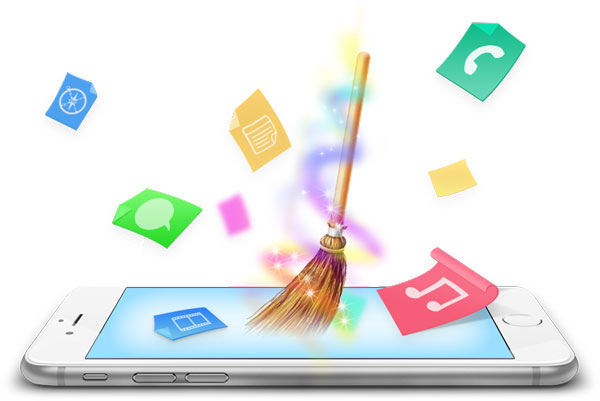 Part 1. What Are the Consequences of Inadequate Space on Mobile Phone?
Why are users so tired of mobile phone space shortage? The reason is that it appears frequently. In addition, it causes lots of inconvenience:
- Spend too much time on release storage space.
- Cannot record the moment that you want to commemorate.
- Fail to receive the important files.
- Unable to install the application that you are interested in and so on.
Part 2. How to Free Space in iPhone?
1. The best way to free space on iPhone

Most users might sweatful to delete and manage different applications on iPhone and they are eager to complete the cleaning process more simple and rapid. MobiKin Cleaner for iOS can help you achieve the goal. This is a third-party software designed to clean junk files on iDevice with 1 simple click and speed up the device. With it, freeing up iPhone space is no longer a difficulty. You can refer to the following steps to accomplish the operation.
Step 1. Download and install the tool
You can click one the icon below to download and install the program on your computer as you like.
Step 2. Launch the program and link your iPhone to computer
Use a USB cable to connect your iPhone and computer then run the software. The tool will detect the connected device automatically and you can see the interface as below.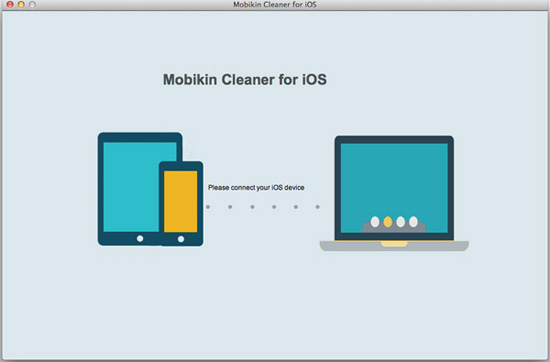 Step 3. Select a model
After the device is detected, you will see several options are displayed on the interface. Just choose "Quick Clean" and then continue.
Step 4. Clean the selected files
Choose files you want to clean and hit the "Start Scan" button in the right corner of the window. After the scan, elect the files you want to clean and hit the "Clean" icon to clear them all.

2. Use Wise iPhone Care to free up iPhone
Wise iPhone Care is an iOS cleaning tool that enables users to get rid of unneeded files so that your device could have more free space and the apps can run more soothly. It provides two ways to clean iPhone: Quick Clean and Deep Clean so you can free the iPhone space as you like. In addition, it is able to clean files with one click, including app caches, app crash logs, photo caches, call history and other junk files.

Part 3. The Way to Clean Up Android Space
To clear the space of Android phone more effectively, you also can resort to third-party softwares. However, there are lots of Android cleaner in the market and it is difficult for you to select the useful one among them. Therefore, this part will introduce three helpful cleaner for Android for you and you can choose anyone of them to help you get rid of storage space shortage.
1. Android Data Cleaner

MobiKin Eraser for Android is a powerful software to clear your Android data. It will scan every space of your phone memory and then erase all pravacy data and junk files like contacts, messages, safari cookies, calling history, email caches, etc. forever to speed up your Android mobile phone. But you must remember to backup your precious data before you clean your phone or they might lose.
Step 1. Download and install the tool
You can click one of the icons below to download and install the program on your computer or Mac.
Step 2. Connect your phone to computer
Open up the installed software and then link your Android phone to the computer via the USB cable. Then install the MobileGo connector on your device according to the request.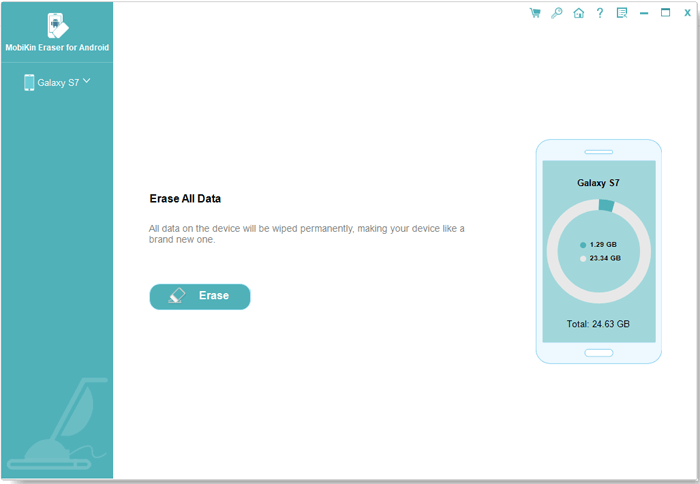 Step 3. Choose a correct mode
After installing the MobileGo, the program will appear a window to ask you choose a mode. Just click the "Erase All Data" mode to continue the process.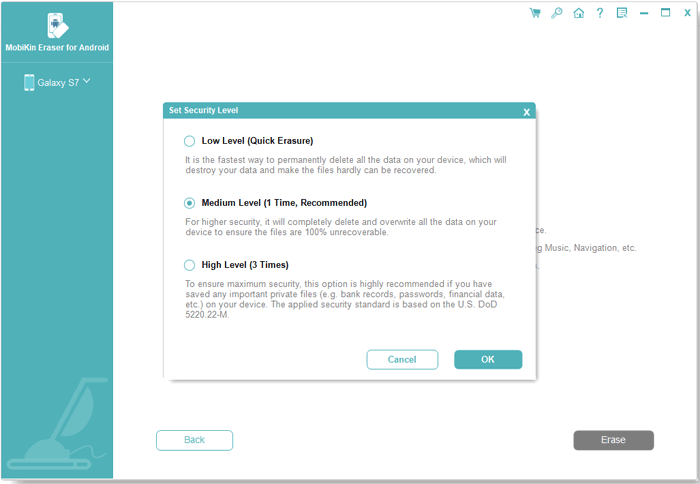 Step 4. Remove the data enduringly
Type the "delete" on the box to confirm your action and wait for the process to finish within a little while.
2. Norton Clean helps you free up Android space
This program is a junk remover which helps users free up space on Android phone to make the device run faster. To achieve this goal, it could analyze the junk files that take up your memory and storage space then remove them safely. With it, you are allowed to clean system cache, identify and remove junk, APK and residual files, optimize memory space, manage applications, get rid of bloatware and remove data from ads. So we say it is a good helper in cleaning Android space.
3. Use The Cleaner to clean up your phone
The Cleaner is a useful file remover with a sleek and interactive interface. This cleaning tool lets users free up storage and clean out junk files. It works like your typical Android cleaning app but is free and has over one million downloads.And also, it is able to clear malicious applications. This app is very easy to use, even novice users can employ it well.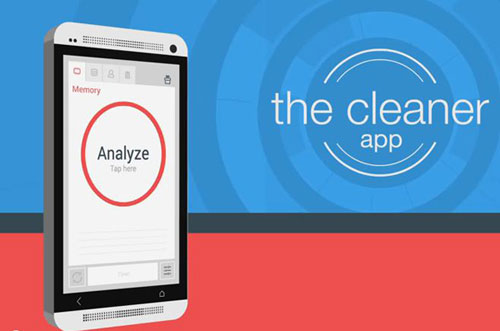 Part 4. Free up Mobile Phone Space Commonly
In this part, several tips to free your moblie phone in usual will be provided. They are available both in Android phone and iPhone.
Can't miss:
How to Easily Empty Trash on iPhone/iPad/iPod?
How to Solve Common iPhone Storage Issues?
1. Omit pictures and videos
As we have mentioned before, smart phone enables us to take HD photos and videos so that many users store abundant pictures and videos in their device. They are the main reason of the lacking space. Therefore, to free up mobile phone, the first thing is to manage your photos and videos.
For your unwanted photos, you can remove them directly. To delete them, you can tap the "Photos" app on the screen to open it and then click on "Albums" selection. Next choose one folder like "Camera Roll" and tick the pictures/videos you do not like, then tap the trashbin icon in the lower-right corner. Here a pop-up window will appear to ask you whether you wish to delete your photos, just click "Delete" to move them. Finally you need to go to "Recently Deleted" folder to remove the items totally.
If you want to omit videos on your phone, you can click here to find a suitable way for yourself.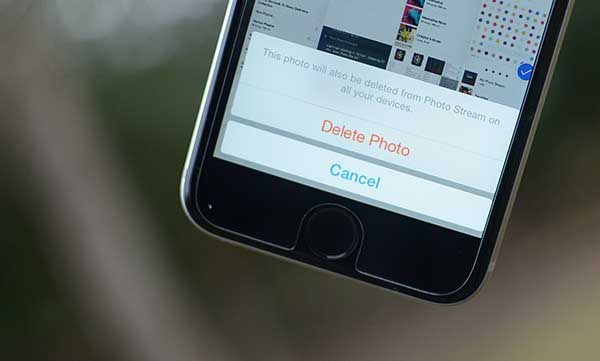 See also:
How to Clear iPhone Video Cache?
Easily Remove Undeletable Photos from iPhone
2. Deleting unwanted music
Listening to music is a popular pastime now. When you walk down the street or sit in a bus, you must see that some people are playing music on their phones. That means thousands of songs may be downloaded on a phone and much phone space may be filled with music. Hence, omitting the unwanted songs is a good idea. It is very simple- open Music application on your phone and tap the Songs button to open the list. Then find out the songs you want to remove and tick them and click "Delete" to delete the chosen songs.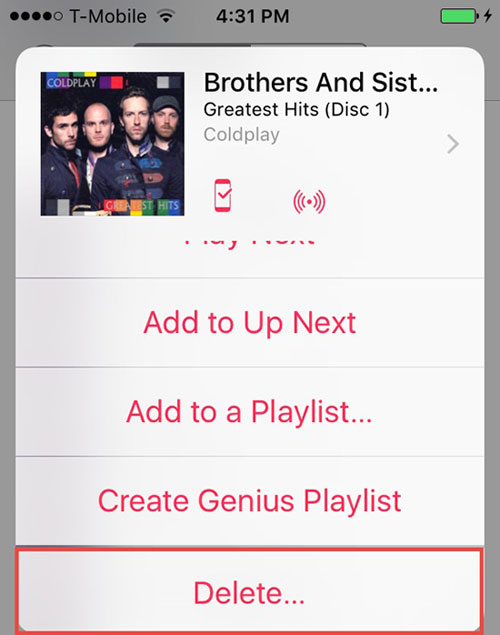 3. Clear junk messages
All phone users are familiar with junk messages. Most of them are unimportant or even useless so that it is necessary to clean them. Just tap the icon of Messages app to open it and click "Edit" option on the top left corner of your screen. Then tick each conversation that you wish to delete. Finally tap "Delete" in the bottom right corner to remove these trashy messages.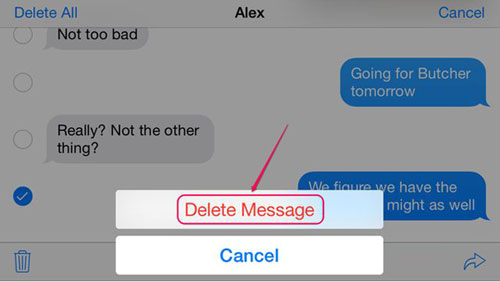 4. Spring-clean your Notes
The Notes application on mobile phone allows us to record the significant things that you have done or are going to do. Some people may that these notes do not take up too much space. But you should know that it is unnecessary to save the notes that you no longer need. To get rid of the trouble of space shortage, you can spring-clean your notes to get lager space.
5. Removing unused applications
Now manufacturers have developed various kinds of apps to meet our different needs and each smartphone user downloads and installs at least several programs on their device. Nonetheless, there must be some applications that are rarely used which would occupy a lot of space. So findng an app you don't use and remove it is suggested. The steps to delete applications are as below:
- Tap and hold the icon of the unwanted app.
- Tap the "X" appears in the app's corner.
- Click "Delete" to confirm your choice. And now the app and the history data are omitted.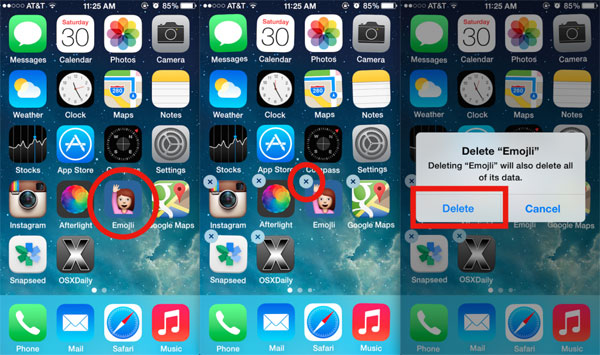 Learn more:
Tips to Uninstall Apps on iPhone/iPad

6. Clear cache and data
If you are a frequent user of Safari or other browser, you phone must be full of the records, caches and data that it leaves. You may not realize it until they eat up your mobile phone space. As a result, clearing the cache and data of Safari or other browser is sensible. Just follow the steps listed below:
- Open up "Settings" and scroll down the page to figure out the "Safari" option or the name of your browser and then tap it.
- Choose the "Clear History and Website Data" at the bottom of the Settings page.
- Eventually tap in "Clear History and Data" to confirm your choice.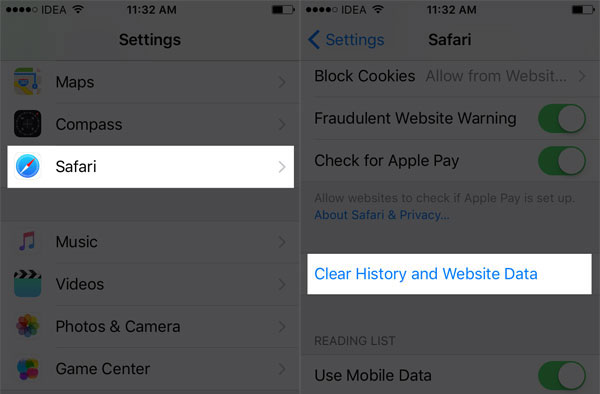 See also:
How to Fully Clear iPhone Safari Bookmarks
7. Clean up Notification Center
Notification is a feature that provides an overview of alerts from applications. Normally, these kinds of notification are ignored by users but they do produce rubbish and take up a small amount of space. To clean up these rubbishes, what you need to do is to open the Notification Centre by swipe down from the top and then a bar will appear. Look through the notifications and make sure that you don't lose any important notifications. Next tap the "X" button and it will change to "Clear", just click on it to clear up the notifications.
Related Articles:
How to Delete Duplicate iPhone Contacts Easily?