How to Permanently Delete Text Messages on HTC Hero
We know that managing text messages on a smart phone could be the basic function that many people focus on, and countless people actually get irritated when they can't erase or delete their text messages from a HTC hero permanently when they have the need urgently. No one will deny the importance of deleting all SMS messages on your mobile phone before selling or sending your device to others, but you may don't know that the manually deleted messages can still be recovered.
Therefore, when you delete a text message from your HTC hero, you must bear in mind that it is not totally erased from your phone but only becomes hidden in the storage, and it'll be overwritten while you have new messages be received. After that, your deleted text messages will be unable to recover by any data recovery software.
Tool You'll Need:
Under the circumstance, if you intend to disallow text messages totally and permanently from being restored, a third party data erasing software is needed. Obviously, there are various different types of programs in the market that assist users to erase their text messages permanently, but if you want to pick up the best one among them could not a simple task for all of you. Thus, HTC Data Eraser outmatches all others from its excellent features. It has capacity to permanently erase messages, passwords, photos, emails and videos on your windows XP, vista, 7 and 8 system. And the program is applicable to all models of HTC phones and other Android phones well.
Now, just click the below icon to take a free trial version on the powerful HTC Message Eraser software.
3 Steps to Erase HTC Hero Text Messages Permanently for Windows/Mac
Step 1: Connect HTC Hero to Your Computer/PC
The first step here is to link your phone to the computer using a USB cable and launch the HTC data erasing software. When the connection is successful, install the MobileGo connector on your device as prompted, then the program will detect your phone and show the interface just like below: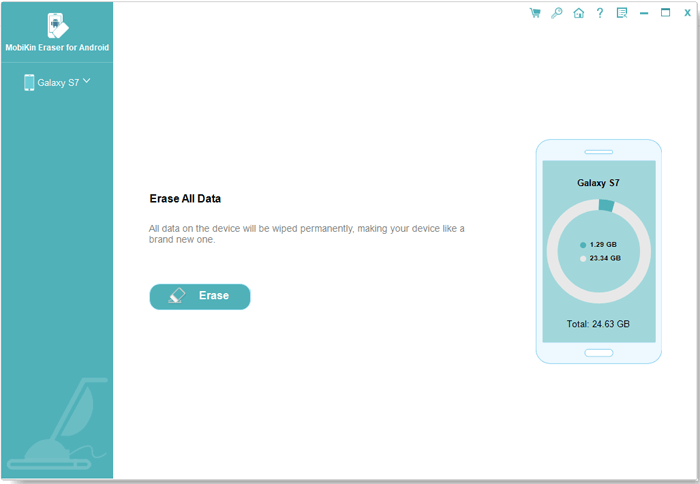 Step 2: Choose Data Erasing Mode and Security Level
In the program's left panel, you'll see different erasing modes for your reference. Here, you're recommended to select "Erase All Data" mode and hit "Erase Now " to continue.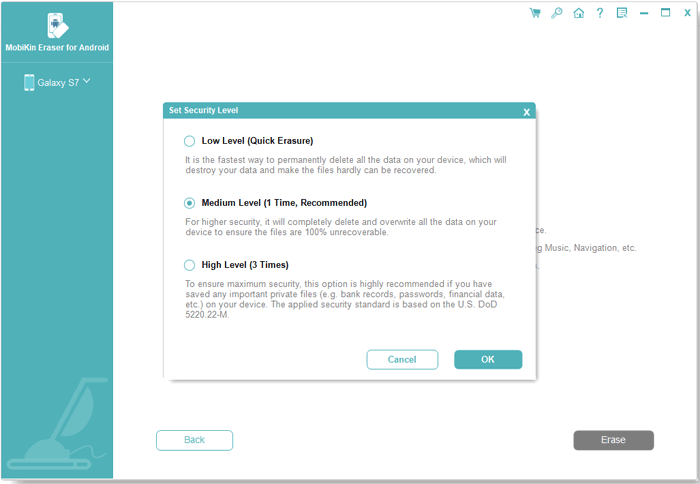 Attention: For Android device, the software now only supports the Erase All Data mode, so it is suggested to create a backup of your important files before the process. And the software will be improved soon with more modes for Android.
Step 3: Begin the Deletion of Text Messages
Type "delete" on the pop-up window to confirm your action and then click the "Erase Now" button again to begin the whole erasing process. The deletion process will only take a few seconds. After that, no data recovery software can detect the erased SMS from your phone.
Related Articles:
How to Erase iPhone Data without Restoring Permanently