Top 6 Contacts Backup Solutions for iPhone and Android
It is recommended that you always backup any essential information that is on your smartphone, tablet or even PC. By doing so, you will have prepared yourself to face any imminent disaster, including but not limited to the loss or damage of your electronic gadget. Thus, contacts as one of the most important data on your mobile phone, which are frequently used to communicate with your loved ones, friends, employers or colleagues should be securely stored for future reference. So you'd better to backup your personal contacts list to other security places regularly.
Under this situation, we have picked up 6 different contacts backup apps for iPhone and Android users respectively. You can try them one by one and get the best one according to your own needs.
Contacts Backup Solutions for iPhone & Android
- For iPhone Users
1. iDrive Lite
The iDrive Lite app is an iPhone contact solution that allows you to backup, restore and share all of your stored contacts on multiple platforms and devices. This app is also provided on the Android and Blackberry platforms, hence; you can easily share your contacts with multiple devices that use such platforms. iDrive Lite users are required to sign up for a free cloud storage account from where they can edit or share their contacts between two different accounts.
2. MobiKin Assistant for iPhone
It is allows users to export contacts from iPhone 6S/6/5S/5 to computer one by one, and enables users to backup messages, notes, photos, etc. from your iPhone to desktop computer easily. However, the program are not allowed users to backup a large amount of contacts to PC at one time, this is the main limitation of the assistant tool. So, MobiKin studio also offers a paid version to all iPhone users, which have no limitation on the number of files that you wish to move. You can click the below icons to get the tool.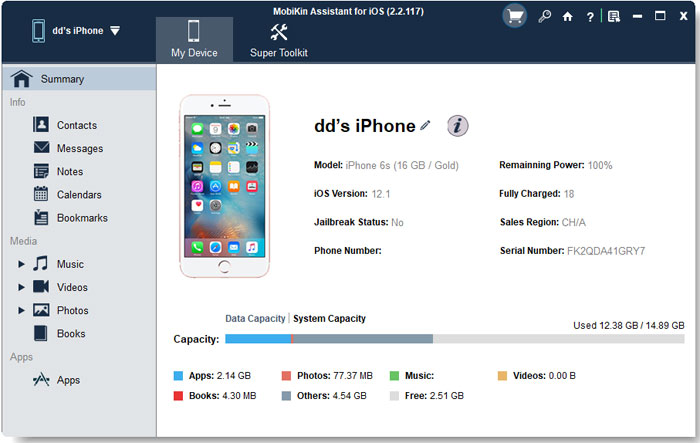 Can't Miss:
How to Transfer Contacts from iPhone to Computer
How to Sync Contacts from Computer to iPhone
How to Recover Deleted Contacts from iPhone 6S/6/5S/5
3. NQ Contacts Sync
NQ Contacts Sync, which is fully compatible with multiple smartphone operating systems can be used to store and access your personal contacts. You can create an account on the NQ Cloud official website from which you can easily manage and share them with any device that is linked to the created account. The NQ Contacts Sync app makes it possible to manage your contacts, simply by visiting the app's official website.
4. iContacts Pro
You can easily backup and restore your favorite contacts with a single tap of a button when using iContacts Pro. The iPhone app copies your entire contact lists and stores it as a bundle that you can email to yourself or a friend for safe-keeping. The contacts which are saved in a Vcard format can be easily transferred or imported to your PC or iPhone at any given time.
5. Contacts Sync
You can easily access, edit and manage your contacts with this Contacts Sync app. It provides users with the ability to store up to 1,000 contacts and if you have contacts more than 1,000, you'll be required to update to the pro version.
6. My Contacts Backup
This application, which was developed in the year of 2011 and now already has over 5,000,000 million active downloads. The My Contacts Backup iPhone app, unlike most contact backup solutions available in the market today, it does not require you to create any paid or free account before using it. You can easily store your private contacts, simply by creating a backup which is provided in the .vcf format and sending the backup file via email.
- For Android Users
1. MobiKin Assistant for Android (Windows/Mac)
Referring to the topic of contacts solution for Android, the first program come to my mind is this MobiKin Assistant for Android. It has Windows and Mac version, which allows users to backup not only contacts information, but also text messages, photos, apps, music, etc. from Android devices to computer with few clicks. And it allows users to restore the contacts backup files to Android device without restrictions. Here, we'll offer you with a detailed video tutorial as follow. You can view it and learn how to perform the program directly.
Can't miss:
How to Transfer Contacts from Android Phone to Computer
How to Transfer Text Messages from Android to PC
2. Super Backup: SMS&Contacts
Super Backup: SMS&Contacts app is an Android application that allows you to back up all your contacts, calendars, bookmarks, settings, text messages, and call logs either to your phone's SD card, Gmail account or Google Drive. You can easily use this beneficial Android app to restore your stored contacts and data at any given time or set your contacts to be regularly backed up to your Gmail or Google drive for safe keeping. What's more, if you wish to back up your apps and all their data, you'd better to root your Android device.
3. My Backup Pro
You can use this beneficial backup and management Android tool to store any important information or data on either a rooted or non-rooted device. The My Backup Pro Android app provides you with an easy automatic way to backup your personal contacts, alarms, music files, apps, calendars and much more. Just like most backup tools, My Backup Pro also allows you to store your personal files, apps, and settings either on your phone's SD card or through various cloud storage services.
4. Titanium Backup
Titanium Backup which can be downloaded either as a free or paid ($6.58) mobile program on the Internet. It is an Android app that can be used to backup contacts, apps and any other data on rooted devices. The free version only allows you to backup and restore apps and their data on your smart phone or tablet's internal storage. However, you can easily purchase the paid version if you wish to use the additional cloud storage services. If you don't like this app, you can try other contact solutions for Android in this page, or go to here to find other alternatives to Titanium backup program.
5. Backup Your Mobile
This Android app can be used both on rooted and unrooted devices. Backup Your Mobile allows you to easily store a variety of mobile data such as contacts, SMS, call logs etc. as well as specific system settings and user apps. Additional features like the storage of WiFi passwords, secure system settings, and all user apps can be accessed on a rooted device. The Backup Your Mobile supports the automatic storage of backups on the One Drive, Dropbox and Google drive cloud storage services.
6. Helium App Sync and Backup
This Android app allows you to easily backup your contacts, apps, SMS, call logs among other information without having to root your device. However, if your Android device is non-rooted, you are required to download an additional desktop app for you to benefit from this amazing service. The paid version of the app which costs $4.99 supports unlimited cloud uploading and backup scheduling and does not include any ads as the free version. Helium provides users with the ability to backup private data including contacts to cloud storage, PC or SD card.