How to Delete iCloud Backups on PC or iPhone/iPad/iPod?
It is known to all that the storage of iCloud is limited, and you may always be reminded that you are running out of iCloud storage space due to too much backup files in your iCloud account? In most situations, you may have backed up several iOS devices in iCloud with the same Apple ID, and some of them are not backed up for one time, so you can find that some of these old backups is out of date and occupy a large amount of space in your iCloud. Then, what will you do to solve the storage space limited issue? Deleting some old or unnecessary iCloud backups or upgrading your iCloud storage?
See Also: How to Delete Duplicate Files from iCloud Effectively
Generally speaking, you have three choices under this situation:
A. Pay money to upgrade iCloud storage;
B. Delete old iCloud backup files to free up more space;
C. Turn off iCloud backup feature and backup your iDevice with iTunes.
Actually, if you have enough budget at present, then upgrading your iCloud storage is a nice choice without deleting anything on it. But obviously, this is not the best option for most people. Turning off iCloud backup feature seems to be not a wise suggestion here, because compare to iCloud, backup files with iTunes is a little bit trouble than using iCloud. And for most people, they're tend to manage their iCloud files better to free up some space instead of purchasing more storage or changing their habit of backing up. Therefore, the option B could be the best way to solve your problem. Now, another problem is coming, how to delete old iCloud backups on Windows, Mac or iDevices? Take it easy, you can find answers in this article.
How to Delete iCloud Backups on Windows or Mac Computer?
For Mac Users
1. Directly choose Apple menu on your Mac computer, then select System Preferences > iCloud > Manage at the bottom of the interface > Backups.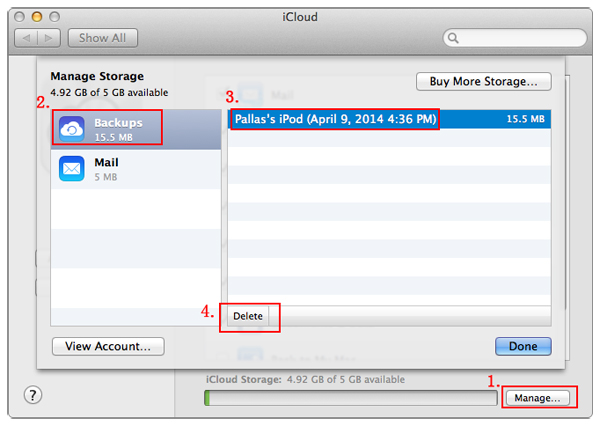 2. Choose the backups that you don't want to keep and click "Delete"to remove your selected backups from the iCloud.
For Windows Users
1. Download iCloud control panel on your Windows computer, and then login into your iCloud account with your own iCloud ID and password.
2. Then directly launch iCloud control panel and click "Manage" button on it. If you can't launch it, you can click Start Menu > All Programs > iCloud Folder > Launch iCloud to run it.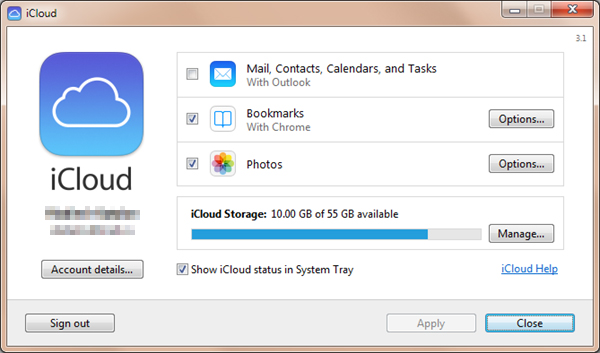 3. Now, you can click Backups in the left panel, and select the backups you wish to remove at one time. After that, click "Delete" and confirm the deletion order.
Can't Miss:
How to Set up and Use iCloud for Windows
How to Backup iPhone Contacts to iCloud
Steps on Deleting iCloud Backup from iPhone/iPad Directly
1. Directly find and open "Settings" on your iDevice, go through and find "iCloud", choose "Storage" and click "Manage Storage". Now, you can see all your iCloud backups on your portable devices.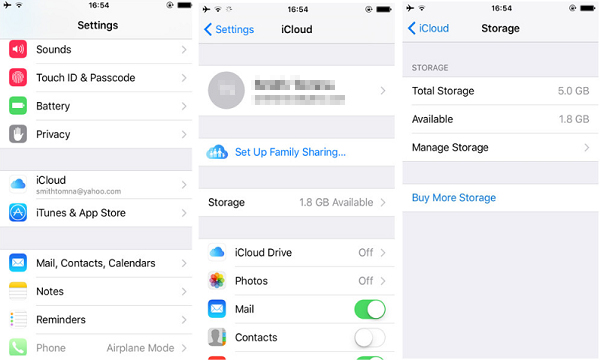 2. Choose the backup files you wish to remove and directly tap "Delete Backup" button. Here, a pop-up window will come and you need to select "Turn Off & Delete" to delete all your selected backups from iCloud.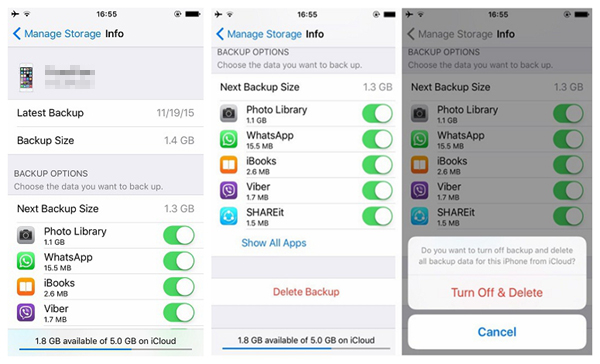 Related Articles:
How Apple iCloud Works on iPhone, iPad or iPod touch
How to Remove iCloud Account from iPhone
iCloud Alternative Tool to Backup iOS Files
How to Remove iCloud Account from iPhone/iPad without Password? [Fixed]
How to Transfer iPhone Files to PC without iTunes Easily?
[Easy Guide] How to Transfer Data from iPhone to iPhone without iCloud?