HEIC Viewer for Windows PC and Android
With the release of iOS 11, HEIF(.heic) is widely used on iPhone, iPad, iPod and Mac, and even worked as the default image format on iDevice. However, HEIF is not compatible with all devices on the market, so many Windows users have found that they can't open their iPhone photos after upgrading to the latest version. But thanks to the help of HEIF viewer, this problem can be solved easily. In this page, we could like to show you how to view HEIF photos on Windows or Android devices easily.
Can't Miss: Free HEIF Converter You Can't Miss
How to View HEIC Photos on PC with Automatic Transfer?
Since HEIC photos can't be viewed and opened on Windows or older Mac version directly, so Apple provide users with a seamless way to convert these photos to a compatible format automatically while transferring them to PC or Mac. When you're choosing this method to view HEIF or HEIC photos on Windows computer, you don't need to find any other HEIC viewer on PC or Mac.
Here is how:
Step 1. Go to "Settings > Camera" and find "Formats" option to change the HEIC image settings.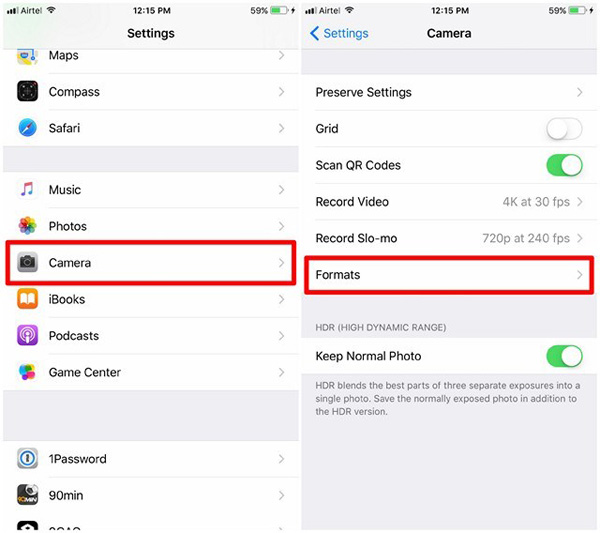 Step 2. Under the "TRANSFER TO MAC OR PC" section, you can tick the option of "Automatic" and save the changes.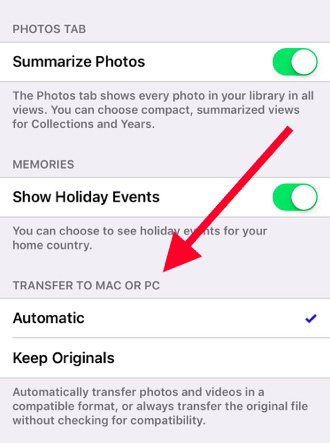 After that, when you're transferring images from iPhone to PC or Mac, the Automatic feature will change your photo format to Windows PC compatible format like JPG. And if you choose the option of "Keep Originals", then the photos will always be transferred in original format(.heic) without checking for compatibility.
Top 3 Free HEIC/HEIF Viewers for Windows and Android
#1 - iCloud
As it known to all that, iCloud can be used on Windows, Mac and iDevice well. So if the HEIC photos have been synced to iCloud, you can preview them on your iCloud account when you're using a Mac or Windows computer. Cool, right?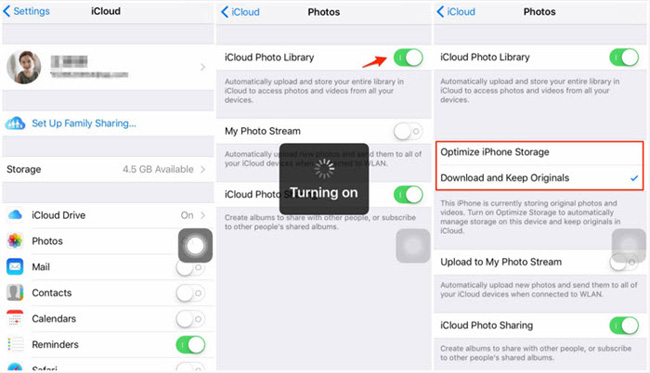 Below is how:
Step 1. Transfer photos from iPhone to iCloud first by clicking "Settings > Photos & Camera > iCloud Photo Library" on your iPhone.
Step 2. Download and login to your iCloud account on Windows PC, then turn on "iCloud Photo Library".
Step 3. Preview HEIF photos as you like, or you can click "Options" to download these photos on your Windows or Mac computer.
See how to download HEIF images from iPhone with iCloud Photo Library >>
#2 - Dropbox
Dropbox is a cloud storage service, which is similar to iCloud. With it, you need to upload photos to Dropbox, then you can access to view, download iPhone photos on other devices as you like. But this cloud service only provide users 2 GB storage space for free. So you need to pay for other spaces.
Tips; Dropbox is required to download and install on iPhone/iPad and Windows computer at the same time.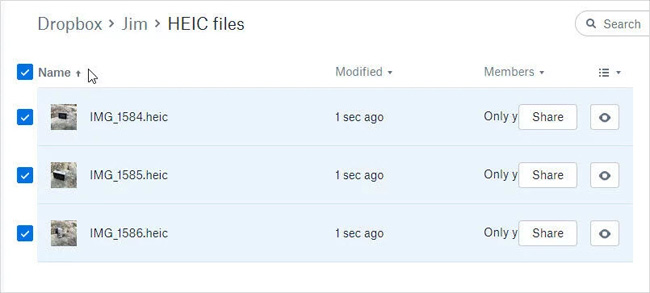 #3 - Luma: HEIF(.heic) Viewer and Converter
Obviously, iCloud and Dropbox is widely used on iDevice and computer(both Windows and Mac), Luma can be used on Android devices well. All you need to do is to download and install this app from Google Play, then you can access to HEIF photos on Android devices without restrictions. What's more, it also allows you to convert HEIF images to Android compatible JPG format at ease.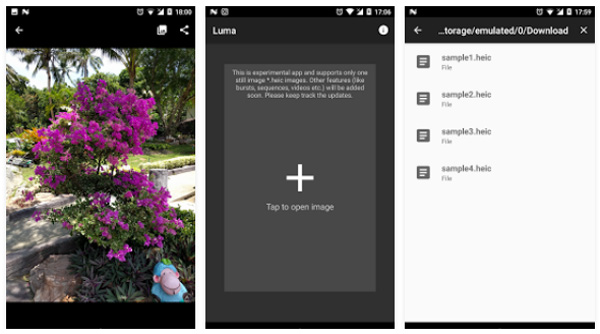 Related Articles:
Want to Backup iPhone Photos? Top 4 iPhone Backup Software You Can't Miss