HEIF vs JPEG: What is the Different?
Apple recently launched the new HEIF (High-Efficiency Image File) format to replace JPEG format on all Apple devices that are running on iOS 11 or later. It will make images smaller on iPhone, iPad or iPod without compromising the image quality. In this article, we'll compare HEIF to JPEG format from various aspects. If you're interested in it, just continue to read it.
Difference between HEIF and JPEG
Size
HEIF is smaller and of better quality than JPEG. The main advantage with HEIF is that images in this format are normally about half the size of JPEG and better in terms of quality. This implies that you can store roughly twice as many images on your iPhone before depleting the available space. Suppose you convert your images from JPEG to HEIF, you will be able to free several gigabytes from your device's memory without losing a single image.
Technology
The technology used to design image compression for JPEG format back in 1992 has improved with time to achieve better image compression, thanks to modern computers. Currently, most computers have been developed making them way more convincing that they can crush an image in more complex ways and within a very short period of time. Apple's most recent devices including iMacs have an inbuilt hardware that supports HEVC video format, meaning they also support HEIF. It uses a more efficient algorithm which turns files into smaller sizes. This hardware support enables images to be encoded and decoded instantly without straining the battery system.
Flexibility
HEIF is flexible. For beginners, it is much more of a file container than a file format. As compared to JPEG which can only support a single image, HEIF can either be in a single image or a series of images. Being a container rather than just a flat file, HEIF carries both the image and its metadata, enabling it to hold multiple images. This feature makes HEIF excellent for taking live photos and also a potential replacement for the GIF.
Image Color And Editing Support
HEIF not only supports transparency but also supports image color up to sixteen bits. This is way much better than JPEG's small 8-bit color support. Practically, HEIF can capture a wide range of colors provided by the 10-bit color output present in cameras. More so, HEIF is great for editing. It is possible to rotate and crop a HEIF image without resaving or altering the image anyhow. Such edits will be undoable in the future.
JPEG, on the other hand, does not support non-destructive editing which is a great challenge in the current up to date image editing landscape. For instance, the banding seen across a clear sky in JPEG has been done away with on HEIF.
How to Convert HEIF to JPEG Format?
The only problem with HEIF today is the inability of other big platforms such as Windows 10 and Android OS to support such an image format. This is because these operating systems are still in the common JPEG file format. Unless these platforms adopt HEIF, it will be restricted to Apple's devices.
So, if you wish to view HEIF images on your Windows computer or Android devices, you'd better to convert HEIF images to JPEG format for viewing. To reach it, you need to find a tool called HEIF Converter, and use it to change the HEIF format as you like.
Below is the simple steps for your reference:
Step 1. Visit Aconvert.com, and click "Browse" button to load HEIF or HEIC files.
Step 2. Select "JPG" as the target format, and you can also customize the image size as you like.
Step 3. Click "Convert Now!" button to begin the process.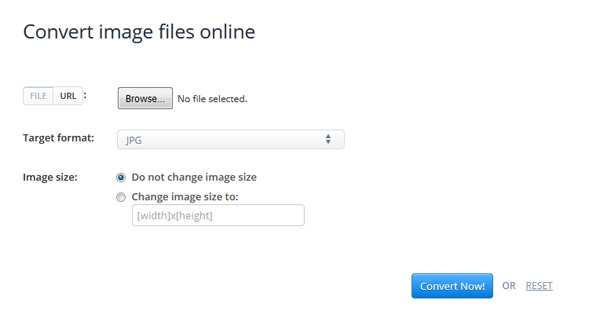 Related Articles:
How to Email iPhone Photos or Videos