How to Active iPhone X/8/7 Plus/7/6s
iPhone cannot make a call or connect to the network in factory-fresh condition but call an emergency number only. And new iPhone cannot be used normally when it is turned on as Android device can until the iDevice is activated successfully. Usually, you might ask the salesman in franchised store for help to active your iPhone 7 Plus/7/6s/6/SE, also you might activate the iDevice on your own.
1. Preparation before Activation
2. How Can I Active iPhone with WIFI
3. How Can I Active iPhone with iTunes
4. How to Transfer Data from an Old Phone to a New Phone?
5. How to Manage Files after Activation?
So what should you do to active new iPhone? There are two frequently-used methods for reference. You might activate them by using WIFI or connecting to iTunes on computer.
1. Preparation before Activation
* Please ensure that iDevice has enough power, usually not less than 15% of electricity, for it takes some time to activate.
* Insert the SIM card into iOS device, no matter you active the iDevice by using WIFI or iTunes, for it cannot be activated successfully without SIM card in iDevice. And please turn off your iPhone when inserting SIM card.
* Server validation and creating Apple ID account are needed during activation, so there must be an available wireless network or a computer network.
After preparation, the next is the activation operation guide. It is recommended to adopt the first method as a matter of priority for it is more easy to operate without connecting to computer.
2. How Can I Active iPhone with WIFI
Step 1. Connect with a WIFI Network.
After finishing inserting SIM card, long press the power button to start your phone like 3 to 5 seconds. Then a welcome screen shows, later you might follow its instruction to select a language and a country or territory in related setting. Next you should choose an available WIFI to connect for it is needed for the following operation. Finishing connecting to WIFI, you might move to the next step.
Step 2. Enable Location Service.
Here, you might choose whether you need to turn on the location service or not. The location service is the iPhone's GPS, which helps you to navigate to a new destination and search for nearby movie theaters, hotels or restaurants and any other places that needs to know your location. Make your decision as you like and move to the next step.
Step 3. Enable Security Service.
There are two optional of security features you might choose to enable on your iPhone, namely Touch ID and Passcode. But it is strongly recommended to apply both for safety.
Touch ID: Touch ID is the fingerprint scanner built-in the devices' Home button, which allows you to unlock the phone, use Apple Pay, and buy things at iTunes and App Stores with only your fingerprint. Using the fingerprint of your own as the password is a secure and efficient way to use iDevice for better privacy protection. All you need to do to set up your Touch ID is to place your thumb on your iDevice's Home button and follow its instruction.
Passcode: The another security option is to edit your passcode. The created digit password has to be entered on the screen whenever you turn on your iPhone in case of your iPhone is used by others without your permission. On the passcode screen, it offers different passcode setting, including creating a passcode of custom length and using a password instead of a code. You might also use both Touch ID and Passcode to enhance your phone security. Make your choice and set up your passcode, then move to the next step.
Step 4. Create or Enter Apple ID.
If you have an existing Apple ID account, you will be asked to sign in with your Apple ID here. If not, you might need to create a new one. Select "Create a Free Apple ID" and follow its instruction to edit your information to create a new account, like your name, birthday, email address and etc. Apple ID allows you to buy things in iTunes and make FaceTime calls with iCloud and other service. Also, you might skip this step as it says. Make your choice and skip to the next step.
Step 5. Set up Apple Pay.
Enter the three-digit security code from the back of your card to verify it and accept the Apple Pay terms and conditions. Then follow its instruction to verify debit or credit card to add them to your Apple Pay, like calling your bank, log in an account and so on.
Step 6. Enable iCloud.
Tap the "Use iCloud" option and follow its instructions to enable iCloud. If you are using iOS 8, you might receive a message to tell you that "Find My iPhone" has been enabled by default. If you are running iOS 8 or higher, you could also to follow its instruction to use iCloud Drive on your phone. iCloud allows you to use lots of iPhone services like using Apple music, iCloud Photo Library, FaceTime and transferring data with internet and etc.
After the above operations, almost all important settings of your iPhone has been activated completely. Also, you might choose the other way to active your iPhone with iTunes.
3. How Can I Active iPhone with iTunes
If you don't have available WIFI around you, you might also connect your iPhone to iTunes in the computer and active your iPhone on computer.
Step 1. Download the latest iTunes on your computer and connect your iPhone to computer with a USB cable.
Step 2. When your iPhone is in shutdown mode, long press the power button to start your phone and the iDevice in initial use can be activated.
Step 3. Run iTunes on computer and a popup from iTunes might show to remind you to update setting. Click to confirm "update setting". After updating, select "Set to New iPhone" and "Continue".
Step 4. The next is interface to set up a new iPhone. Usually, you might only enter your iPhone name in the name column and click the "Finish" button.
After that, an interface with your iPhone's information will show on the screen, which means that your iPhone has been activated successfully. Then you might disconnect to your computer and start to manage your iPhone 7 Plus/7/6s/6/SE.
4. How to Transfer Data from an Old Phone to a New Phone?
After activating your new iPhone, you might probably need to transfer your data from your old phone to your new iPhone 7 Plus/7/6s/6/SE. And you might not be that much familiar with iTunes or iCloud, or you just want to transfer some important items from the previous phone to your new iPhone instead of importing all files from your old phone to a new phone with iTunes. So the following part is going to show you how to transfer the files you select to your new phone with a professional phone transfer.
MobiKin Transfer for Mobile is the recommended program to transfer data between two mobile phones.
Key Functions of the Phone Transfer:
*Transfer different types of contents between iPhone and Andriod devices without limitation, like Contacts, Apps, SMS, Call logs, Photos, Music, Videos and etc.
* Backup the contents from your iPhone, Android to computer with easy steps.
* Restore the backed up data to any other mobile phone as you like.
* Delete the data from your old phone permanently.
Read to learn more functions of MobiKin Transfer for Mobile.
For the steps, you might download and install the program on your computer and select the "Phone to Phone Transfer" mode on the primary window. Then connect two phones to your PC with USB cables. And ensure that the new iPhone should be placed in the right side. If not, please click the "Flip" button in the middle to switch the position. Then you might start to select the items to transfer them from the old phone to your new phone.
Note: The Transfer for Mobile in Mac version does not support for iOS device for now and please download the Windows version.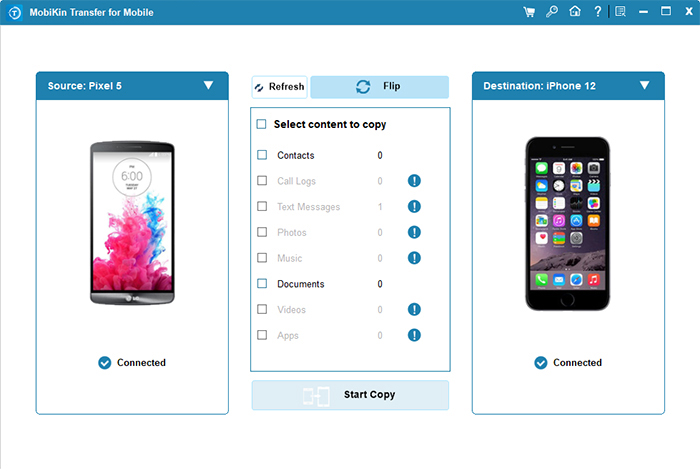 Can't Miss:
How to Transfer Files from Computer to iPhone Easily?
How to Sync iPhone Contacts with Outlook/Facebook?
5. How to Manage Files on iPhone after Activation?
After activation, your new iPhone might need to get a better management for a certain purpose or unexpected need. You might need to remove unwanted apps from your new phone or import contacts, calendars to your new phone or other management. Then a professional iDevice manager should be recommended here to achieve those aims and manage your iPhone, iPad, iPod easily and securely.
MobiKin Assistant for iOS is the recommended professional iDevice manager, which is a third-party software to manage files of all generations of iPhone, iPad and iPod on computer with ease.
Key Functions of the Program:
* Transfer 14 types of files from iPhone, iPad and iPod to computer, including Video, Photos, music, eBooks, Contacts, SMS, Notes and so on.
* Export Contacts and saved as 3 different formats, including CSV, VCF and XML.
* Transfer and backup Messages from your iPhone, iPad or iPod as CSV, HTML, Text and DB format.
* Import Contacts, Bookmarks and Calendars in XML format from PC to iPhone, iPad or iPod.
* Uninstall or remove unwanted Applications from iDevices.
Read on to know more functions of MobiKin Assistant for iOS.
Way to Manage Your New iPhone:
Step 1. Download and install the recommended program on your computer and connect the iDevice to your PC with a USB cable.
Note: Please ensure that the latest iTunes should have been installed and run in your PC before the management.
Step 2. Launch the program and the connected iDevice will be detected by system automatically. Then a popup shows to remind you to trust your computer on your iDevice and then click "Continue" on your PC. Later, an interface will appear as below: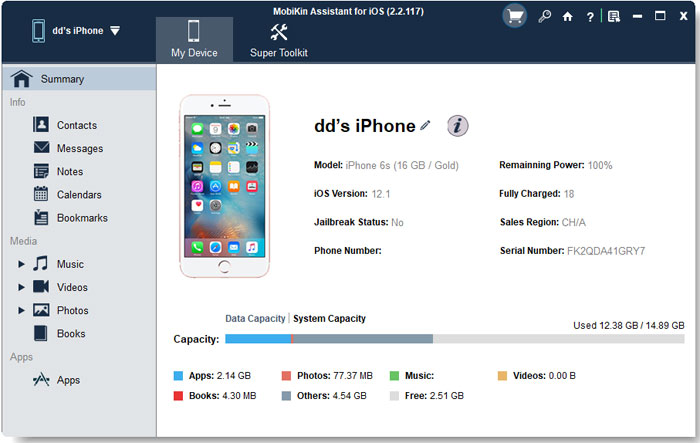 Step 3. On the left panel, all contents are available to manage here, including the Contacts, Messages, Notes, Calendars, Bookmarks, Music, Videos, Photos, Books and Apps. You might select any item you like to start management. The following is the introduction of the main function button.
Export: Transfer or backup the selected files from your iOS iDevice to computer and save them as different format, like HTML, CSV, VCF, XML, Text and etc.
Import: Transfer and move the target files from computer to connected iDevice with one click as XML format. And it will support the other formats after a short while.
Refresh: Sync all the modification of management on your iOS device or computer to acquire the latest file.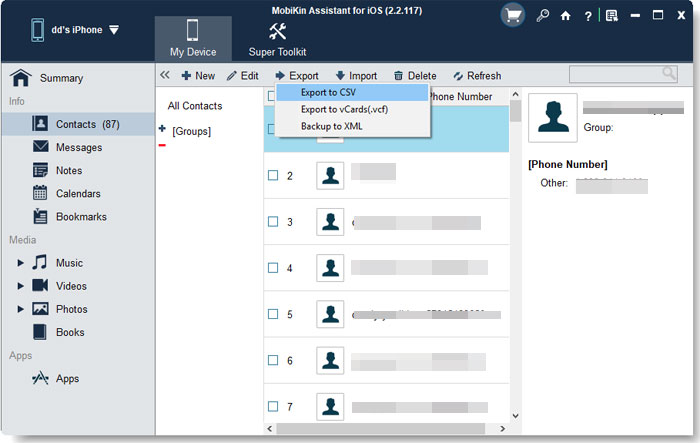 Related Articles:
How to Backup iPhone Contacts to iCloud?
Transfer Contacts from iPhone to PC
How to Transfer Contacts (Phone Number, Email Address, etc.) from iPhone to iPhone?