How to Track An iPhone 6/5S/5/4S/4, etc?
Loss of your iPhone can be really tormenting. Your device could be stolen or technically lost and you could like to locate it, right? Or you might feel bad or unsure about the thought of tracking an iPhone that your spouse or children use, yet there are times when you need to be sure of your spouse's true feelings or know that your children are safe, right? All in all, there are several reasons why tracking an iPhone is necessary for every iPhone users. So in this article, we could like to show you the detailed steps of tracking iPhone devices by using the app of Find My iPhone. You can follow the below steps to learn the detailed steps and if you wish to know more about the function of Find My iPhone app, you can click here.
Tutorial to Track Your iPhone Step by Step
Step 1: Open Find My iPhone app
If you have another iDevice or iCloud on Mac, you can directly open the Find My iPhone app. If the device you are using to track does not have the app, download it from the app store. Log in and the app will prompt you with a map having the location of your iPhone.
Step 2: Find your device from the enabled devices
At the top of the screen, you can click the devices button and select search for devices that are enabled. Your device will be shown in the list that appears since any iPhone can be added to your apple ID. Click on the iPhone to find its location. In case the device is switched off or its battery power is run down, the Find My iPhone app will show the last possible location of the device but the exact address will not be displayed. This will crucial in determining the next possible movements involved when the person carrying it has switched places.
Step 3: Notification to your device
Send a notification to the iPhone using the device you have. This will make your phone ring so loudly for around two minutes even if it was muted. If your device was just misplaced in the house, you will easily locate it for use. In case of the lost one, then you will have to turn on the lost mode.
Step 4: Turn on Lost Mode
Look at the lost mode in the info window of your iPhone. There will be a prompt for you to enter an unlock code for your device. Contact information can also be asked for but you are not asked to give other personal information. In the case of unlock code; you can use any number that will automatically unlock your iPhone if it is on. What's more, location information will be displayed on the screen as well as the changes of location that are subsequent. Good luck is that the devices that are not online can also be locked whenever they are powered next thanks to the notification sent through email to you.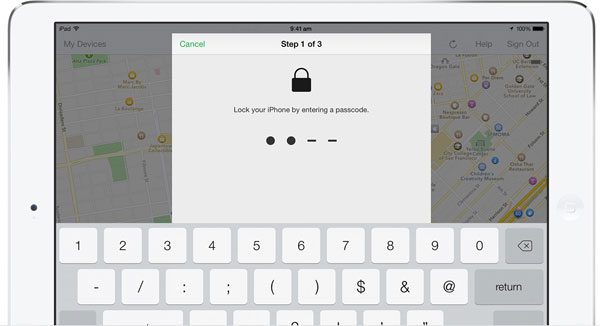 After the device is on, you can be able to see its location, address description of the same will also be provided to you on the info window. The Lost Mode is in the iOS 6 and other recent versions only however.
Step 5: Erase data vulnerable to compromise
In case you feel that someone has taken your device and may use your data wrongly, you can erase the data from where you are. On the iPhone's info window displayed, click the Erase iPhone button but the risk of this action is - you won't track your device anymore using the Find My iPhone app. The data can however be recovered anytime later on iTunes. To continue tracking your device you need another app - iHound.
Step 6: Run Ihound and receive location alerts
You can run iHound software on the device you are using to track the iPhone or on your computer. You can download the software from the appstore without hassle. It is able to track where your phone is even after the data is erased from it and provides a detailed report on how the phone is used and the exact activity it is doing. Even if it is different software is being uploaded onto the device, it will still send a mail notification to you to show where it was plugged into a computer to do so.
That's the whole settings for tracking your iPhone with Find my iPhone app. Actually, in order to reduce the loss of you, we strongly recommend you to backup your iPhone data to computer or other security places, so that you'll never lose them by losing your iPhone by accident.
Related Articles
Top 10 iPhone Security Apps
How to Transfer Apps from Old iPhone to New One
How to Transfer Music or Songs from iPod to iPhone