iPhone 8 vs. Samsung Galaxy S8: Which One is Your Choice?
The biggest battle in the smartphone industry happens in this year because two powerful mobile phones- both iPhone 8 and Samsung Galaxy S8 are released. For customers, this is a good news as well as a sweet torment for the reason that it is too difficult for them to make a decision- which one would be better. If you select the one that you don't like or is unsuitable for you, you would be repentant.
Therefore, to help you make a decision, we will compare these two devices from different aspects so you can have a better and comprehensive understanding on them. Let's go!
Part 1. The Common Features of Two Devices
Although these two phones come from two total different manufacturers, but they still have something in common. These similarities are powerful and useful. They are:
- The rear camera
The dual pixel sensor of both iPhone 8 and Samsung Galaxy is both 12MP, which allows users to take the clearer photos even in night. In addition, it provides a wide angle for you to record the beautiful scenery and unforgettable moment. For shutterbugs, this is would be a wonderful function which may make them love these two devices.
- Fingerprint Scanner
Another similarity is that both devices support fingerprint scanner. This is not a new feature because most smart phones have employed this technology which enables us to unlock the phone quickly and effortlessly. But what's disparate is Samsung Galaxy S8 cancel the Home button while iPhone 8 keeps it. This means the technology of fingerprint scanner on Samsung would be more advanced.
- Wireless charging
This time, Samsung and Apple Inc. choose to employ wireless charging in their new products. It means that you can charge your iPhone 8 or Galaxy S8 by wired or wireless charger as you like. This feature could make the charging process more convenient cause we have no need of getting the charger with us all the time. As well, the charging line would not restrict us anymore.
- Water and dust Resistant
Another highlight of these two phones is that they are waterproof and dustproof. With this function, you needn't to worry that the device would be broken once they drop into the water or are covered by dust. It would improve the protective capability of the devices. However, you are still suggested to protect your phone even if they are stronger.
See also:
Everything You Need to Do Before Getting A New Samsung S8
Part 2. What are the Differences between iPhone 8 and Samsung Galaxy S8?
Since they are two different devices from two diverse companies, there must be some distinctions between them. In this part, we will discuss their main distinctions and you can decide which one is more suitable for you according to the comparison.
- Price
The factor you most care about must be the price. Unlike the rumors said, the selling price of iPhone 8 is about $700 USD while Samsung has priced the Galaxy S8 at around $750 USD. From the price, Samsung would be more expensive so some customers may choose iPhone 8 as their new portable device if they are very concerned about the money.
- Size
The size of Galaxy S8 is 5.8-inch but iPhone is 4.7-inch. For iPhone, it is easier to take along because of its smaller size would not take up too much space of your bags or pockets. On the contrary, Galaxy S8 equips a larger volume which may make you inconvenient. However, the bigger screen enables you to watch the videos or TV shows clearly, which is a good thing for the people who are fond of watching movies on their phones. Therefore, in this aspect, movie lovers may choose Samsung but people who dislike the "big" device might choose iPhone 8.
- Storage
Now a mobile phone is a little computer for us. We always backup and store some important files like documents, favorite songs, memorable photos, etc. on our portable devices. Thus, a large storage space is required. In this case, the Samsung new product only offers a 64GB storage space while iPhone 8 provides both 64GB and 128 GB storage. If you have lots of files to backup and save, maybe iPhone 8 would be better.
- Display
There is a huge disparity on the display screen between Galaxy S8 and iPhone 8. This time, iPhone 8 continue to use the LCD display which is also employed in iPhone 7/Plus so iPhone users could be familiar with it. However, Samsung has big changes in this respect. It adopts the super AMOLED technology to design the screen of Galaxy S8, which are able to display infinitely.
- System
The most obvious distinction of these two mobile phones must be the system they used. As we all know, all the generations of iPhone use iOS system which is stable. And it is said that iPhone 8 would make use of iOS 11 system which equips many new helpful features. On the other hand, the products of Samsung always use the Android system, Galaxy S8 is not excepted. The system that Samsung used in Galaxy S8 is Android 7.0 which also has lots of fans around the world. This could be a decisive factor for you.
Can't miss:
Should I wait for iPhone 8 or iPhone X? Worth or Not?
iOS 11 is Coming- How to Get Your iPhone/iPad Ready for iOS 11?
Part 3. How to Sync Data from the Used Phone to a New iPhone or Samsung?
After owning a new phone, you must want to copy some files that you want from the previous device to your new phone. But the transferring process would be time-consuming and labored if you do not find the right way. So this part will introduce the easiest way for you to move the data stored on your used phone to a new iPhone 7 or Samsung Galaxy S8.
The method that is strongly recommended here is to use Mobile Phone Transfer- a professional helped in phone to phone transfer. With it, the transmission between two phones can be completed within several simple clicks. Below is the detailed operation for your reference.
- Connect your used phone and iPhone X/Galaxy S8 to the computer via USB cables now. Run the software and select the mode "Phone to Phone Transfer" directly.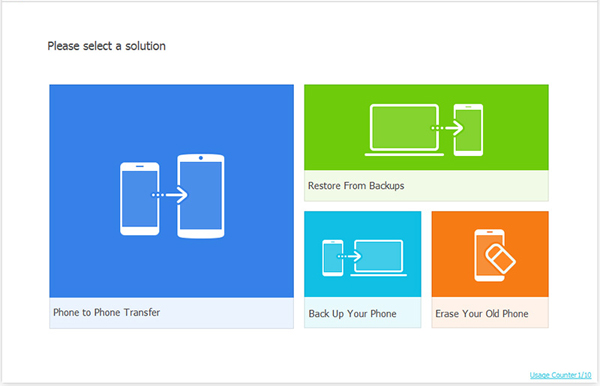 - The tool will detect these two devices automatically and then you can several files like Photos, Videos, Contacts and so on are listed in the middle.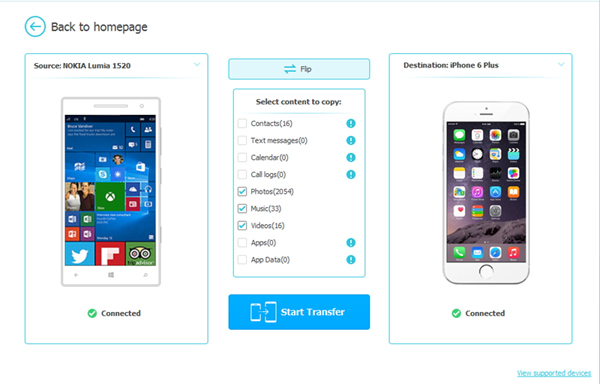 - Tick the files that you want to transfer then click on "Start Transfer" to move and save the wanted data to your new phone.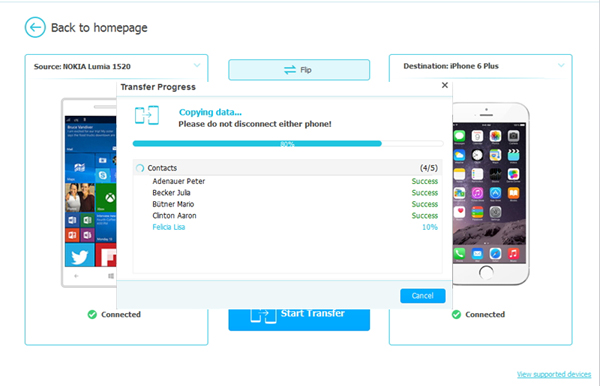 Related Articles:
Different Ways to Backup iPhone X or iPhone 8