iOS 11 is Coming - How to Get Your iPhone/iPad Ready for iOS 11?
iOS 11 is here now! Are you ready to get this iOS 11 on your iPhone, iPad or iPod touch? Undoubtedly, the new iOS 11 will greatly improve the capability of your iDevices, but one thing you should be noticed - it only supports part of iDevices. So first of all, you have to check the device compatibility. Below is the list of the compatible devices:
iPad mini 3 and 4
iPad Air 1 and 2, iPad Pro
iPhone 5s, 6, 6 Plus, 6s, 6s Plus, SE, 7, 7 Plus, 8, 8 Plus, X
iPod touch (6th generation)
Devices not compatible: iPad mini 2, iPad 4, and iPhone 5 will no longer be eligible for the iOS 11 update.
When you're sure that your device is supported to upgrade to iOS 11, you can follow the below tips to prepare your iDevices for upgrading.
You may also interested in: iOS 11 New Features
How to Prepare Your iPhone, iPad or iPod touch for iOS 11?
1. Backup Your Stuff
Before upgrading to a new system, you should to ensure that you have backed up all contents on the device in other security places. This is mainly because people may encounter some unpredictable issues during the upgrading, and some of them may result in data losing on your device. So backing up iPhone, iPad or iPod touch data with iTunes, iCloud or other iPhone backup tool could be an ideal option here.
See how to backup iOS files with iTunes or iCloud >>
If you don't want to use the iTunes or iCloud to backup these data, you can take the assistance of a third-party application like MobiKin Assistant for iOS (Windows/Mac) to keep your data safe. With it, you can:
- Backup and save data like contacts, SMS, calendars, notes, apps, bookmarks, photos, music, videos, etc. in a readable formats as you like.
- Import data from PC to iPhone, iPad or iPod touch with 1 simple click.
- Manage like add, delete or edit iPhone, iPad or iPod data on desktop computer directly.
- Compatible with all kinds of iDevices.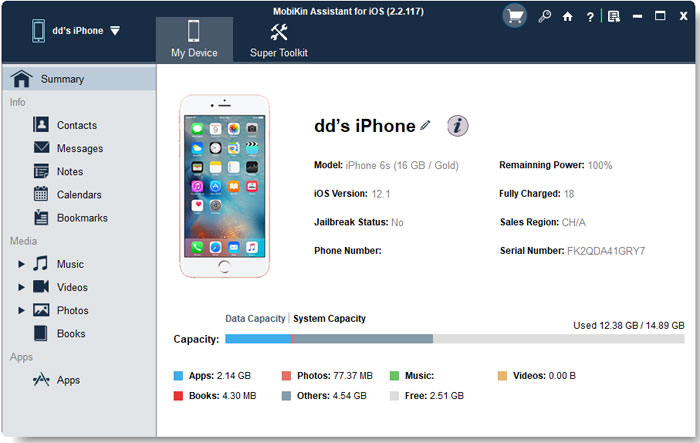 2. Leave Enough Space on Your Device
To improve the success rate of upgrading to iOS 11, you need to make enough free space on iDevice. Otherwise, the process might crash due to the lack of enough space. To check the storage usage, you can directly click Settings > Usage on your iDevice to see how much free space it has. Then, you can decide whether to remove more files for releasing free storage.
3. Update iTunes
iTunes as the best iPhone, iPad or iPod companion tool, can help users manage data, backup or restore, upgrade or downgrade iOS system easily. No matter what you're going to do, the facts have proved that you should always have an updated version of iTunes. Go to iTunes and click on "Check for Updates" option to update it to its latest version to avoid the new upgraded iOS 11 beta or iOS 11 might not work with the older version of iTunes.
4. Keep A Stable Version of iOS 10.3
No one can 100% guarantee that you'll like the new upgraded iOS 11 or iOS 11 beta. So when you get the new iOS, you may find that it is not easy to use as you imagine, or you just don't like the design or settings on the new OS. So you may wish to downgrade to the older version, right? Thus, keeping the firmware of iOS 10.3 at hand, so that you can easily downgrade iDevice from iOS 11 to iOS 10.3 with iTunes.
See how to downgrade iOS 11 beta to iOS 10.3 >
5. Make Your Device Charged
Lack of power may directly results in crashing on your iPhone, iPad or iPod touch during the upgrading process, and the data is also easily lost. So keeping your iDevice charged during the whole process or ensure that it is fully charged before the upgrading is a basic yet crucial step.
Related Articles:
How to Recover Lost Data after Upgrading