How to Sync iPhone Contacts with Outlook/Facebook?
What is the advantages of backing up iPhone contacts to other places?
Syncing contacts between your iPhone and Facebook, Outlook has lots of advantages. You will be able to stay in touch with your friends and know whenever they make any changes to their social media profile. Besides, it also helps you not lose important phone numbers, e-mail ids among other information of people. The synced information will be readily available on the cloud for you to access whenever you need.
Therefore, as an Apple iPhone user, you may wish to back up your data and sync contacts with Microsoft's Outlook service or other 3rd-party applications. There are different methods through which you can make this possible. The best way to do it is by turning to iTunes or iCloud on your computer. In this article, we'll introduce the way of transferring contacts from iPhone to Outlook or Facebook account for backup with iTunes or iCloud respectively. You can compare them and decide which one is better according to your own needs.
How Can I Sync iPhone Contacts with Outlook Easily?
- Ask for help from iTunes
1. Use your home Windows PC to download the latest version of iTunes and connect your iPhone to it using the cable provided.
2. Now, you should turn to your phone in the devices tab, then click on it and hit the info button without hassle
3. Check the box that says "sync contacts with" and you will be provided with a dropdown box. You can select outlook from the list on your computer.

4. You will be able to choose a specific group of contacts or all of them. Make a decision and click on "Allow Access" when a pop-up emerges for a specific time period and proceed with the sync.
- By using iCloud to reach the goal
iCloud has a dedicated Windows add-on for Outlook. So you can download it to sync contacts whenever changes occur in your iPhone. To get started, you should be sure you have backed up iPhone contacts to other security places or you can directly download and backed up contacts with iCloud as you like. After that, you can open iCloud control panel and log in with your Apple ID and iCloud account, then select "contacts using outlook" option on the control panel of iCloud. After that, you can open the same cloud sync on your iPhone and choose contacts "On" to be able to sync contacts between both services.
Want to know more ways to sync iPhone contacts to Outlook? Here it is!
How to Sync or Import Contacts from iPhone to Facebook?
With a large number of friends available on the biggest social media network, it is obvious that most would like to know ways to import contacts from iPhone to Facebook or vice versa. There are no privacy concerns involved in this process and you can really do it in a couple of easy steps. Follow the instructions below and it will be synced in no time. (If you wish to sync contacts back to iPhone, you can click here.)
First of all, make sure you have the Facebook app downloaded and installed from Apple's App store, then navigate to your Settings panel on your iPhone: Find Facebook as option below the generic ones and click it to open.
Secondly, the panel will prompt you to sign in using your Facebook username and password. When doing so, check settings panel to confirm whether the option that says "Allow these Apps to use your account" is on because it should be enabled to make syncing possible.
Once you login to Facebook, click on "Update all Contacts" and it will take some time based on the number of people you have added into your account. After that, all your iPhone contacts and Facebook friends will be synced under one single roof. It's much easier to access them at any time.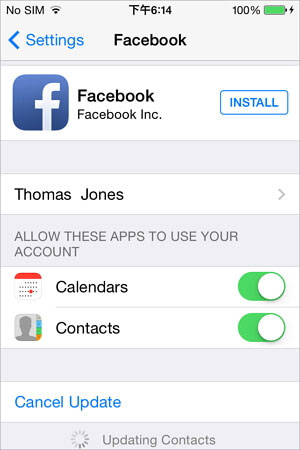 The methods provided here will work for all iPhones that are running on iOS 6 or above. For users who are still using older versions of the operating system, you have to navigate to the Facebook app and find the option friends. When you click on it, an option to sync contacts will pop-up. Click on it and it will be done! If you face any trouble while syncing, you can always visit Apple's troubleshooting page which will provide you step by step guidelines based on the error you received. In most scenarios, syncing contacts will take place without any hassles. Follow the instructions precisely to get it done. Besides, it is always important to take a backup for your contacts in multiple formats so that you don't lose it completely when trying to sync it with Outlook, Facebook or other services. (Here, you can go to here to learn more information about how to transfer contacts from iPhone to computer for backup.)
Related:
How to Backup iPhone Data before Upgrading to iOS 8.2
How to Sync Google Contacts with iPhone 6/5S/5/4S