Things You Should Know about iOS 8.2
In case you haven't heard about it, Apple has just released an official version of iOS 8.2 for a variety of iPhone models including iPhone 4S, iPhone 5, iPhone 5s, iPhone 5c, iPhone 6 and iPhone 6 Plus; 2nd generation iPads and of course the 5th generation iPod Touch. This update is not packed with tons of new apps and features but rather focuses mainly on bug-fixing and enhancing the speed of your device. In this article, we are going to find out some of the biggest changes in iOS 8.2 features and why you should update your device to this newest version of iOS.
Changes of the new-released iOS 8.2
As you know the release date for Apple Watch have been confirmed, thus, we can say that the main purpose of iOS 8.2 is to prepare the device for the watch, so the biggest difference of the system that you can notice with your eyes is the Apple Watch app on your home screen. When you click on the App, you'll actually see the "Start Pairing" button which you'll use to pair your iPhone with the watch. You'll also have access to the "Explore" section where you can watch a couple of videos explaining about Apple Watch, and it has a separate App Store for the watch as well which proves very convenient.
Of course, if you are not a fan of Apple Watch, there is also a surprising amount of changes in the official release log. Using iOS 8.2 we guarantee you'll notice one thing: stability. In the actual release note, Apple has added a lot of stability to some of their Apps including Map, especially in flyover mode. If you've ever been zooming around a city, looking up things and flyover in that 3D mode, it will actually feel so much better now thanks to less stutter and lagging on the screen. The music application is also improved - now you can scroll through a large amount of music and have less lag than the previous iOS version.
There are a lot of other fixes, primarily focusing on the Health app. If you've been using this app on your iPhone, then, you'll notice that in this iOS 8.2, Apple has completely redone the Health app, it has a lot of new features and stability fixes. It will also give you better syncing of information between the Apple Watch. This should come in handy for people who are very relying on this application!
How to Backup iOS Data before Upgrading to iOS 8.2?
Unlimited facts have proved that you may lose something important during the upgrading process. So before upgrading your iPhone, iPad or iPod touch operating system, you'd better to backup data on iDevice perfectly. Here, you're strongly recommended to use MobiKin Assistant for iOS (Windows/Mac) to reach the goal. With it, you can easily copy and transfer data from iPhone, iPad or iPod to desktop computer for backup, and no quality lose or damage.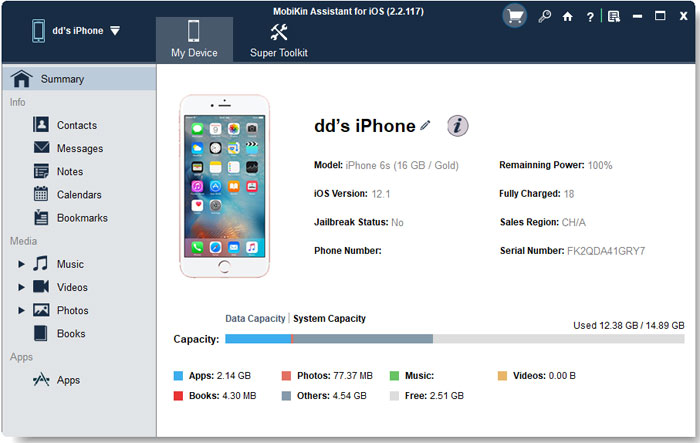 Below is the detailed instruction for your reference:
1) Connect the iDevice to computer with USB cable, and run the program on your PC. Then your device will be detected and shown in the program as the above interface;
2) In the left panel, you can see lots of options. Click them and preview the detailed files. Mark the data you need to backup and then hit "Export" button to save them on your computer.
It is so easy to handle the program, right? Mac version can follow the same steps to copy data from iPhone, iPad or iPod to Mac. And here, one thing you should be noted is the iTunes should be installed on your computer. And if your find some files still be lost after backup, you still have a chance to use MobiKin Doctor for iOS to get back your lost data. Now, just get the powerful backup tool to save all data from iDevice to computer right now!
Related Articles
How to Transfer Photos from iPhone 6/5S/5/4S to iPad
Tips to Transfer or Copy Contacts from iPhone to Computer
How to Transfer Music or Songs from iPod to iPhone